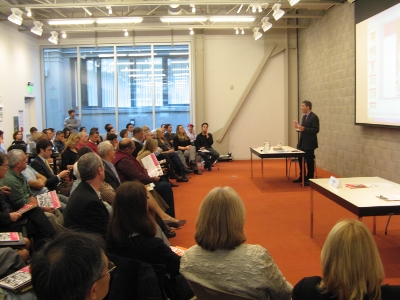 At a SPUR lunchtime forum yesterday, President of the Times Square Alliance (TSA) Tim Tompkins spoke about the evolution of Times Square over the past several decades.  For decades, New York fought the uphill battle of making Times Square cleaner, safer, and more inviting, only to find themselves with a new set of challenges: the area has become so popular, particularly with tourists, that the sidewalks and plazas had far exceeded capacity, and locals worried that the area was losing its New York identity.
Tompkins talked about a range of initiatives the TSA undertook to make Times Square better able to handle its famous foot traffic while strengthening the area's New York identity, from widening sidewalks and putting in art installations to building an award-winning, wedge-shaped structure on Duffy Square combining the TKTS half-price ticket booth with bleachers that, day and night, have a view to some of the most dynamic people-watching in the world.  Tompkins also discussed when, as a stopgap measure before more permanent seating was installed, he decided to put 376 lawn chairs in a newly expanded pedestrian space.  The surreal results raised eyebrows and garnered national media attention; when, at the end of the summer, replacements finally arrived, the lawn chairs were converted into an art installation, a microcosm of the dynamic balance between pragmatism and playfulness the TSA has struck in keeping Times Square an intriguing spot that's still very genuinely New York.
Thanks to the Great Streets Project for organizing this great event!