San Francisco + San Jose + Oakland
2018 SPUR Member Parties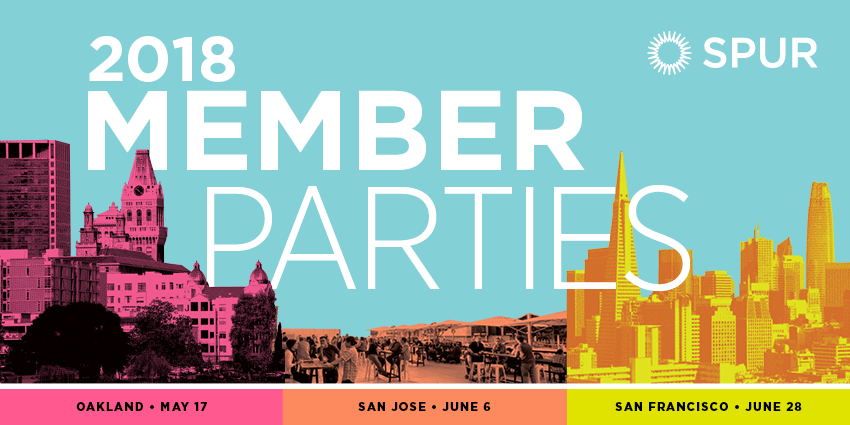 About
Join Us!
The SPUR Member Parties are coming to a city near you!
The SPUR Member Parties are coming to a city near you! These annual events held in San Francisco, San Jose and Oakland represent the largest gathering of urbanists in the Bay Area, bringing together SPUR's diverse and engaged membership for networking, cocktails, music and celebrations. 
Oakland Member Party
May 17, 2018 | 5-9 p.m.
The Overlook Lounge
344 20th Street, Oakland
(not far from the 19th Street BART station)
Directions: Enter the Port Workspaces on 20th Street and continue up to the top floor

** Online tickets for the Oakland party are closed, but you may purchase them at the door. **
 
San Jose Member Party
June 6, 2018 | 5-9 p.m.
San Pedro Square Market
San Francisco Member Party
June 28, 2018 | 5-9 p.m.
SPUR Urban Center and Annie Alley
You must be a SPUR member to attend the Member Parties.
If you're not a member yet, now is the perfect time to join SPUR >>
Sponsorship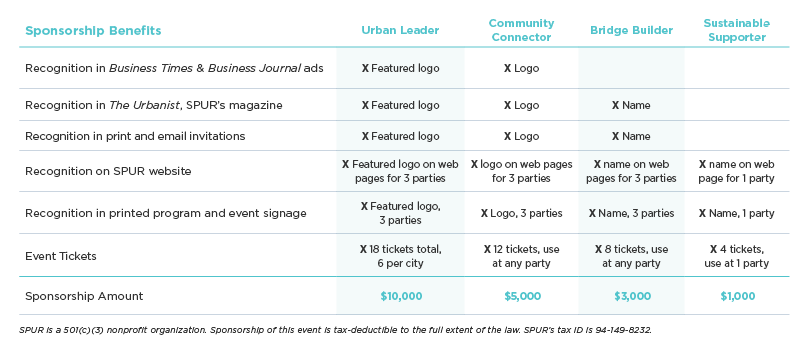 For more information on future sponsorship opportunities, contact Anna Nicholls, Director of Corporate Philanthropy, at (415) 644-4882 or events@spur.org.
SPUR is a 501(c)(3) nonprofit organization and sponsorship is tax deductible to the full extent of the law. SPUR's tax ID is 94-149-8232.
Tickets

$35 – Regular Ticket
$45 – Day-of Ticket (if event is not sold out!)

Free! - Refer a Friend to join SPUR and you both get free party tickets
Directions on how to refer a friend:
1) First, choose a party and send your friend a link to one of these ticket pages:
2) Second, give your friend your full name and email address, and notify them they will have to enter it when prompted at online check-out.
3) Third, wait for an email from SPUR, as we we'll contact you to notify you of your free ticket.
Questions? Contact membership@spur.org
$50 – Join + Attend a party

Are you a college or graduate student? JOIN with a Student Membership today! >> 
$35 – Join + Attend a party
Sponsors