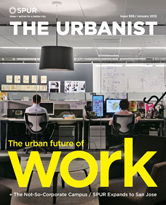 Every SPUR membership includes one year of The Urbanist, the West Coast's leading planning and public policy magazine. This is the best way to stay current on important issues and policies affecting the San Francisco Bay Area and cities around the world.

Download a sample issue >>

Join SPUR today to get The Urbanist in your mailbox!
Regular features include:

SPUR Policy Reports
SPUR's thought leadership on the most pressing issues facing our cities and region. Every report includes bold recommendations for improving policies on such issues as climate change, public transit, housing and job growth.

Feature Articles
Recent research and analysis on critical issues facing cities, from sea-level rise to economic development

News at SPUR
A monthly update on SPUR's current projects and our work to influence local and regional policy.

Urban Field Notes
A street-level exploration of cities and urban life. Every month, a new caseworker celebrates an aspect of city life through a set of written and visual observations. Send pitches to editor@spur.org

Urban Drift
City news from around the world. SPUR rounds up the most interesting media clips on events, trends and policy debates happening nationally and internationally.

Back issues are available for a suggested donation of $5 each. Requests should be sent to editor@spur.org, and normally take one week to fulfill.