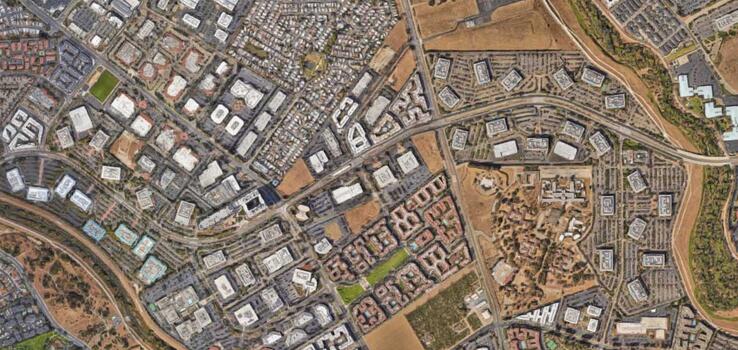 The Future of Work
Shifting employment to transit-served centers
Image courtesy Google Maps
Over the last 30 years, employment has spread from city centers to auto-centric, low-density office parks. How can we shift the location of jobs to places served by transit? And how do we do this in a way that strengthens innovation, leads to job growth and increases the prosperity of our region?
This initiative is generously supported by grants from the Clarence E. Heller Charitable Foundation and Gerbode Foundation.

Lead staff: Egon Terplan, Regional Planning Director, eterplan@spur.org
Featured Publications
The next Bay Area workplace
Technology has become the lifeblood of the San Francisco Bay Area economy, but the office environments where this work takes place do not reflect the innovation occurring within. The traditional suburban corporate campus reinforces dependence on cars and pushes sprawl development into open spaces and farmland. How do we create a more efficient, sustainable and high-performing model for the Bay Area workplace?
Read the report >>
 
How denser, more urban workplaces will strengthen the Bay Area's economic competitiveness
As the Bay Area's economy changes, many firms are finding they need the vibrancy and density of an urban-style environment in order to collaborate, innovate and stay competitive. There is a strong link between density and job growth. In fact, we believe that locating jobs closer to transit — and closer to one another — will be key to the Bay Area's long-term economic growth.
Read the report >>
How can we slow the decentralization of work in Northern California?
Job decentralization has expanded the boundaries of our megaregion — increasing commute times and greenhouse gas emissions in Northern California. We propose a framework for developing strategies to drive jobs back into centers already served by regional transit.
Read the report >>
Bringing work back to the city
To achieve a low-carbon future, Bay Area residents need to be able to commute to work without a car. Our best strategy is to channel more employment into existing centers, particularly transit-rich downtown San Francisco. SPUR proposes a sustainable plan for transit-oriented job growth in the Bay Area.
Read the report >>
How the South Bay's urban center can achieve its potential
Downtown San Jose is the densest, most walkable, most transit-oriented and most dynamic place in the South Bay. It's now poised to benefit from the growing trend toward working and living in urban centers. But downtown needs more people. This SPUR report identifies six big ideas for achieving a more successful and active downtown, then lays out the steps for making them happen.
Read the report >>
Shaping the future of Downtown Oakland
Downtown Oakland is poised to take on a more important role in the region. But the future is not guaranteed. An economic boom could stall before it gets going. Or the economy could take off in a way that harms Oakland's character, culture and diversity. We propose five big ideas for how downtown Oakland can grow while providing benefits to all.
Read the report >>