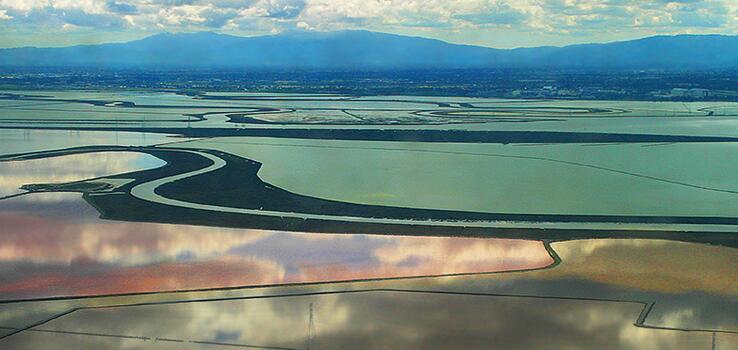 Climate Adaptation
Managing the effects of climate change
Image courtesy flickr user SP8254
In the fight against climate change, the Bay Area has two important responsibilities. We must reduce our carbon emissions through better regional planning, and we must prepare for some inevitable environmental change. SPUR's research and recommendations are laying the groundwork for how local governments can plan for both of these challenges.
This initiative is generously supported by grants from the Urban Land Institute and San Francisco Foundation.
Lead staff: Laura Tam, Sustainable Development Policy Director, ltam@spur.org
Featured Publications
Working with nature to plan for sea level rise
As the climate continues to change, communities will need to adapt the San Francisco Bay shoreline to rising sea levels. But the Bay's varied landscapes and overlapping jurisdictions make a coordinated response challenging. The San Francisco Bay Shoreline Adaptation Atlas proposes a new regional planning framework by dividing the 400-mile Bay shoreline into 30 distinct geographic areas that share common physical characteristics and adaptation strategies.
 
Adaptation strategies for the San Francisco Bay Area
Global efforts to slow climate change by reducing greenhouse-gas emissions have largely failed. As a result we must not only intensify our efforts to reduce climate change but start preparing for its inevitable effects. In this report, SPUR recommends more than 30 strategies for local and regional agencies to begin minimizing the region's vulnerabilities to these long-term but potentially catastrophic effects.
 
Where the Bay Area should get its water in the 21st century
More than two-thirds of the Bay Area's water is imported from outside the region. Today these supplies are regularly threatened by drought, earthquakes and water quality impairments — risks that will intensify with climate change. Meanwhile, our region will add 2 million more people by 2040 — growth that will require more water. Do we have the water we need to support this projected growth?
 
A comprehensive vision for a more sustainable future on San Francisco's Pacific coast
As climate-induced sea level rise sets in, erosion at San Francisco's Ocean Beach will continue to worsen. Working with government agencies, community groups and the public, SPUR has developed a landmark climate adaptation and open space plan for Ocean Beach. 
 
Can we act decisively enough to avert catastrophic climate change?
Climate change is not just a problem of the distant future — it's happening now. Our task, then, is contradictory: We need to fight it even as we to learn to live with it. But can we act decisively enough to avert catastrophe?
 
How will we adapt to changing tides?
The advantages and disadvantages of seven strategies to manage sea level rise
42 options to reduce emissions in San Francisco — some better than others
In the fight against global warming, there are many things San Francisco can do. In this report, SPUR evaluated 42 options for the city to reduce carbon emissions in San Francisco and the Bay Area.