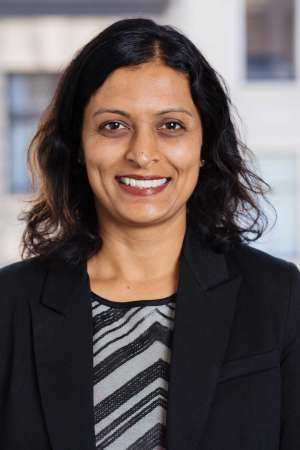 Ratna Amin
Transportation Policy Director
Policy
Local and regional transportation planning and policy
Ratna Amin leads SPUR's work to create a high-quality transportation system in San Francisco, Oakland, San Jose and the Bay Area region. She leads major research projects, collaborates with transportation agencies and civic leaders on strategy, policy and planning, and educates the public about transportation.
Ratna has published numerous transportation studies including Freedom to Move, SPUR's first transportation policy report about Silicon Valley; Seamless Transit, an agenda to address the Bay Area's fragmented transit experience; and the Caltrain Corridor Vision Plan. She created SPUR's Transit+Design program, which promotes a human-centered transportation system and builds institutional capacity.
Ratna's previous roles include chief of staff to the Oakland City Council president, senior associate for aviation and land management at Environmental Science Associates and intelligent transportation systems analyst at Cambridge Systematics. Additionally, she has a strong background in the social sector and has been a strategic planning and research consultant for public education, workforce development and civic innovation initiatives.
Ratna was named to Mass Transit magazine's Top 40 Under 40 in 2015 and was named Women's Transportation Seminar (WTS) Bay Area Chapter Woman of the Year in 2018. She is currently a UC Berkeley Institute of Transportation Studies Senior Fellow, serves on the LA METRO Office of Extraordinary Innovation Advisory Board and chairs the Oakland Fund for Public Innovation.
She has master's degrees in city and regional planning and transportation engineering from the University of California, Berkeley, and a bachelor's degree in computer science and engineering from the University of Pennsylvania. Ratna is a trained visual facilitator and has completed numerous courses with the Grove Consultants. She is an alumnus of the San Francisco Coro Fellows Program in Public Affairs and of Teach for America.