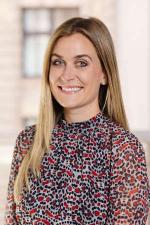 Michelle Huttenhoff
Planning Policy Director
Policy
Community and neighborhood plans, public space, and urban design
Michelle Huttenhoff is the Planning Policy Director at SPUR. She currently leads a variety of policy and research initiatives that focus on  community planning and public space. One of Michelle's latest focuses includes a multi-year research project to inform the future of San José's largest urban green space, Guadalupe River Park. Michelle previously served as the Economic Development Manager at the City of Miami Beach where she was responsible for directing and creating proactive strategies and innovative programs to stimulate economic growth and increase core-city vibrancy. In this role, Michelle led the integration of the City's first open data tool to better support local business and real estate development and led community design plans in Mid, North and South Beach.  

Before her work at the City of Miami Beach, Michelle was Program Associate for Community and National Initiatives at Knight Foundation. There, she oversaw and managed the grantmaking for eighteen small to mid-size communities from across the country. Additionally, she helped formulate and launch several national initiatives including, Giving Day, On the Table, and Knight Community Information Labs. A South Florida native, she has worked at The Miami Foundation and the School Board of Broward County and has served on the Philanthropy Miami Steering Committee and Palm Beach Tech Association.

Michelle is a city enthusiast and has focused both her academic and professional career on how investment in place can increase economic opportunity and social resilience. She has a Masters in Public Policy from Northwestern University and a Bachelor of Arts in English and Post-Secondary Education from the University of Miami. She was a 2017 Funders Network PLACES Fellow which seeks to build knowledge and skills to create more equitable neighborhoods and communities.