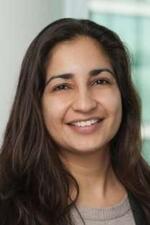 Dimple Pajwani
Chief Operating Officer
Communications and Engagement, Strategy and Operations
Chief of staff, strategic planning, business operations, strategic initiatives
Dimple is SPUR's chief operations officer. She works closely with the CEO to manage the entire organization so that SPUR can achieve both its organizational vision and its vision for the Bay Area. Dimple is responsible for internal management and organizational effectiveness and serves as a thought partner to the CEO on all business matters including external effectiveness. Dimple oversees all operations functions (people operations, finance, IT, facilities and office).
Prior to joining SPUR, Dimple held senior roles in strategy, operations and innovation at Blue Shield of California and Stanford Children's Health, where she built innovative new programs. She also worked as a consultant bringing new offerings to the public and private sector at PwC and Tribal Consulting. Dimple was an independent policy consultant for the U.K. Prime Minister's Strategy Unit, the U.S. Government Accountability Office, the U.K. Department for International Development, the U.N. Food and Agricultural Organization and the John Burton Foundation. She also worked as an auditor at PwC London and as a software engineering intern at IBM and Hewlett Packard.
Dimple serves on the board and is a community mediator and facilitator at SEEDS Community Resolution Center. She is a trainer and coach at BayNVC and a court appointed special advocate at Child Advocates of Silicon Valley.
Dimple holds a master's degree in operations research from Strathclyde University, a master's degree in economics from the London School of Economics and Political Science, a master's degree in public policy from UC Berkeley and a bachelor's degree in electrical and computer engineering from the University of Houston.