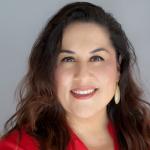 Karla Rodriguez Lomax
Public Affairs Director, South Bay and Central Coast, Kaiser Permanente
San José Director
Ms. Lomax joined Kaiser Permanente after previously serving as the Government Relations Manager at Pacific Gas and Electric Company (PG&E). During her time at PG&E she developed and implemented complex strategies and programs and served as the primary point of contact with elected and appointed officials and community leaders regarding emergency response, programs and services.
Prior to her service at PG&E, Karla was an Account Executive at Business Wire, A Berkshire Hathaway Company, where she consulted with corporate communication teams on their public relations techniques and tools and worked to maximize the value of public relations strategies and their public profile.
She was also the principal of her own public relations consulting firm, managing corporate and product communication, providing media training, and producing print and online collateral and material. Her firm served such Bay Area clients as Porter Novelli, IDT, NEC and Actel.
In her role with Kaiser Permanente, Ms. Lomax facilitates, directs, and oversees the South Bay Public Affairs Department -- Communications, Community Benefit, and Government Relations -- that covers the Santa Clara and San Jose Medical Centers, as well as all satellite locations including the Central Coast. She is also responsible for the development and implementation of strategic communications and public affairs' programs that demonstrate Kaiser Permanente's commitment to its mission and promotes and protects the organization's reputation.