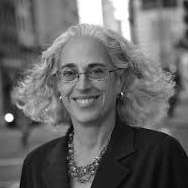 Jeanne Myerson
Principal
The Belgrave Group
San Francisco Director
Currently, Jeanne Myerson is Principal with The Belgrave Group, providing independent consulting on family-owned company governance and generational transition strategies; real estate company business strategy, general management and compensation; investment company business plan and capitalization strategies.
Most recently, Jeanne served as the first CEO of ULI of the Americas. Prior to that, Ms. Myerson was CEO of The Swig Company from 1997 to 2014 and was responsible for guiding the company through a smooth transition from its respected roots in the hospitality industry to a recognized urban office investor and manager of over 9 million square feet of office space nationwide.
Since June 2014, Jeanne has served as a member of the Board of the Boston-based Berkshire Group, an institutional investor and developer of multi-family housing throughout the U.S. and is on the Real Estate and Advisory Board of Los Angeles-based Mosaic Real Estate Investors. Jeanne recently became a Trustee of Grinnell College, Grinnell, Iowa, her undergraduate alma mater.
Ms. Myerson has been recognized as one of the most influential women in the San Francisco business community by the San Francisco Business Times, and was previously a member of the board of directors of NYSE-listed BRE Properties, Inc. She is on the San Francisco Advisory Board of Presidio Bank and is Secretary of the board of the local non-profit Build:Public, dedicated to "Creating Great Public Space".