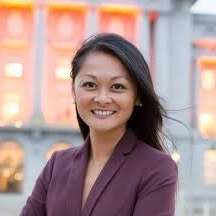 Carmen Chu
Assessor
Office of the Assessor-Recorder Carmen Chu
Executive Board Secretary, San Francisco Director
Carmen Chu was re-elected on November 4, 2014, to serve as the Assessor-Recorder for the City and County of San Francisco, and is committed to making government work for the people of San Francisco.
The work that the Office of the Assessor-Recorder does helps to generate over one-third of the City's General Fund revenue—revenue which is used to fund crucial services like fire, police, neighborhood improvements, and health & family support services.
Since taking office, Chu has prioritized customer service and office efficiency. Beginning in 2013, she implemented e-Recording, which allows submitters to record documents from the convenience of their office or home. Chu has secured resources to address the increase in workload generated by historic highs in assessment appeals. This additional funding will allow the Assessment Appeals Board to schedule and hear appeals cases more quickly and ensure a more timely resolution for taxpayers. She also begun the process of digitizing historic real property records currently maintained only in hard copy. This project will ensure that vital assessment details and property files are available for staff whenvaluing both residential and commercial properties.
On June 28, 2013, the State of California resumed same-sex marriages. As the Office's core function to record and maintain public records, Chu and her staff were proud to be the only assessor-recorder office open in the entire state the first weekend of June 28 through June 30. As a result, 479 same-sex licenses were recorded with the City & County of San Francisco.
In November 2010 and November 2008, Carmen Chu was elected to the Board of Supervisors to serve as the city's representative to the Sunset/Parkside District after being appointed to serve in September 2007. During her time on the Board, Chu worked on legislation to encourage more companies to do business with the city by streamlining the city's contracting process; provide protections to tenants who are victims of domestic violence; strengthen regulations, coordinate enforcement and expand community review of proposed massage establishments; and encourage small, local business participation in city projects.
Chu served as Chair of the Board's Budget & Finance Committee for FY 2011-2012. Together with labor, community advocates, City departments, and the Mayor's Office, the Board of Supervisors were able to agree on a $6.83 billion spending plan that provided funding for our most vital City services and which closed a $380 million General Fund budget deficit.
Chu was again selected to serve as Chair of the Budget & Finance Committee during the first time the City embarked upon a two-year citywide budgeting process for FY2012-13 and FY2013-14. With an initial projected budget shortfall of $263 million in FY2012-13 and $375 million in FY2013-14, the Budget Committee, in conjunction with the Mayor's Office, made key investments to ensure public safety, provide economic opportunities in the City, and preserve critical health and human services while maintaining healthy financial reserves.
Prior to joining the Board of Supervisors, Assessor-Recorder Chu worked in the Mayor's Office of Public Policy and Finance, where she served as the Deputy Budget Director and worked on projects such as the 311 Customer Service Center – a centralized point of access to City services available to residents 24/7. Under Chu's direction, San Francisco was awarded the Distinguished Budget Presentation Award in 2006-2007 from the Government Finance Officers Association for the annual proposed budget document.
Assessor-Recorder Chu is a member of the California Assessors' Association, where she sits on the Finance Committee and the Standards Committee. In addition, she serves as Secretary for the Bay Area Assessors' Association. In 2014, she was appointed to the Committee on County Tax Collecting Procedures, a body committed to advising the Controller on prescribing tax levying and collecting procedures. Prior to her role as assessor-recorder, Chu served as Chair of the Government Audit & Oversight Committee, as member of the San Francisco County Transportation Authority (SFCTA), Health Service System Board, Director with the Golden Gate Bridge, Highway and Transportation District, and as Board Member of the Association of Bay Area Governments (ABAG).
Assessor-Recorder Chu received two degrees in public policy. She graduated Magna Cum Laude and Phi Beta Kappa with a Bachelors degree from Occidental College. Chu also earned a Master's degree from the Goldman School of Public Policy at the University of California, Berkeley, where she was the distinguished recipient of a Public Policy and International Affairs (PPIA) fellowship.