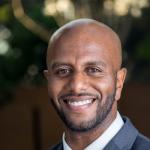 Ahmed Ali Bob
Global Social Impact Lead, Block, Inc.
Executive Board Director, Oakland Director
Ahmed Ali Bob has spent his career working to reduce barriers to entry for low opportunity communities in Oakland from within local government, the nonprofit space, and the tech sector. Ahmed is currently the Global Social Impact Lead at Block, Inc., where he works with a wide range of stakeholders to ensure that small businesses and the communities they serve have access to the resources, technical expertise, and support they need to thrive. Prior to Square, Inc., Ahmed worked for the City of Oakland's Department of Transportation (OakDOT), where he led equitable community engagement to address decades of disinvestment in communities of color. Additionally, his background includes work as the Community Health Advocate at YouthALIVE! (an Oakland non-profit), where he led a pilot program to assess PTSD levels in boys and men of color in East and West Oakland and connected clients to professional, educational, and mental health resources. Ahmed earned his BA in Political Science from UC Santa Barbara and his Masters in Public Policy from UCLA. In his spare time, he enjoys spending time with his wife and 6-month old daughter, long walks around Lake Merritt, and supporting his favorite restaurants and local businesses in Oakland.