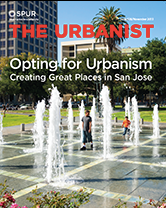 Creating Great Places in San Jose
A roadmap for better urban design in San Jose. Excerpted from the SPUR report "Getting to Great Places."
Grab your [figurative] blue pencil: The streets of San Francisco can be a typo-spotters dream.
UC Berkeley archivist Waverly Lowell's favorite urban artifact may surprise you.