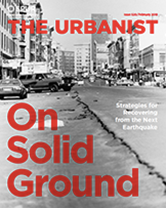 Land use planning for disaster recovery in the Bay Area. Excerpted from the SPUR report "On Solid Ground."
A San Francisco muralist enlivens SPUR's once-quiet corridors with a colorful celebration of urbanism.
Not long ago, Patrick Otellini chose to ignore the unavoidable fact that San Francisco is well overdue for a major earthquake. Today, he's the city's director of earthquake safety.