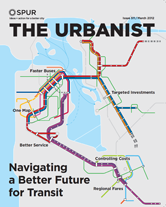 Improving transit by changing financing, fares, speeds, metrics, territory and maps. Excerpted from the discussion paper A Better Future for Bay Area Transit
One mapmaker's vision for a single integrated Bay Area transit map. Plus, what a comprehensive regional transit system might look like.
Sometimes, architecture really is for the birds.