Between the Farm and the Grocery Store
Bolstering San Francisco's Food Industry Cluster
Eli Zigas
May 7, 2014
Like most major American cities, San Francisco is home to numerous food and beverage manufacturers and distributors that provide a link between agricultural producers and the public. During the past year and a half, many of the city's larger food industry businesses have made big moves. Whole Foods moved its Northern California distribution facility from San Francisco to Richmond. TCHO Chocolate announced it would be leaving Pier 17 for more space in Berkeley. And Del Monte Meats, which was founded in San Francisco in 1927, moved just south to Brisbane.
Yet, during the same period, other businesses decided to expand their footprint within the city.  The San Francisco Wholesale Produce Market broke ground for a new building that will add 84,000 square feet of warehouse space. Marin Sun Farms moved into a larger meat processing facility in SoMa. United Cold Storage transferred its operations from South San Francisco into the Bayview district. And Magnolia Brewery began the build-out of its new brewery in Dogpatch. Why is there so much movement, and why does it matter?
The location decisions of these food manufacturers and distributors are notable not only for the industry, but also for the city as a whole. San Francisco has been a pioneer in promoting the practice of eating locally and organically and has earned a global reputation for it. Many of the city's restaurants attract tourists and business by highlighting their use of products sourced from the Bay Area. But few of the restaurants, caterers, and grocery stores selling local food buy it directly from the farmers who grow it. Instead, they rely on food distributors and manufacturers, many of them clustered in the southeastern section of the city, to manage the complicated logistics of coordinating with dozens of producers to deliver the right quantity of product at the right time. The past and future growth of the local food economy, and all the benefits it provides to the Bay Area, depend on these behind-the-scenes businesses. [1]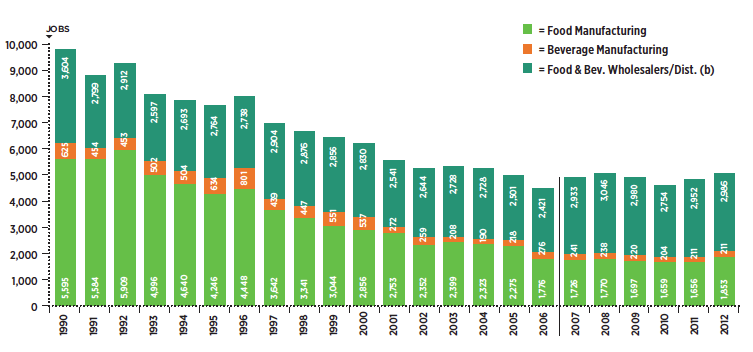 The business success of food manufacturers and distributors is important to maintaining a diversified economy in San Francisco. According to an analysis by BAE Urban Economics that will be published in a forthcoming study, these food and beverage businesses provide 5,000 jobs, which represent one quarter of all the manufacturing and distribution jobs in San Francisco. The number of jobs in the sector decreased steadily until 2006 and has leveled off since then (see chart above). While this sector represents a small portion of the city's total employment, these jobs are especially noteworthy because many pay relatively well for positions that don't require college degrees. On average, workers in San Francisco's food manufacturing and distribution sectors earn between $30,000 and $56,000 annually, while the average annual salary in the city's beverage manufacturing and distribution sectors ranges between $80,000 and $100,000. [2]
The fact that employment remained steady, and even grew, despite the recent recession is a good example of the value the city gains by having a diversified economic portfolio. Or, put another way, food and beverage makers and movers help keep San Francisco from putting all its eggs in one basket — to the benefit of us all.
Recognizing the importance of the food and beverage manufacturing and distribution sectors to both the broader food industry and the city as a whole, the San Francisco Planning Department, the Office of Economic and Workforce Development (OEWD) and SPUR launched a study of the food industry cluster in August 2013. For the last 10 months these three organizations, along with a steering committee of local food business leaders and city agency staff, have been working to identify the needs and challenges of existing food and beverage makers and movers to develop a strategy that could help them start, stay and grow in the city.  (The city is planning to publish the full findings and strategic recommendations this summer.)
Through interviews, surveys and an industry convening that reached more than 70 business owners, the food industry cluster study found a set of key challenges facing the food and beverage sectors. Foremost among them is that businesses find it very difficult to find industrial space in San Francisco that meets their needs at a price they can afford. There is very little vacant space with the existing infrastructure for manufacturing or distribution (such as loading docks, floor drains and refrigerated space) and it's costly to add these features into existing buildings or to build from the ground up. Currently, according to the nonprofit SF Made, lease rates in San Francisco for manufacturing space range from $0.65 to $1.40 per square foot per month for large buildings greater than 10,000 square feet and $1.65  to $3 for smaller manufacturing spaces, depending on location, size and existing features. In contrast, many businesses reported finding significantly lower rates in parts of the East Bay.
In addition to space costs, businesses are finding it increasingly difficult to retain their workers as housing costs continue to rise. In numerous interviews, business owners noted that they have seen more of their employees moving farther from San Francisco to find affordable housing, which increases the workers' commutes and cost of living, and makes employee retention more difficult. This problem is exacerbated in many cases by workers having few transit options to get to work — especially in the early morning, late at night or for jobs in the southeastern part of the city that are not easily accessible by transit.
The challenges of doing business day-to-day in the city were also cited by many business owners. This includes problems ranging from navigating regulatory issues to finding legal parking while trying to make deliveries to customers. While these issues are not unique to San Francisco, because they add expense they do influence where businesses want to locate their operations. Despite these difficulties, many companies still choose to stay in San Francisco. When asked why, in a survey conducted by SF Made as part of the city study, business owners' most common reasons were to be close to customers and to maintain brand value by associating their business with its San Francisco location.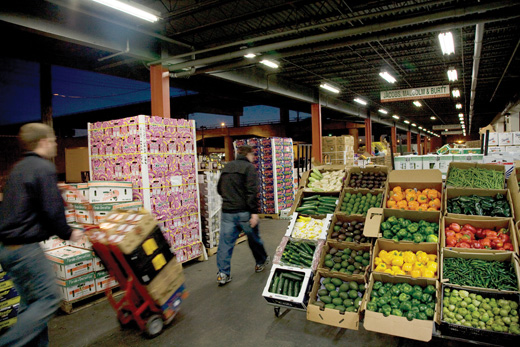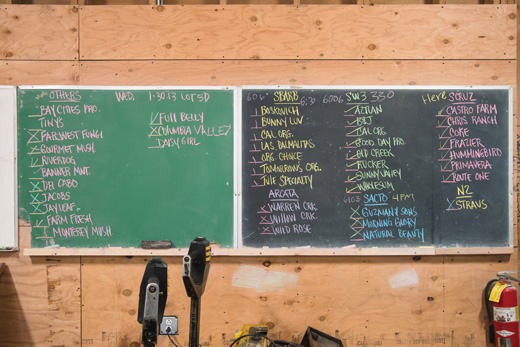 San Francisco's food distributors, many of them clustered in the southeastern section of the city, manage the complicated logistics of coordinating with dozens of producers (listed on Veritable Vegetable's blackboard, above) to deliver the right quantity of product at the right time to local restaurants, caterers, and grocery stores. Photos by Joel Puliatti, courtesy of San Francisco Wholesale Produce Market (produce); Sergio Ruiz (blackboard).
 
The strategy that will be published this summer by the planning department and OEWD will include detailed recommendations for how city agencies can help businesses surmount the various challenges they face. One set of recommendations will seek to increase the supply of industrial space suited to food manufacturing and distribution. An option under consideration is leasing public land or existing public facilities to food businesses. This is a strategy that is already familiar to the city. For example, the Port of San Francisco leases space to more than a dozen seafood processors and wholesalers, many of them located at Pier 45. Another model is the San Francisco Wholesale Produce Market. In 2012, the Board of Supervisors renewed its lease with the Market for a 60-year term and approved its plans to build a new facility and make significant capital improvements to its existing warehouses. Both Pier 45 and the Wholesale Produce Market provide models of how the city can directly provide space for food manufacturers and distributors.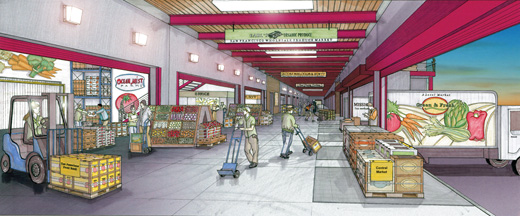 In 2012, the Board of Supervisors renewed its lease with the San Francisco Wholesale Produce Market for a 60-year term and approved its plans to build a new facility and make significant capital improvements to its existing buildings. Architectural rendering by Jackson Liles Architecture.
 
Another recommendation under consideration would have the city create a liaison position to provide technical assistance and business support to the food industry sector. The liaison would track and help resolve regulatory issues, provide information on existing financing assistance, link the businesses with workforce training programs and generally help facilitate business-to-business matchmaking.
Two other areas of focus for the recommendations include transportation and workforce development.  On the transportation side, the project team is researching ways that would make it easier for workers to get to and from their jobs using transit, as well as policies that would support smoother movement of goods and deliveries on city streets.  On the workforce side, potential recommendations include developing training programs tailored to the needs of food industry employers and more actively linking businesses with existing workforce programs and tax credits.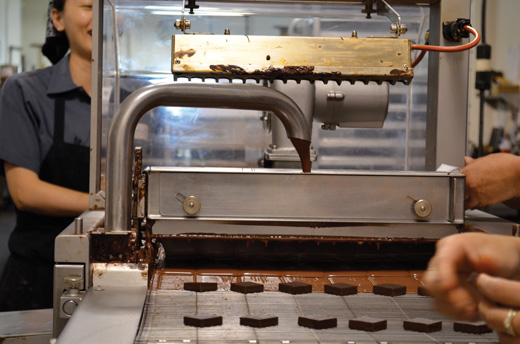 The city's diverse food manufacturers — including chocolatiers (such as Recchiuti Confections, above), bakeries, breweries and more — sell to both global and local markets while contributing to the city's economic diversity. Photo by Nora Lalle, courtesy of SF Made.
 
Taken together, the strategy's recommendations all aim to make it easier for food manufacturers and distributors to get started and build their businesses within San Francisco. The big changes in the past couple of years show that the city faces challenges holding onto some of its businesses, but also continues to be an attractive place for others. Broad market trends, especially the affordability of industrial space suitable for food businesses and of housing, will likely play increasing roles in the decisions of where businesses choose to operate. Policymakers have the ability to influence or lessen the impact of some of those trends and the forthcoming strategy will provide a series of recommendations for how to do just that.  In the end, the strategy recognizes that supporting food manufacturing and distribution businesses supports economic diversity, economic development and strengthening the regional food system.