Urban Field Notes: San Francisco's Construction Boom
Perhaps you've noticed? New housing and commercial construction is booming in San Francisco.
December 18, 2013
The construction boom in San Francisco is more evident than ever. All those cranes dotting the skyline would get any urbanist excited. The recent surge in activity seems to have turned the city into one big construction zone. But it's not just the plywood or scaffolding lining our sidewalks or the occasional traffic detour that will have an impact: These projects will add scores of new residents and workers with new housing, offices, hospitals, historic renovations, and transportation facilities. Here are just a few examples of the many projects currently under construction in San Francisco. These images serve as snapshots of a city in the midst of growth as people continue on their daily lives.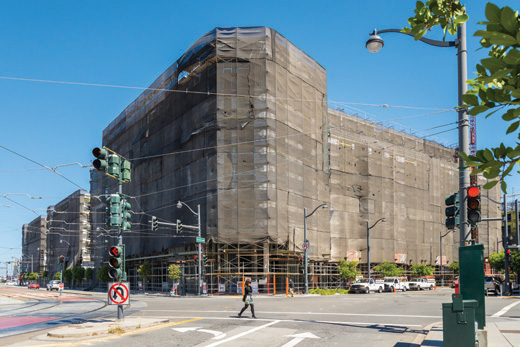 Mission Bay
The transformation of Mission Bay from its industrial past into a 300- acre planned community south of South of Market continues.  This new neighborhood includes housing and commercial projects with a focus on biotechnology and research facilities. While some projects have already been built, many are just starting to rise, such as this residential project at 4th Street and Channel Street.
Trinity Place
The demolition of Trinity Plaza is already complete, making the way for phase III of Trinity Place, a major development on Mid-Market that includes a total of 1,900 residential units and ground-floor retail fronting Market, Mission, and 8th Street. This project will be a remarkable change from the autooriented motel that once occupied this block.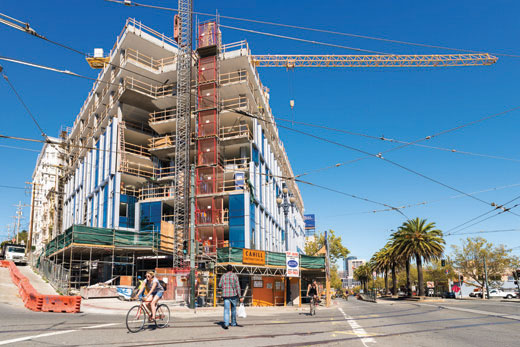 Upper Market
The Upper Market Community Plan, prepared before the recession hit, called for highquality, pedestrian-oriented development on key opportunity sites along the transit-rich corridor. Several cranes can now be seen extending over Upper Market Street. These projects will add hundreds of new residential units and retail space. The project site at Market and Buchanan, pictured, was previously occupied by a gas station.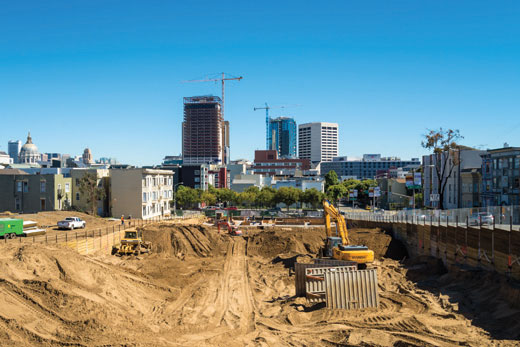 Central Freeway Parcels
The demolition of the Central Freeway in Hayes Valley resulted in over a dozen vacant parcels, which are called out in the Market and Octavia Area Plan for infill development. Some parcels have provided temporary venues for retail, food, art, urban farms and other creative uses. The current wave of development includes Avalon Bay Apartments, located on a former Central Freeway onramp.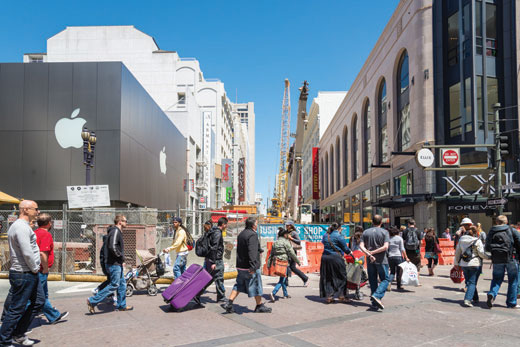 Central Subway
Construction of the Central Subway is now in full swing.  While Stockton Street continues to serve Union Square shoppers, construction is taking place behind the fences in preparation for future tunneling. This project will extend the T-Third Street light rail to directly connect Bayview and Mission Bay with subway stops in SoMa, Union Square, and Chinatown.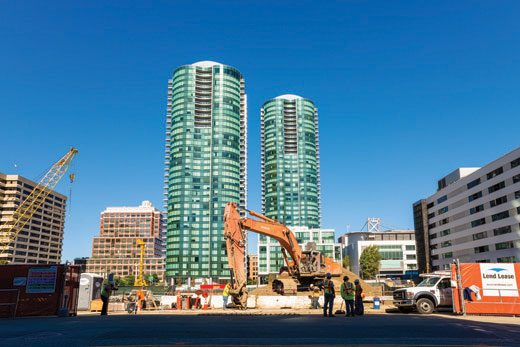 Transbay Transit Center
People walking past the Transbay Transit Center site can catch a glimpse of the excavation work and bracing 60 feet below for the underground structure. This facility will serve as a modern transportation hub, replacing the functions of the old Transbay Terminal with the addition of Caltrain, California High Speed Rail, and a 5.4-acre rooftop park.  G The Transit Center District The neighborhood surrounding the future Transbay Transit Center is a key area for economic growth and transit-oriented development in San Francisco.  The Transbay Transit Tower will play centerpiece to a host of new towers rising above South of Market. Construction has begun for Lumina, two condominium towers at 201 Folsom, which will mimic the Infinity Towers to the east.