Adapt, Transform, Reuse
Making use of the past can serve as a guide to the future of the city.
July 4, 2013
Great cities are built in layers: New buildings can help reinforce older urban forms and old buildings can be reimagined to serve new uses. It is the juxtaposition of old and new that gives cities their interesting corners, their urban surprises, their texture. Imagine a city where time has stopped — no new buildings are allowed to be built, and the ones that do exist must retain their original use. Such a city would lose its vitality due to lack of change. Imagine another city where no old buildings or forms are retained— everything is torn down and built new. This second city would also lack vitality but for another reason — because it has no history, no soul.
At its best, historic preservation is a tool for managing change by finding new uses to reanimate old buildings and assuring that new construction relates to its surroundings. Sometimes, however, preservation solutions are born of conflict and result in compromises that do not serve either the past or the present.
Historic preservation traces its roots to fine arts conservation. The notion of preserving treasures for civic benefit eventually expanded from painting and sculpture to buildings, landscapes, and places of significant cultural memory.
People have passionate feelings about their environment, sometimes expressed as a love for the buildings or landscapes that currently surround them, other times as a desire for change. Land use policy is one lens through which these often-conflicting desires resolve themselves. Preservation can speak to immediate concerns about the value of places that are special to people today, serving as a guide not just to the past, but also to the future of the city.
We celebrate the mixture of old and new as the lifeblood of any city. These mixtures can be seen in many forms:
Adaptive Reuse — when old buildings are repurposed for a use that they were not originally designed to serve.
Incorporation — when elements of old buildings are incorporated into new buildings. This category includes spolia (when bits and pieces of buildings are preserved), facadism (when the facade of a historic structure is retained but the rest of the building is replaced) and encapsulation (when a historic building is kept in its original location but surrounded on all sides with newer, bigger construction).
Juxtaposition — when something new responds to, but does not mimic the old. The contrast between old and new defines and amplifies the qualities of both.  This can be seen in additions to existing buildings, in infill construction within a historic context and in the relationship of new buildings to older urban forms such as alleys or piers.
San Francisco has many examples of adaptive reuse, incorporation and juxtaposition, which we explore in the 14 examples below.
Adaptive Reuse
San Francisco has many fine examples of old buildings being used for new purposes. This process, known as adaptive reuse, is not new to the city. In the 1950s, Jackson Square became one of the country's earliest examples of adaptive reuse on a neighborhood scale when the former warehouse district was recast as a premier "design district." Similar projects soon followed, including the transformation of Ghirardelli Square (a former chocolate factory) into a festival marketplace in the early 1960s.
Adaptive reuse enables buildings with great bones to enjoy new life. All of the examples highlighted here involve some alteration to the interiors of structures to accommodate new uses — be it offices, restaurants, residential or retail. Attention to detail and a desire to be respectful of the past while embracing the future, are hallmarks of a successful adaptive reuse project.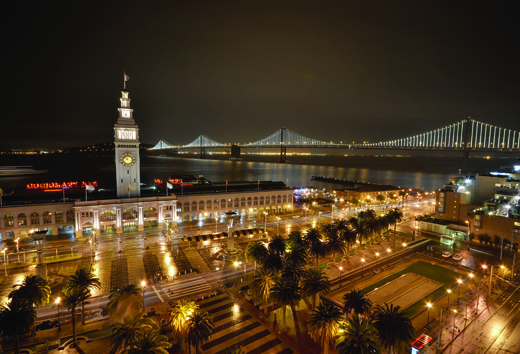 The 2003 rehabilitation of the Ferry Building exemplifies the stunning revival of San Francisco's waterfront. While the plaza behind the building remains a terminus for ferries traversing the bay, the main floor of the building itself has been ingeniously converted from a baggage-handling area into a bustling marketplace, with the second and third floors adapted for office use.
Original architects: A. Page Brown and Edward R. Swain (1892)
Contemporary architect: SMWM (2002)
Preservation architect: Page & Turnbull (2002)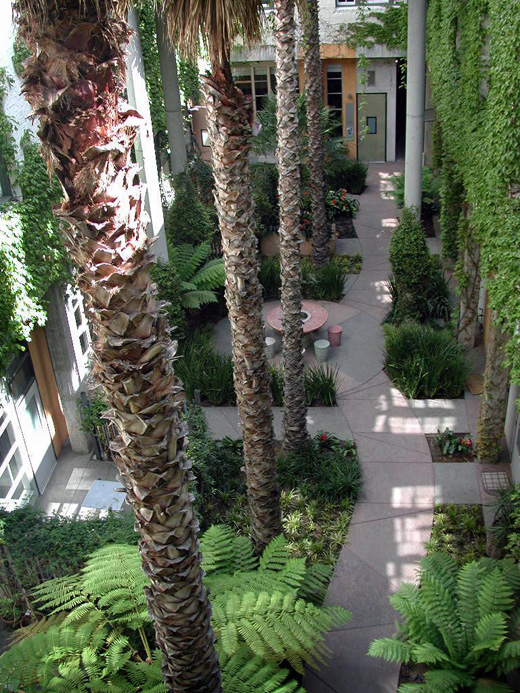 Converting this former factory into apartments introduced San Francisco to the New York–style loft, foreshadowing the transformation of the South of Market area and demonstrating the tremendous potential to reuse industrial buildings as housing. The architect retained the bare concrete columns, rough wood beams and steel windows as part of the building's aesthetic character.  Planted interior courtyards and dramatic stairs and bridges provide contemporary elements that contrast with the historic factory's heavy rectilinear form.
Original builder: Unknown (1907)
Contemporary architect: David Baker (1992)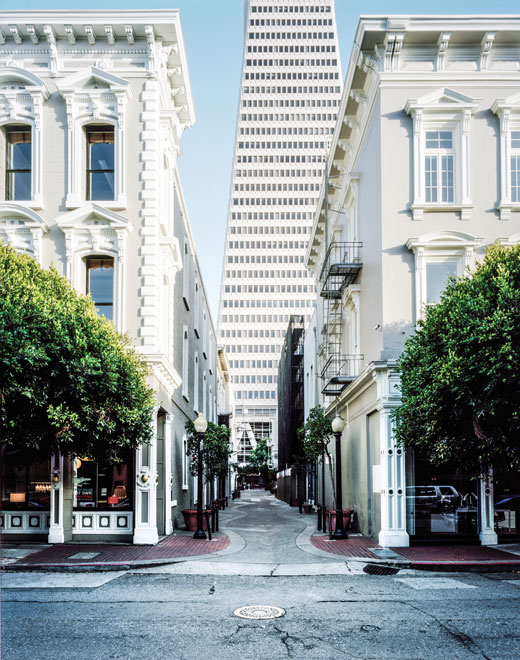 The 1950s transformation of Jackson Square from a warehouse district into the city's foremost design district came about because prescient developers saw the value in retaining the neighborhood as a whole. During an era when urban change was often implemented with a bulldozer, Jackson Square pioneered adaptive reuse on a neighborhood scale. In 1955, a reviewer in Architect & Engineer proclaimed, "It takes imagination, daring and faith to see a blighted city area and visualize the possibilities of its renaissance."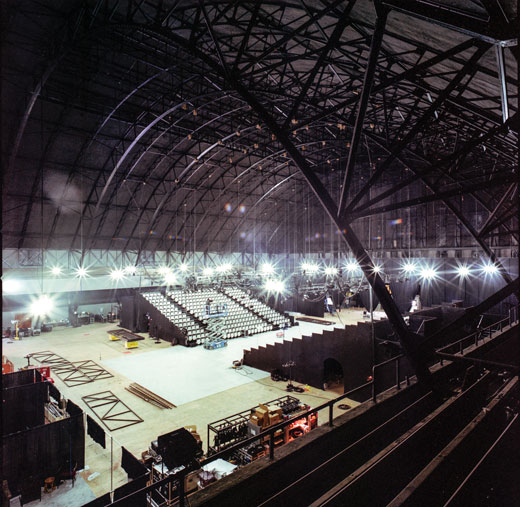 After standing vacant for nearly three decades, the San Francisco Armory was purchased in 2006 by Kink.com, a San Francisco–based adult film studio. The company's stewardship of the colossal brick landmark left the interior spaces remarkably intact, including the last remaining trace of Mission Creek, which flows through the Armory's basement. The former drill court will soon be converted into the Armory Community Center, providing locals with access to almost an acre of event space.
Original architect: John Woolett (1914)
The Exploratorium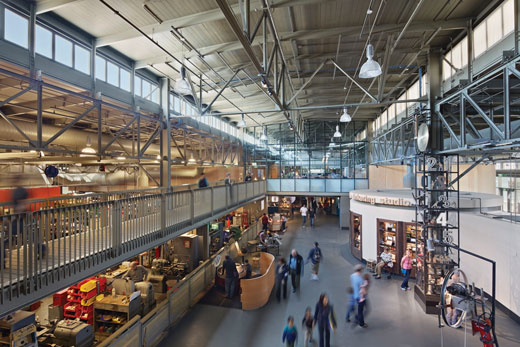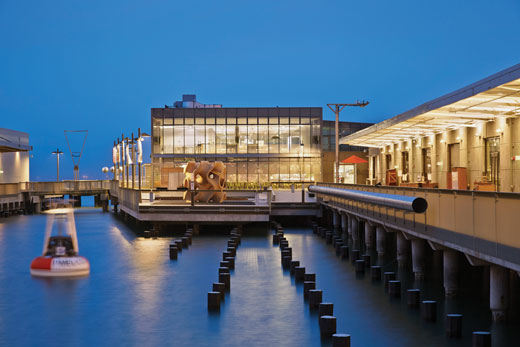 Photos by Bruce Damonte
The Exploratorium's recent move to Pier 15 reaffirms the unique appeal of the city's defunct finger piers as catalysts for revitalization of the historic waterfront.  The museum, housed within the original bulkhead and pier building, accommodates four spacious galleries. The glass-and-steel Bay Observatory — the only new structure on the site — innovatively unites the Embarcadero with the bay.
Original architects: G.A. Wood, H.B. Fisher, A.W. Nordwell (1930s)
Contemporary architect: EHDD (2013)
Preservation architect: Page & Turnbull 2013]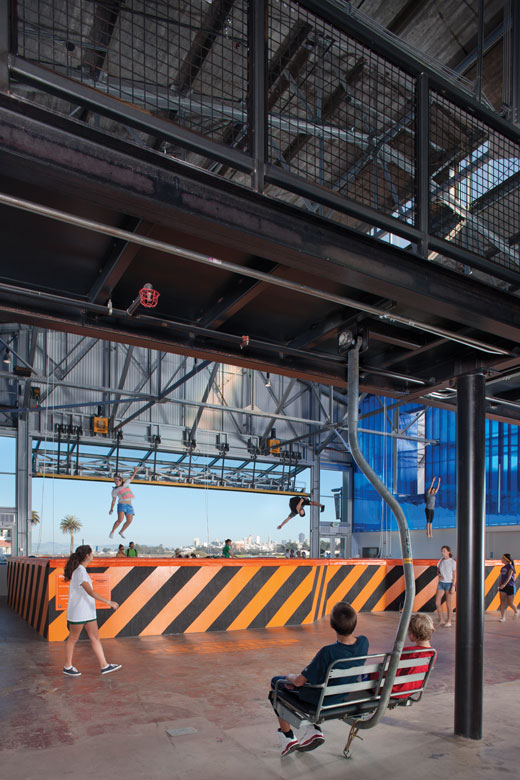 Photo by Ethan Kaplan
The U.S. Army's former airplane hangars on Crissy Field posed a complex rehabilitation challenge for the Presidio Trust. Fortunately, the House of Air, a trampoline gymnasium, offered a new use that capitalized on this hangar's large, open interior, steel trusses and slightly gritty character. New components were skillfully placed within the cavernous structure, with the architect riffing on its aviation history to produce a bright, playful interior where people can literally take flight — if only for a moment.
Original builder: U.S. Army (1921)
Contemporary architect:
Mark Horton 
Architects (2011)
Incorporation
The Modernist movement of the 1960s and early 1970s saw little value in old buildings and sought to replace what they saw as "obsolete" or "unhygienic" districts with a fundamentally new pattern. This resulted in the demolition of old buildings. Urban renewal initiatives were predicated on the idea of "slum clearance" to remove substandard housing, which led to the demolition of entire neighborhoods—both the buildings themselves and the social networks of the people who occupied them.
The historic preservation movement emerged out of a desire to respond to these practices and assert the value of older buildings and of traditional urban patterns, with San Francisco enacting its first Landmarks Preservation Ordinance in 1967. As preservation took root, more buildings were saved.  However, sometimes only bits and pieces, rather than whole buildings, were preserved. One approach was to salvage building fragments known as "spolia." Another common practice, "facadism" retained only the historic facade while replacing all that once stood behind it. "Encapsulation" kept a historic building in its original location but surrounding it on all sides with new construction.
Spolia, facadism and encapsulation are controversial practices. While many wonderful pieces of original fabric have been saved through these actions, their historical context can be radically altered or destroyed. The most contentious example of both spolia and incorporation in San Francisco is the former City of Paris department store on Union Square. After a four-year preservation battle, the Beaux Arts icon was demolished in 1981, with the exception of the historic rotunda. Today the rotunda is suspended in glass and concrete as the grand entry piece to architect Philip Johnson's Neiman Marcus at the same location.
While not orthodox from a historic preservation perspective, incorporation practices continue today, sometimes with provocative results.
After an impassioned fight to save Union Square's City of Paris, the iconic Beaux Arts department store was torn down in 1981. Only its rotunda and glass dome were spared, now encased in glass as a highly provocative entry feature for the granite-covered box designed by Philip Johnson. A conspicuous and controversial example of spolia, the Neiman Marcus building could nonetheless find itself in the ironic position of being deemed "historic" in the future for its association with the legendary architect.
Original architects:
John Bakewell and 
Arthur J. Brown (1896 and 1909)
Contemporary architect: Philip Johnson (1982)
Foundry Square II represents the extreme juxtaposition of old and new — both inside and out — with a lone 100-year-old brickand- heavy-timber stalwart providing visual relief from the steel and glass rising up around it. Completed in 2003, the project incorporates a 30,000-square-foot historic building, faithfully restoring its brick exterior while renovating the interior to serve modern technology and functionality.
Architects:
STUDIOS Architecture and Jim 
Jennings Architecture (2003)
Preservation architects: Page & Turnbull (2003)
California Academy of Sciences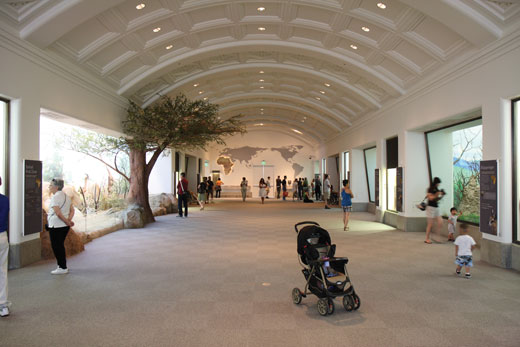 Photo by
When the Academy of Sciences announced plans to replace its former facility in Golden Gate Park with a new building, it promised to retain the beloved African Hall, with its dioramas and traditional barrelvaulted space. Leaving only two original limestone walls tested the value of retaining such a small fragment of the original building. The strong contemporary design of the new building, beautifully conceived by Italian architect Renzo Piano, engulfs the two historic limestone walls and provides a modern replica of the original African Hall.
Original architect of African Hall: Unknown, 1934
Contemporary architect: Renzo Piano
Building Workshop with Gordon Chong (2008)
Juxtaposition
Some of the most exciting examples of adaptive reuse in San Francisco highlight strong contrasts between older buildings and contemporary additions. Consider the Contemporary Jewish Museum, formerly the Jessie Street Substation, where an iridescent blue cube has been inserted into the side of Willis Polk's classical brick structure. The juxtaposition between old and new helps reinforce the qualities of both.
The construction of a new building next to an old building also brings possibilities for transformation.  The recently completed addition to 1 Kearny (shown on page 19), respects the rhythm and scale of its multigenerational neighbors without mimicking them.  Its roof garden is successful not only as thoughtfully constructed open space, but also for its stunning views of the historic parapet next door.
San Francisco Art Institute
The original Mediterranean Revival art school by Bakewell and Brown rendered traditional elements, like its tower and arcaded courtyard, in a modern material: boardformed concrete. The 1969 addition continues with concrete but abandons traditionalism for architectural abstraction. Each (the original and the addition) is a product of its own era, and each represents thoughtful design. One is inward-facing, while the other turns outward to embrace the city. Though strikingly different, the two halves hold together as an integrated whole.
Original architects: Bakewell and Brown (1925)
Contemporary architect: Pafford Keatinge-Clay (1969)
 
Contemporary Jewish Museum
The former Jessie Street Substation, with its elegant neoclassical design, took on a radically new dimension in 2008 with the completion of Daniel Liebeskind's lustrous blue cubic structure, which transects the historic brick facade. These geometries and materials — stainless steel against traditional masonry — amplify the contrast between old and new.
Original architect: Willis Polk (1905–1909)
Contemporary architect: Daniel Liebeskind (2008)
Enveloping the facade of the 1910 San Francisco Women's Building, the "MaestraPeace" mural (1994) is the vibrant outcome of a multicultural and multigenerational collaboration among seven women artists and their apprentices.  The artwork celebrates the female spirit over time and around the world, boldly expressing the missions of the numerous organizations that call the Women's Building home. Unlike most examples shown here, it is the 1994 mural, rather than its backdrop, that lends the building its primary significance today.
Original architect: Reinhold Denke (1910)
Mural artists: Juana Alicia, Miranda Bergman, Edythe Boone, Susan Kelk Cervantes, Meera Desai, Yvonne Littleton and Irene Perez (1994)
Once a derelict urban alley, Mint Plaza is nestled between the Old Mint and several historic warehouses. The space has been transformed into a lively public plaza and cultural venue. A simple ground plane unifies the plaza, while a steel arbor balances the towering warehouses to the north and the lower neoclassical facade of the Mint building to the south. The climbing vines on the arbor bring extensive greenery to the heart of the plaza and provide a canopy for al fresco diners.
Contemporary Architect: CMG Landscape Architecture (2008)
178 Townsend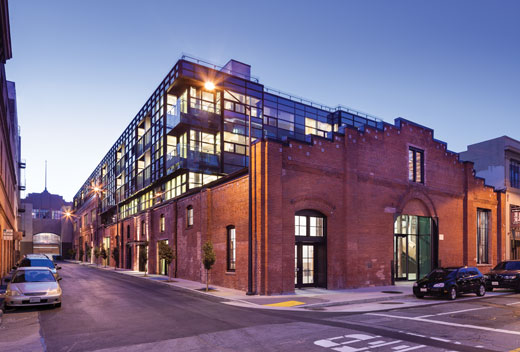 Located in the South End Historic District, the recently completed 178 Townsend project added four stories and 94 rental housing units behind the edifice of the former Arc Light Company Station B building. A sleek glass structure was inserted into the original masonry building, juxtaposing materials and volumes. The addition demonstrates the emergence of new urban textures and achieves harmony between old and new.
Original architects: Frederick F. Hamilton and George W. Percy (1888)
Contemporary architect: HKS and Martin Building Co. (2012)