City of Plans (City of Experiences) in History
What, exactly, makes a "great city"?
July 1, 2009
Being human is itself difficult, and therefore all kinds of settlements (except dream cities) have problems. Big cities have difficulties in abundance, because they have people in abundance. But vital cities are not helpless to combat even the most difficult of problems. They are not passive victims of chains of circumstances, any more than they are malignant opposite of nature.
— Jane Jacobs

As I sit down to write this essay, an article in the San Francisco Chronicle reports on recent legislation championed by former Supervisor Aaron Peskin intended to make it easier to designate historic landmarks and districts. The columnist C. V. Nevius, who loves nothing better than a good contradiction, writes, "it is the latest chapter in that old San Francisco debate — do we want to freeze every structure in the city in time and never allow a developer to build anything new, or do we need to accept the fact that every bay window isn't a work of art?"1

The question of how we hold on to the best of a city — architecturally, historically, as a matter of quality of the urban experience and quality of life — is deeply bound to the question of how cities change, and in particular the tension between "preservation" and "development." It may seem easier to recognize what is good about a city after it has withstood some test of time — to mourn its passing if it fell under the wrecking ball (as whole swaths of San Francisco neighborhoods have done), or to marvel at particularly tenacious examples of survival (one of my special favorites is Klockar's Blacksmith Shop on Rincon Hill). Development, too, impacts architectural quality, quality of experience, quality of life, and capacity to attain historical significance, and is intended to do so with foresight rather than in hindsight when channeled through initiatives to plan and manage change in the city according to current thinking on what, exactly, makes a "great city."



Figure 1: South Park 1867. San Francisco History Center, San Francisco Public Library;
South Park on Rincon Hill began as the upscale neighborhood for the wealthy San
Franciscans. When the Pacific Heights neighborhood blossomed, the upperclass moved
west and notions of an elegant South Park left with them.

But here's the rub: few of the qualities that make a great city are easy to define, nor is it particularly easy to obtain consensus around them. Many of these qualities are subject to prevailing fashion, especially when the nexus between visionary master planning, development energy and new technology (whether cars or computers) is especially strong. Ideas about "livability" and "quality of life," never mind architectural or design quality, are all pretty subjective and deeply inflected by who you are and where you see yourself in the economic and cultural pecking order. Nevius goes on to report that Peskin's proposed legislation seems destined to pit middle-aged white preservation enthusiasts against "young, disadvantaged people of color who are trying to carve out a life in the city." But that's just one set of perceived dichotomies, and reflects one set of perceptions about whose development or preservation initiative comes at whose expense? For whom is housing preserved or developed: empty nesters or extended families? How about recreational space? Does the city need more meandering promenades for solitary strolling and biking, or more picnic tables and soccer fields? Do human-scale gingerbread Victorians appeal to your sense of a cosy urban domesticity, or does a spare and soaring modernist architecture affirm your commitment to urban vitality and the promise of an urban future?

Typically, most comprehensive planning, like most grand narratives about cities, starts with the bird's eye perspective or overview, which tends to smooth out the contradictions of life on the ground. But for me, it's at street-level, where all the crooked edges of individual initiatives and just life-in-general align and misalign with successive generations of administrative and prescriptive zoning, urban design plans and other measures, that a city is most particularly itself and most interesting. Here are just a few places in San Francisco where it's worth walking around to see for yourself how ideas and plans about what a city has been, is, and might be are being put to the test of everyday experience.

Lands End
Indeed, although in my travels I saw very good sites and beautiful country, I saw none which pleased me so much as this. And I think that if it could be well settled like Europe there would not be anything more beautiful in all the world, for it has the best advantages for founding in it a most beautiful city, with all the conveniences desired, by land as well as by sea, with that harbor so remarkable and so spacious, in which may be established shipyards, docks, and anything that might be wished.
— Fray Pedro Font2

When the Anza expedition was dispatched by the Spanish colonial government in Mexico to open up a land route to Alta California, they basically came up northbound 280. What's more, they made their way from native American village to village, bartering small goods for food and directions. When they reached what would become San Francisco in 1776, the 240 "settlers" doubled the non-native population of the region. Meanwhile, the native population stood at well over 300,000. The northwestern edge of the peninsula was a favorite place of the Ohlone. A freshwater spring made a good place for an encampment, and a midden still stands to prove the abundance of shellfish and game.

Since then, "Lands End" has been the site of pleasure grounds and railroads, military fortifications and forestation efforts (first under the Works Progress Administration and now under the National Park Service and Golden Gate National Parks Conservancy). It has seen shipwrecks and trainwrecks, love stories and tragedies. Recently Lands End has been refurbished to provide a newly elegant urban promenade along this particularly wild stretch of coastline. If you stand where you can look across the Bay to the Marin Headlands, you can see what San Francisco looked like when Father Font arrived (it was mostly tree-less, coastal scrub dunes and hills), even as the San Francisco he imagined is at your back. And standing there, you can think about what was gained and lost when this shining city came into being in what was already one of the most densely populated areas in North America even before the Europeans arrived on the scene.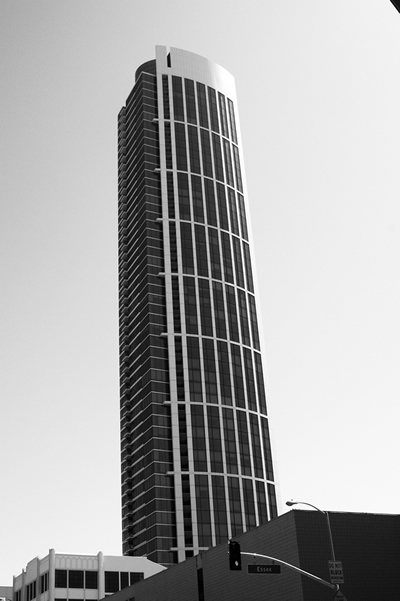 Figure 2: One Rincon 2009 by Amy Ress: One Rincon may turn out to be a relic of the
Rincon Hill revival plan as the only skyscraper of the bunch to be built pre-economic bust.

Dogpatch/Central Waterfront
The shipyards and docks that Father Font imagined came to life on the Central Waterfront, among other places, where they now stand mostly in ruins. Industry was a vital part of San Francisco's history from the Gold Rush through World War II, and waves of newcomers worked in the cordage factory, steel rolling mills and shipbuilding yards, slept in boarding houses and shanties, and unwound in the saloons and bars where among other entertainments, boxing matches were offered to burn off steam. The old place names of the Central Waterfront carry their memory — present-day Dogpatch was known as Dutchman's Flat (a few rows of working-class scaled Victorians survive on Tennessee and Minnesota Streets, their compact plainness a useful contrast to the more ornate Victorians the upwardly-mobile built in other parts of the City). The serpentine outcropping in the current PG&E yard at 22nd and Illinois is all that remains of "Irish Hill" (most of the rest of it was chipped away to infill Mission Bay).3

Heavy industry doesn't seem to fit so well into San Francisco's future. The ship repair business goes on, but most jobs in the area have transitioned to light industry or no industry at all. As the biotech campus of Mission Bay grows to the north, and the Third Street Light Rail wears a slow but inexorable groove of gentrification through the area, the question of what to do with historic Pier 70 remains. Urban ruins hold a certain fascination in their own right (the Pier is a favorite site for guerilla-style installations by the graduate students of the San Francisco Art Institute whose studios are located in the nearby American Can building), but we will lose something essential about "what made San Francisco work" if we fail to address the potential of this area with imagination and resourcefulness.

Civic Center
Arthur Brown Jr.'s City Hall, opened in 1915, is San Francisco's beaux-arts crown jewel and emblematic of the City Beautiful movement that held sway in city planning circles around the turn of the century. Beautifully restored under the administration of Mayor Willie L. Brown Jr. (although not without some predictable controversy over cost and Mayor Brown's "imperial" tendencies), the interior provides a stately civic setting for the very public rough-and-tumble of San Francisco politics, and the very personal relationship of citizen to government, whether it be negotiated by casting a ballot, getting married or paying property taxes.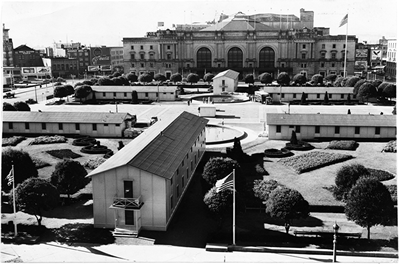 Temporary Barracks at Civic Center Plaza, August 21, 1943. Courtesy an Francisco
History Center, San Francisco Public Library: Victory gardens of 1943, like the U.S.
barracks that covered Civic CenterPlaza during World War II, demonstrate the Plaza's
function as a space of necessity.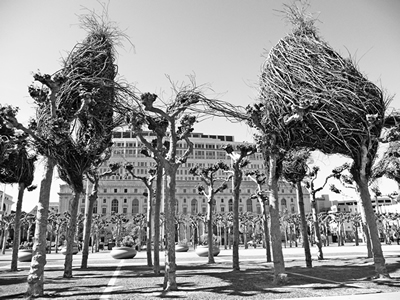 Patrick Dougherty, the upper crust, 2009 by Amy Ress: Public artist Patrick Dougherty¹s
installation in Civic Center Plazademonstrates the Plaza¹s flexibility. Here, it acts as a
stage for playful nest sculptures, but on another day it works equally well hosting political
protests.

The same cannot be said of the grand plaza that fronts City Hall to the east. Its fortunes have waxed and waned with the decades, efforts to resolve its design in constant tension with more pressing needs and uses, whether it be space for a city festival or block party, temporary military barracks during World War II or symbolic homeless encampments during the economic downturn of the 1980s, let alone the excavation of the underground parking garage that disrupted its original beaux-arts plan. But here's the thing: it's the very unremarkableness of the plaza, anchored by the exceptional backdrop of City Hall's soaring, gilded dome, that makes it such a flexible space for ongoing experiments in civic-mindedness, whether it be through the wide range of recent public art projects (everything from Burning Man to Patrick Dougherty), the installation of an organic "victory" garden to celebrate the contemporary ethos of sustainability or the construction of an experimental green building. Civic Center Plaza can be a laboratory for defining who we are and who we want to be precisely because it has defeated most efforts to make it precious and frozen in time — even as it stands in relation to one of our most deeply symbolic historic buildings.

Rincon Hill
Rincon Hill started out posh. South Park was developed as an English-style Hyde Park to be ringed with the 19th-century equivalent of McMansions. It never got finished as envisioned, and instead Rincon entered the long period of its "decline." Mansions around South Park gave way to rooming houses and bodegas, the nearby Sailor's Union of the Pacific functioned as job hall and hangout for merchant seaman (offering among other amenities a barbershop, bar and boxing ring), and anchored the "Battle of Rincon Hill" when workers confronted police during the 1934 waterfront strike. The various approaches to the Bay Bridge have brought periodic gridlock and little pockets of no man's land. For a brief moment in the early nineties, South Park came back into prominence as the newly fashionable ground zero for the dot.com boom. With the bust, it slipped once again into benignly hip obscurity.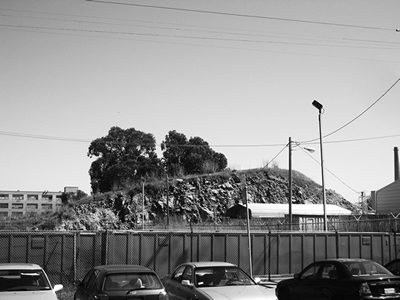 Contemporary Irish Hill 2008 by Ruth Keffer: Irish Hill once housed the industrial working
class of San Francisco, a residential neighborhood amongst the factories and shipyards.
Few remnants of the Irish Hill neighborhood remain, let alone the hill itself (as seen here).
Nowadays the area is called Mission Bay, and instead of ship builders, the biotech industry
reigns.

And then increasing demand for housing combined with new ideas about urban densification to focus new attention on Rincon. Putting towers on San Francisco hills was already somewhat of a tradition. The Rincon Hill Plan would transform the area's spotty patchwork of aging, low-density housing, aging industrial buildings and aging infrastructure into a visionary new neighborhood of residential skyscrapers carefully spaced amongst pedestrian-friendly thoroughfares offering neighborhood-serving amenities. In 2007, the Chronicle declared that in five or maybe ten years, old San Franciscans wouldn't recognize this part of town. Only one tower got built before the 2008 global economic meltdown put most plans on hold. For now, the 641-foot tall One Rincon stands alone on the south-of-Market skyline, serving as an accidental monument to an idea of city-building "Vancouver-style" that may have come a little too late to San Francisco, or at least a monument to San Francisco's ongoing commitment to mixing a lively debate about the city's future direction with a healthy skepticism about making any plans at all.

Wherever you may be standing, right now
I began walking my own city's streets as a teenager and walked them so long that both they and I changed, the desperate pacing of adolescence when the present seemed an eternal ordeal giving way to the musing walks and innumerable errands of someone no longer wound up so tight, so isolated, so poor, and my walks have now often become review of my own and the city's history together. Vacant lots become new buildings, old geezer bars are taken over by young hipsters, the Castro's discos become vitamin stores, whole streets and neighborhoods change their complexion. Even my own neighborhood has changed so much it sometimes seems as though I have moved two or three times from the raucous corner I started out on just before I turned twenty.
— Rebecca Solnit4

The give and take between the old and new city doesn't stop with these places. It can be found all around San Francisco, as much a product of individual narratives as of official histories, with as many starting points as there are new arrivals to the city, as many trajectories as there are human desires, as many missed opportunities as there are unfinished city plans, as many lucky breaks as any developer's dream.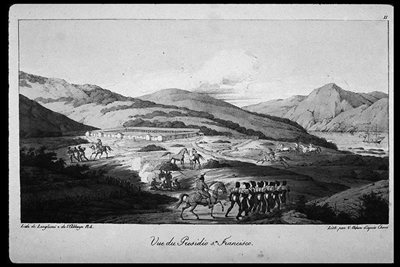 Louise Choris, Vue de Presidio de San Francisco, c. 1815 courtesy of the Bancroft Library
University of California Berkeley: Lands End has long been a treasured spot, dating back
to large Native American settlements in the area. Here, a view of the Presidio and Marin
Headlands in the distance in 1815.

So…pick a place where you feel fully present and fully acknowledged in the City — maybe it's your house or apartment, where you walk your dog or get your morning coffee or hang out after work; maybe it's wheeling down the bike lane on Valencia, finding the first spring Clarkias blooming on Tank Hill, barbecuing in the Great Meadow at Golden Gate Park, marching in a protest down Market Street. Maybe it's shopping at the Alemany Farmer's Market or the one at the Ferry Building or Civic Center or Divisadero and Grove. Maybe it's the alcove where you got married at City Hall. Think about the things worth saving about San Francisco, the things that need changing, the things that seem to change no matter what. Check back in three years. In five years. In ten years. And remember how the City's history became your own.



Endnotes
1 The Death and Life of Great American Cities (Modern Library, 1961), p. 447. One Rincon may turn out to be a relic of the Rincon Hill revival plan as the only skyscraper of the bunch to be built pre-economic bust.
2 Herbert, Eugene Bolton, Font's Complete Diary: a Chronicle of the Founding of San Francisco (University of California, 1933), p. 341 (March 27, 1776). For more on this area, see the excellent website at www.pier70sf.org
(accessed May 3, 2009).
3 C. V. Nevius, " 'Historic Preservation' Plan Won't Save S.F.," San Francisco Chronicle (April 30, 2009).
4 Wanderlust: A History of Walking (Viking, 2000), p. 194.