Is Master Planning Possible Today?
July 1, 2006
Master planning has evolved from the "vision of the great man" into a more complex, inclusionary, process-driven form. Successful master planning requires a combination of bold visionary ideas, earned public support, imaginative presentation and a realistic strategy for implementation. The lone visionary architect is not sufficient to achieve all of these goals and a comprehensive master planning team now consists of many players, including architects; urban designers; economic, traffic and transportation consultants; cost estimators; structural, mechanical and civil engineers; environmental experts; andcommunity outreach consultants.
Creating a visionary master plan is more complicated today than in Burnham's time and getting it implemented is even more challenging. Whereas in Burnham's day decisions and patronage took place among the city's oligarchy while they were smoking cigars and drinking scotch in the Pacific Union Club, today any important planning decision must pass a gantlet of public hearings and  please many single-issue constituencies.
 
Master planning today
With so many voices, it is easy for the process to take over from the project itself, and for the process to become the master plan. The result  can be so much populist pandering, resulting in an unrealistic set of proposals, that it can discredit the whole effort.
Creating an effective and long-lasting master plan requires skilled leadership from the design team, a strong partnership with the client and committed public support. It is essential for the plan to have advocates for its goals and ideas to take the lead when the consultants have gone home. If the plan is not to become just another report on a shelf, it must remain a living document that is understood, is adhered to and is flexible enough to be able to respond to unforeseen circumstances.
 
The challenges we face and the need for visionary thinking
While men in Burnham's era faced the challenges of taming the inequities and chaos of the unplanned Industrial Age city, we face very different, more diverse and much greater challenges today. The need for visionary planning to address the catastrophic impacts of global warming and the loss of valuable agricultural land through sprawl, and to avoid being overwhelmed by traffic congestion and pollution, has never been greater.
In the Bay Area, we have the prospect of absorbing 1.75 million new residents within the next 25 years, the equivalent of more than the combined populations of San Jose and Oakland. Do we let that occur out in the Livermore Valley, around Gilroy, near Santa Rosa and into the Central Valley? It's already happening. According to the Sacramento Area Council of Governments, unless we change our patterns of consumption, energy use and pollution output, with the continued rise in temperatures here in California, by the end of the century 94 percent of the annual Sierra snow cap will melt.Although we may have the same amount of precipitation as at present, it will be in the form of rain storms rather than snow pack, resulting in potential flooding in winter and leaving California unable to store enough drinking water for the state's increased population. The same report estimates that by 2100, the number of days per year in the Central Valley with daily temperatures greater than 95 degrees will rise from the current 18 to more than 100, making many areas undesirable to inhabit.
 
The clear need is to find ways to absorb the Bay Area's projected population growth through more compact communities related to transit corridors, and by creating neighborhoods that are affordable and do not depend on the use of the automobile for every activity. Overcoming the inertia of cities and towns that don't look beyond their own tax base or existing political interests is an enormous challenge requiring leadership, inventiveness and public education. Here in the Bay Area there are numerous examples of NIMBY myopia that a regional approach should overcome. It seems beyond absurd that Brisbane, a city with one of the largest brownfield sites in the inner Bay Area ¾the former Southern Pacific rail yards next to the new Bayshore Caltrain station ¾and strategically located midway between San Francisco and SFO, should resist the idea of new transit-oriented residential development. But because of the fear of losing its small-town identity and the lure of property taxes from retail development (one of the many unforeseen consequences of Proposition 13) the pressure is for Brisbane to build an auto mall and big-box development. Even enlightened city councils, such as in Mountain View, face resistance from local residents to the idea of transforming dead malls or empty high-tech industrial sites into housing sites.
 
The need for strong leadership
Without strong political leadership, most visionary plans will fail. Burnham didn't have the patronage of the mayor or governor after 1906, and the desire to rebuild San Francisco as quickly as before pushed aside visions of new diagonal boulevards or Parisian rond points.
The current Mayor Richard M. Daley of Chicago has embraced a vision of sustainability and a green agenda more vigorously than any other mayor in the United States. He has done this by making it a comprehensive part of his city's political agenda and holding the heads of all the city departments accountable. He asks them at each monthly city cabinet meeting to describe  what they have been doing "to make our city 'greener.'" By doing so, he has been able to achieve more than anyone imagined. As a result, half a million new trees have been planted in the city since 1996, and there has been an 11 percent reduction in the city's energy consumption through measures such as the wholesale use by city agencies of hybrid vehicles, zero-emission buses and improved building insulation through the use of green roofs. San Francisco Mayor Gavin Newsom's recent Livable Streets Initiative can learn much from Chicago's example.
 
Earning public support
Earning public support nowadays is an art in itself, requiring different types of skills than in previous eras. Public outreach is now a necessary part of any plan. Many of us have learned this the hard way. To present a fait-accompli to a skeptical community is to guarantee failure. One must first listen to their concerns, priorities and suggestions. Presenting valid alternatives is equally important in an environment where choice is part of our culture. The process of listening, guiding and helping select the preferred alternative is essential to gain both trust and conviction that the best solution is being followed.
 
The charrette has become a familiar method of gaining public support and input. Architects such as Andres Duany of DPZ and Ray Gindroz of UDA have perfected the techniques and procedures for successful public involvement. They have taught fellow urban designers the most effective ways of presenting ideas and solutions, and how to manage public forums.
My friend Jeff Tumlin of Nelson Nygaard ¾a SPUR Board member ¾has frequently advised meeting hostile citizens in their homes in order to defuse a potentially difficult situation. He recommends keeping it informal (even to the extent of not wearing a tie), so that if necessary they can "vent" on their home turf, rather than at a public hearing.
 
Implementation strategies
Figuring out the most effective implementation and phasing strategies is critical to the success of any good master plan. The saga of failed plans for Mission Bay that preceded the current efforts over more than 20 years is testament to the need for reality checks on such things as infrastructure costs and the importance of recognizing the need for an economic engine to drive the project. Until both the Giants' baseball park and the deal to locate the University of California, San Francisco's Mission Bay campus on site occurred, the rest of the development was just wishful thinking. Earlier plans were so overloaded with well intentioned but unrealistic social objectives that they would have required the development team to invest billions of infrastructure dollars before seeing the first return.
 
Understanding the phasing of market-driven residential development is also crucial to its success. For example, observing the sequence of building and construction types that occurred in the new South Beach neighborhood over the last 15 years or so helps one understand the economics of development strategies. The first projects there were all stick-built, four- and five-story buildings, relatively inexpensive to construct and easier to phase as the market established itself. These were followed, a few years later, by some eight-story mid-rise towers, and it wasn't until the area was almost completely built out that the latest 16-story high-rise towers have been constructed. To have proposed high-rise towers at the outset would have very likely doomed the development to failure, since it was unrealistic to imagine any developer or financing entity being willing to take such a risk.
 
Presentation tools and techniques
Where once a city would have  an illustrative bird's eye plan of its future on the wall in the mayor's office, it now has land-use maps and code books the size of telephone directories. University campus plans such as John Galen Howard's masterpiece for the University of California at Berkeley that established the placement and alignment of buildings about axes and figurative spaces are now replaced with a long-range development plan that is a bureaucratic document full of references to full-time-equivalent employees and funding mechanisms.
 
One of the many achievements of the New Urbanist movement has been to rediscover the power and clarity of the illustrative plan and the value of perspective drawings. Just as Burnham's vision for San Francisco was aided by the strength of the splendid images of Telegraph Hill and Twin Peaks as they might have been, the most effective representations of recent visionary plans can have a power of their own if portrayed with great artistry.
 
Modern techniques with computer simulation are frequently as convincing as a photograph of the real thing. Steve Price of Urban Advantage, among others, has developed a comprehensive vocabulary of images that can be used to show, for example, the transformation of a bleak arterial highway into a splendid tree-lined boulevard with streetcars and pedestrians, and all the shadows and reflections doing the right things.
 
Making a case for a plan requires a variety of techniques. The recent designs by Skidmore, Owings &Merrill, LLP with SMWM and CMG for the future vision for Treasure Island have a compelling logic in terms of the layering of elements such as views, wind direction and solar orientation that builds a powerful case for the overall strategy. The result is a proposal for a dense, compact, pedestrian-oriented community, located along the shore facing San Francisco and connected to the city by ferry. Paradoxically, it is more likely to generate fewer car trips on the overcrowded Bay Bridge than the prior lower-density plans. That earlier scheme, by others, had so few amenities on the island that it would have required a car trip for every activity and potentially would have generated more congestion on the Bay Bridge.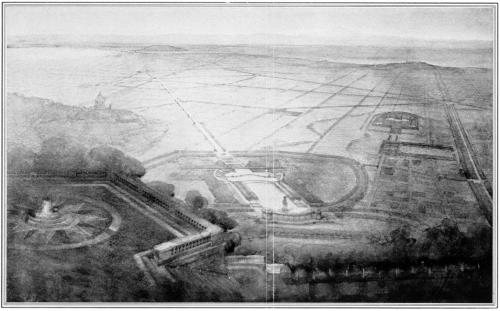 Burnham's bird's-eye perspective from Twin Peaks.
Design Guidelines
Design guidelines, as a method of implementing the master plan vision, require a recognition that the designs for the various buildings will most likely be done by many architects. Allan Jacobs, a U.C. Berkeley professor emeritus and former director of the San Francisco Planning Department, has advised that design guidelines are typically at their best when they are kept simple and are capable of being easily understood and interpreted. Definingthe way that buildings hold the street edge, establishing height limits, bulk controls for massing, and determining the locations for entrances and service access are essential elements of configuring the interface between the public realm and the private environment. Streets can be animated by porches for residential buildings, transparency at ground level and the frequent introduction of entrances.
 
Aesthetic controls about style, color, materials, and window and roof forms are more controversial. Aesthetic conformity is hard to maintain unless proposed in a city with a strong established architectural identity, such as Santa Barbara, or a campus such as Stanford, where an accepted architectural language has existed for many years. Elsewhere, it is sometimes possible to create unity by proposing an architectural language. Our experience several years ago at UC San Diego was a case in point. The overall campus is so visually chaotic and incoherent, the result of a complete lack of long-term planning, that any attempt at aesthetic control was too late. However, within the Matthews Camp District, the oldest and most urban part of the campus, we were able to create some unity through an architectural language that responded to climate through the use of natural ventilation, sun control and day lighting, and the use of arcades, porches and portals. The result has been quite satisfactory, with several buildings (each with strong design identities) designed by firms including Rebecca Binder, MBT, NBBJ and Rob Wellington Quigley. All these buildings relate to one another to make a place rather than another example of an architectural World's Fair.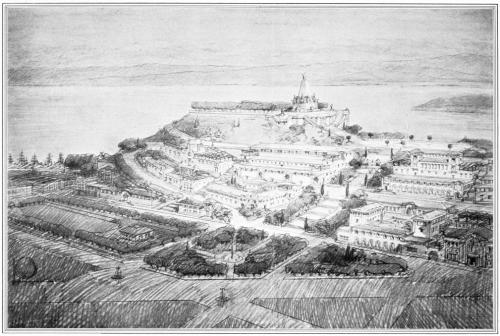 Burnham's vision for Telegraph Hill.
Conclusion
Master planning is an essential tool for the complex tasks facing our society. Architects and urban designers can lead these efforts in collaboration with other consultants. To be effective, one must listen and learn about community concerns, and present alternatives based on relevant precedents and prototypes. The document or report needs to have compelling images and be readily understandable by everyone concerned and must be flexible enough to respond to the unforeseen. The best results for a successful master plan can occur when there are enthusiastic endorsements for the project or plan from those who genuinely believe in its merits and who will become its advocates in the future.