With offices in San Francisco and Omaha, the architecture firm of Min | Day gets to design everything from startups to barns.
EB Min's architecture firm's design for Omaha's Blue Barn Theater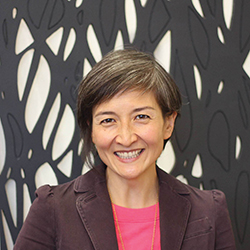 Min | Day is an architectural firm with the unusual distinction of being based both in San Francisco and Omaha. Architect EB Min, who runs the San Francisco office, met her Nebraska-based business partner, Jeff Day, while both were grad students at UC Berkeley: "We thought we might work together one day," says Min. "Then he ended up moving to Nebraska unexpectedly and floated the idea of partnership. We figured, why not?"
Over a decade later, the firm is busy working on a variety of projects in both places, including, as one might expect, a number of start-up offices here in San Francisco, while in Omaha they have several projects (including a new design for a great independent theater company called the Blue Barn Theater) all located on one block in an interesting and changing area just outside of the Old Town neighborhood. In March, the duo launched MD MOD, a line of modular furniture.
"The different locales are central to our work," Min says. "The landscape, urban issues, cultures are both strikingly different but similar concerns arise in both places. I find the different locales helpful in expanding our perspective both with projects and also being reminded that there is a lot happening everywhere in the country, not just on the coasts."
"We are able to work within academia and practice, pro-bono and commissioned work," she continues. " And it has allowed us to try out ideas in Nebraska that we could not do as easily here."
How did you first get interested in architecture? And how did you first learn about SPUR?
I had always liked art but felt obligated to do something more professional. A friend suggested architecture and blithely naïve, I decided to take an architecture studio at RISD. I've never suffered so much in a classroom setting.
I first learned about SPUR after grad school and started paying more attention to the world outside the studio. San Francisco had always seemed a mythical place viewed from Wurster Hall and it was great to learn more about what it meant to live in the city.
What should people know about working with an architect that they may not (and probably should)?
Though it's a cliché, working with an architect is truly a partnership. It helps the project if the clients know themselves, each other, and really understand the goals of what they want to achieve and think about the way the project or space should behave or perform and not too much about how it should look.
What's the most exciting/frustrating thing about designing and building in cities?
In a city it is so exciting to be working with plenty of context, people and old buildings but it's the classic double-edged sword. The context, old buildings and mythical qualities of the city can be pretty difficult dance partners as well.
What's your favorite city?
I have a horrible time naming one favorite. Barcelona and Tokyo.
Favorite urban view?
The view from atop the San Francisco Art Institute, it feels like an eternal image of San Francisco. And the view of the city upon exiting Waldo Tunnel on 101 is magic.
Favorite book, work of art or film about cities?
Wong Kar-wai's Chungking Express.