Ocean Beach Designs Show Open Space Vision
SPUR has just released a summary of open space designs showing ideas for both North and South ends of the beach.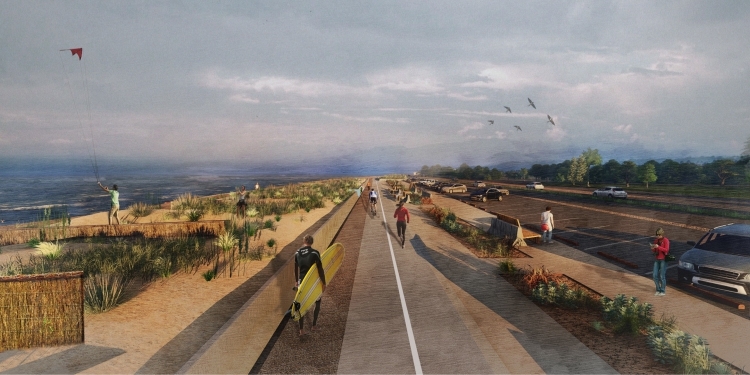 A rendering of south Ocean Beach in the first phase of improvements, with the Great Highway narrowed and a multi-use trail providing beach access. rendering by AECOM.
SPUR has just released a document presenting open space design concepts for Ocean Beach designed to provide improvements to public access, aesthetics and environmental conditions in a changing landscape. The designs show several phases of transformation, integrated with the efforts of public agencies to address severe erosion, serve community needs, and implement the Ocean Beach Master Plan.
They address two main areas: South of Sloat, where the erosion is severe and access must be coordinated with numerous coastal protection and roadway efforts, and North of Lincoln, where the Master Plan calls for a better connection between Golden Gate Park and the beach, along with basic amenities and greening. The designs were developed by AECOM landscape architects and are intended to provide ideas, inspiration, and solutions to the agencies in change of this complex setting, including SF Recreation and Parks, SFPUC, SF Public Works, and the Golden Gate National Recreation Area.
SPUR will continue to encourage the realization of these ideas as great public spaces as we grapple with a changing coast.