After a grueling recession and a long period of underbuilding, construction is making a vigorous comeback in San Francisco. A trend that started in 2012 will continue going strong in 2014: The SF Planning Department reports more than 6,000 new units under construction, mostly concentrated in areas that have recently undergone planning efforts, including Market and Octavia, Rincon Hill and Mission Bay. Local housing experts discussed future development and predicted SF housing trends at a SPUR forum earlier this month (you can download their full presentations here).
A strong labor market anchored by growing technology companies has put enormous pressure on the city's housing stock, but the new jobs have also attracted new investment. The situation in San Francisco is an accelerated case of a widespread housing recovery, exemplified by rising home prices and falling rental vacancies across the country. The national rental vacancy rate fell to 8.7 percent in 2012 — the lowest level since 2001, according to The State of the Nation's Housing 2013, a report from Harvard's Joint Center for Housing Studies. The report says construction activity has also recovered moderately (to 1990 levels) since the start of the recession.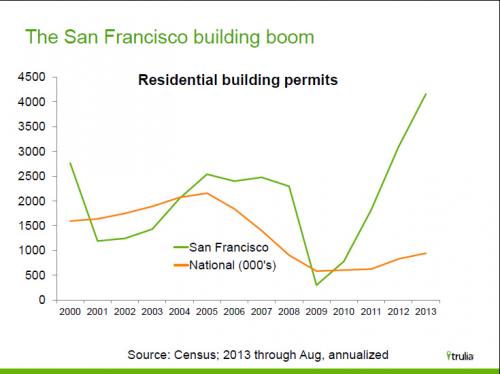 San Francisco has historically built far fewer units than needed on an annual basis. However in this boom, the city is slated to bring more than 6,000 units on line, up from an average of 1,500 units per year. Image courtesy Jed Kolko, Trulia
But nowhere has the market rebounded like it has in San Francisco. The city has granted entitlements to more than 32,000 units and issued 4,200 building permits for new projects. The city has completed planning for roughly 72,000 units on the eastern side of the city, with significant developments at Treasure Island, Park Merced and Hunter's Point.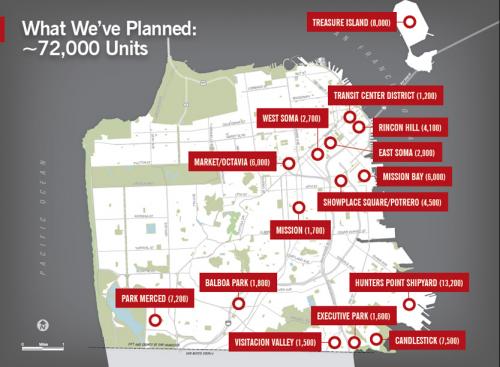 Budding and established tech companies are choosing to locate in urban rather than suburban environments and the market is responding. As we examined in the December 2012 issue of The Urbanist, new housing and commercial construction is cropping up in neighborhoods that support greater residential density and are easily accessible by public transit. Investors are reconsidering neighborhoods once thought to be undesirable in reaction to the preferences of young renters. Two luxury housing developments completed this year — the NeMa apartments on Market Street near Van Ness Avenue and the Vara apartments on Mission and 16th streets — indicate a changing character in neighborhoods known for issues with substance abuse, crime and poverty.
The backlash to this comes in the form of higher rents, which are rising especially quickly in previously inexpensive neighborhoods like Civic Center and the Mission, reports an article at Priceonomics (follow the link for some excellent graphical analysis). Home prices have been rising quickly around the Bay Area — with some of the most significant increases in Solano, Contra Costa and Alameda counties. Rental prices in San Francisco have also increased substantially – exacerbating unaffordability in a city where rents were already some of the least affordable in the country. In June 2011, the median rental price for a one-bedroom apartment in San Francisco was $2,195. Two years later, the price increased by 27 percent to $2,795. For a two-bedroom during the same time period, the price rose by 33 percent — ten times the rate of inflation, according to the Priceonomics article. Although the construction boom will help meet the increased demand for housing, prices are likely to continue to rise in the near future.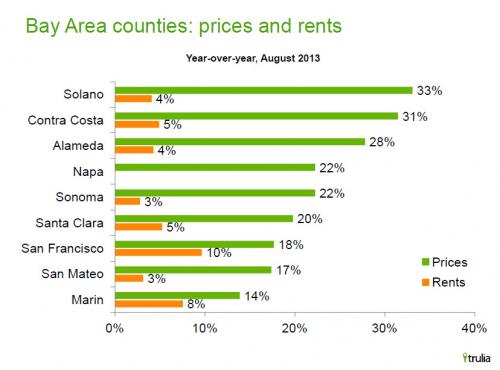 Although home prices in San Francisco have only increased modestly in relation to other Bay Area counties, it was already one of the most expensive locations before the recovery. Image courtesy Jed Kolko, Trulia