How do we create the kinds of compact, walkable environments that can have a real impact on car use and carbon emissions? SPUR San Jose's Urban Design Task Force is working to foster well-designed new development that will support the city's 2040 General Plan goals of a more walkable, livable and transit-friendly built environment. To understand the current state of development practice, we spent a recent Saturday visiting projects up and down the peninsula, focusing on large, multi-building developments that aim to introduce a more urban land use pattern. Each project we saw has its strengths and weaknesses, and each holds lessons for San Jose — and all growing cities — about the challenges of retrofitting suburbia into more sustainable communities.
See site plans for the projects on the tour >>
 
Stop 1:  Mission Bay, San Francisco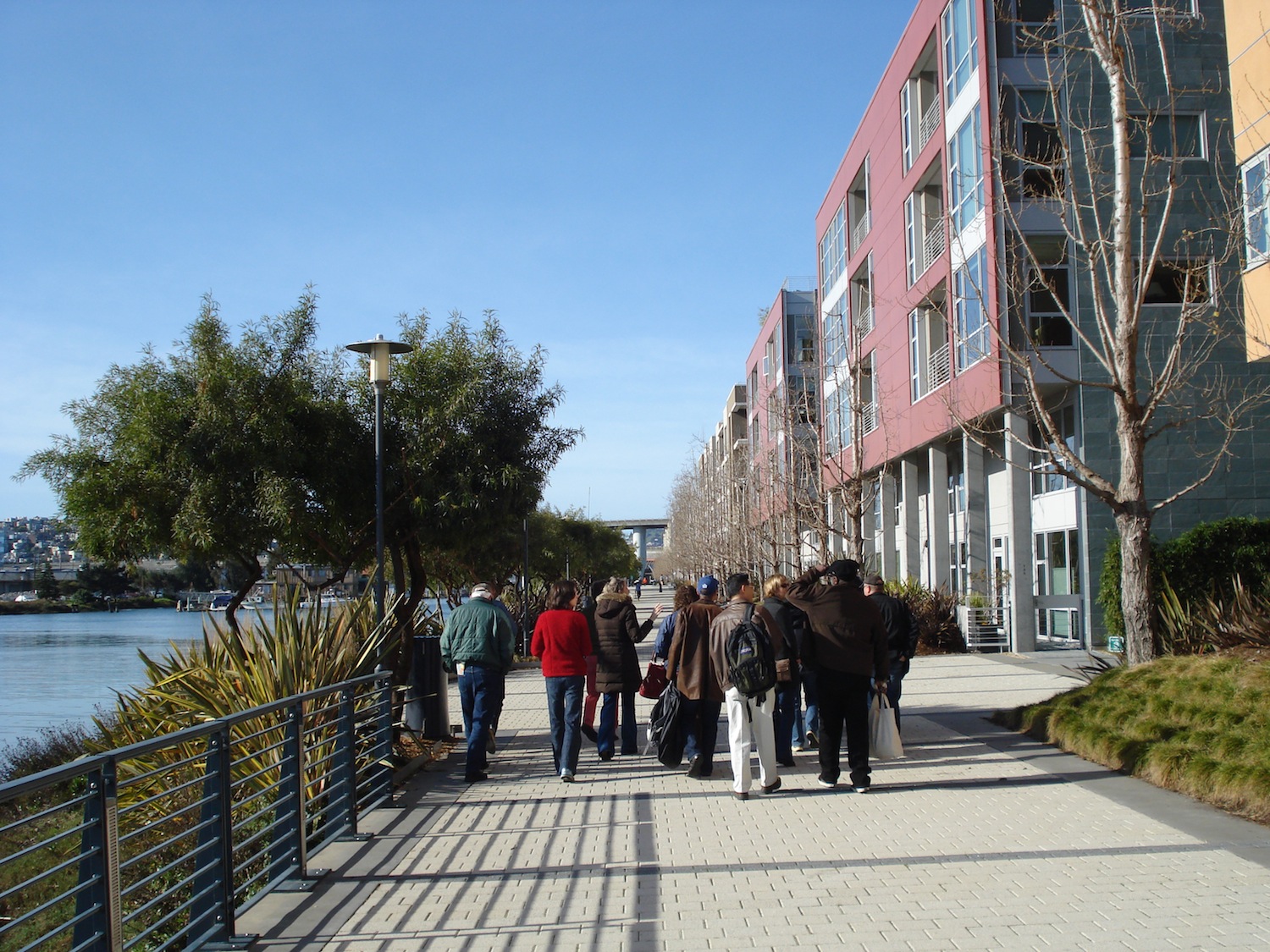 Developer: Catellus, Alexandria
6,000 residential units, 1,800+ affordable
43-acre, 2.3 million sf UCSF campus
280,000 sf retail
4.4 million sf office/biotech
49 acres of public parks and open space
The use of redevelopment tools (which California eliminated last year) and the location of UCSF's biomedical research campus were key elements driving development at Mission Bay, a new San Francisco neighborhood on the former Southern Pacific railyards. The campus has successfully attracted a cluster of private biotech firms, a boon to the city's economy and to the economics of Mission Bay land.
The development plan for the site stipulated not only uses and densities, but also the location, design, and phasing of public realm improvements like parks, plazas and promenades. These standards mean that developers' obligations are clear to everyone and the design framework is non-negotiable. Parks and open space must be built out before private buildings, and parking must be placed away from street fronts. One of the great successes of Mission Bay is the integration of new construction with the public realm, which is not San Francisco's strong suit in general. The promenade along Mission Creek Channel is an under-appreciated gem, offering a model of truly integrated public space and private development.   
Stop 2: Bay Meadows, San Mateo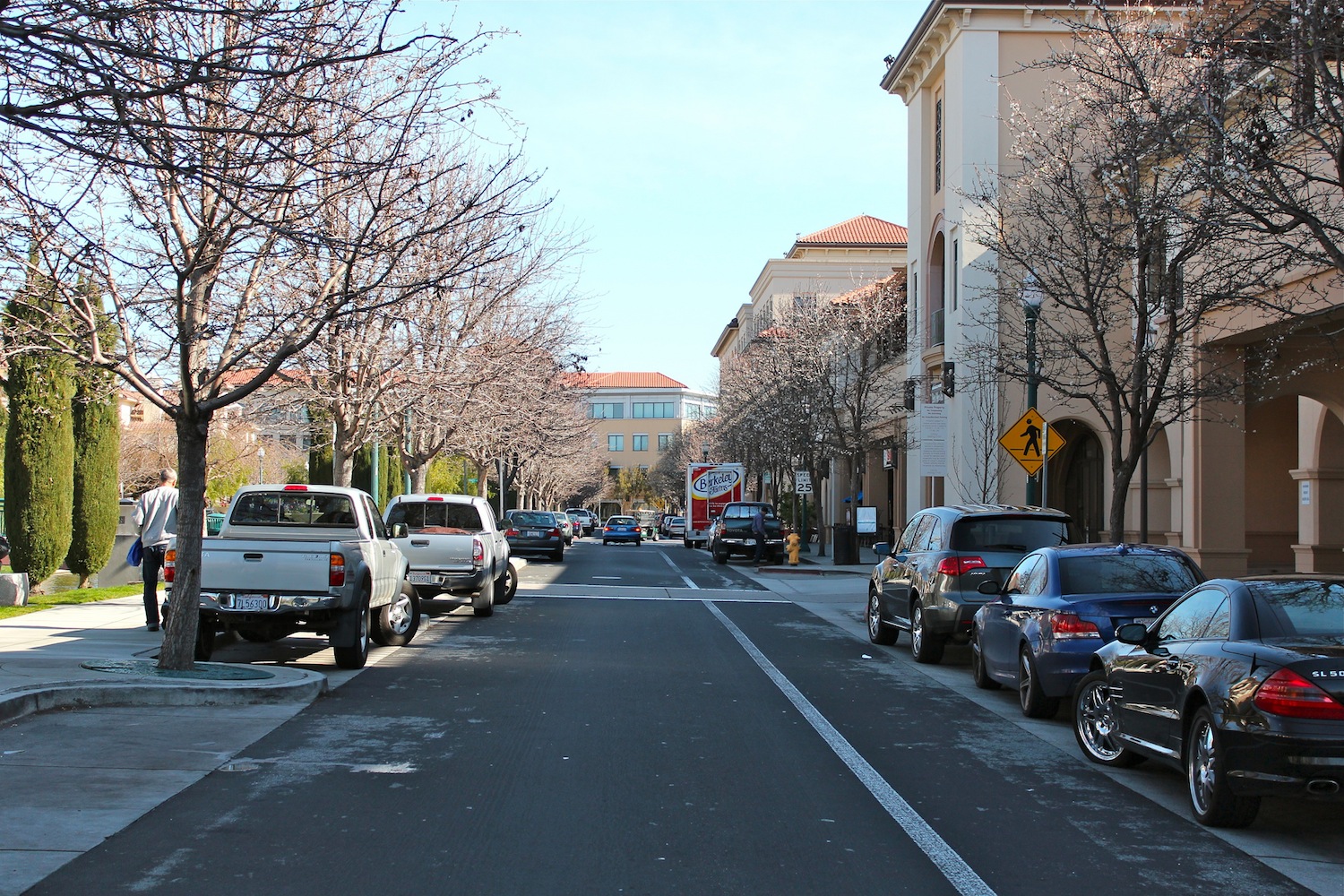 Phase 1
Developer: Stockbridge Capital
87-acre former stable area and practice track
735 residential units
272,000 sf office and retail, including a Whole Foods Grocery
Kaiser Medical Center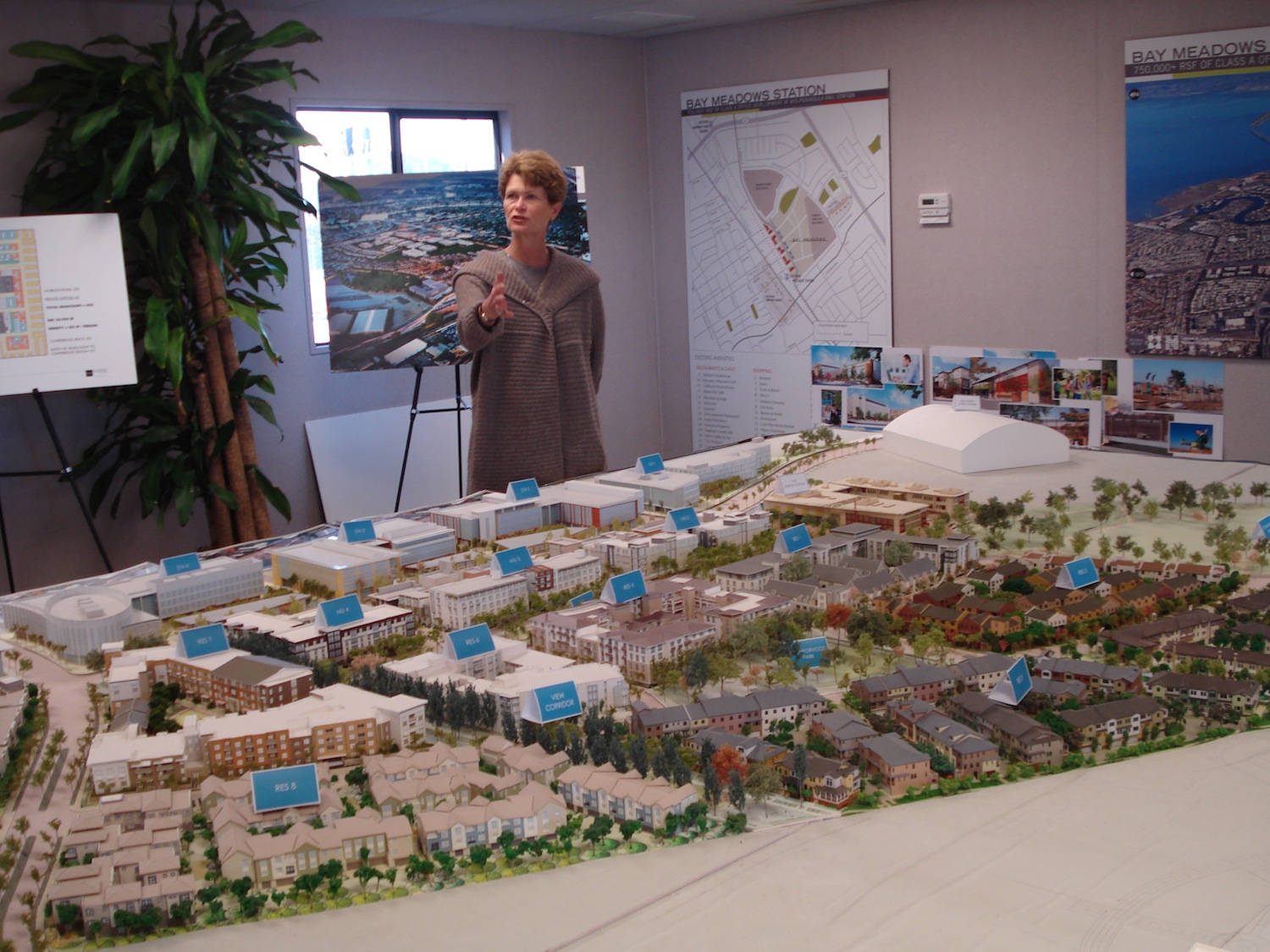 Phase 2 (under construction)
Developer: Wilson Meany
1,250,000 sf office
1,250 residential units
150,000 sf retail
15 acres of public parks
Bay Meadows, the site of a former racetrack adjacent to the Hillsdale Caltrain station in San Mateo, has recently begun construction on the second phase of its conversion to a mixed-use, transit-oriented neighborhood. Our visit to the first phase, completed by Stockbridge in 2011, revealed some of the key ingredients of good urban design. Office, retail, health care and housing are in close proximity, organized around a clear framework of streets, pedestrian pathways, parks and plazas. This phase is some distance from Caltrain, making it more internally oriented than transit oriented, but it represents a significant improvement over typical suburban development projects.
At phase 2, Wilson Meany has recently initiated construction on two parcels of an ambitious and considerably more urban project, which clusters office space, housing, retail, and public parks around the Caltrain Station. Office uses are nearest the station, flanked by a retail street that connects to several types of housing, at densities that increase as they get closer the station. An independent school holds one major site and the developer has opted to pay for the largest park up front, rather than await the city process.
Although no redevelopment powers were used at Bay Meadows, the project benefited from the large single parcel of land and from a tightly worded specific plan and development agreement with the city of San Mateo, including schematic-level architectural designs. This creates an unusual degree of clarity and certainty, drawing recession-weary builders to participate. As the master developer, Wilson Meany is the steward of this more urban vision, and the firm is the first line of review for any changes.
Stop 3: Sunnyvale Town Center, Sunnyvale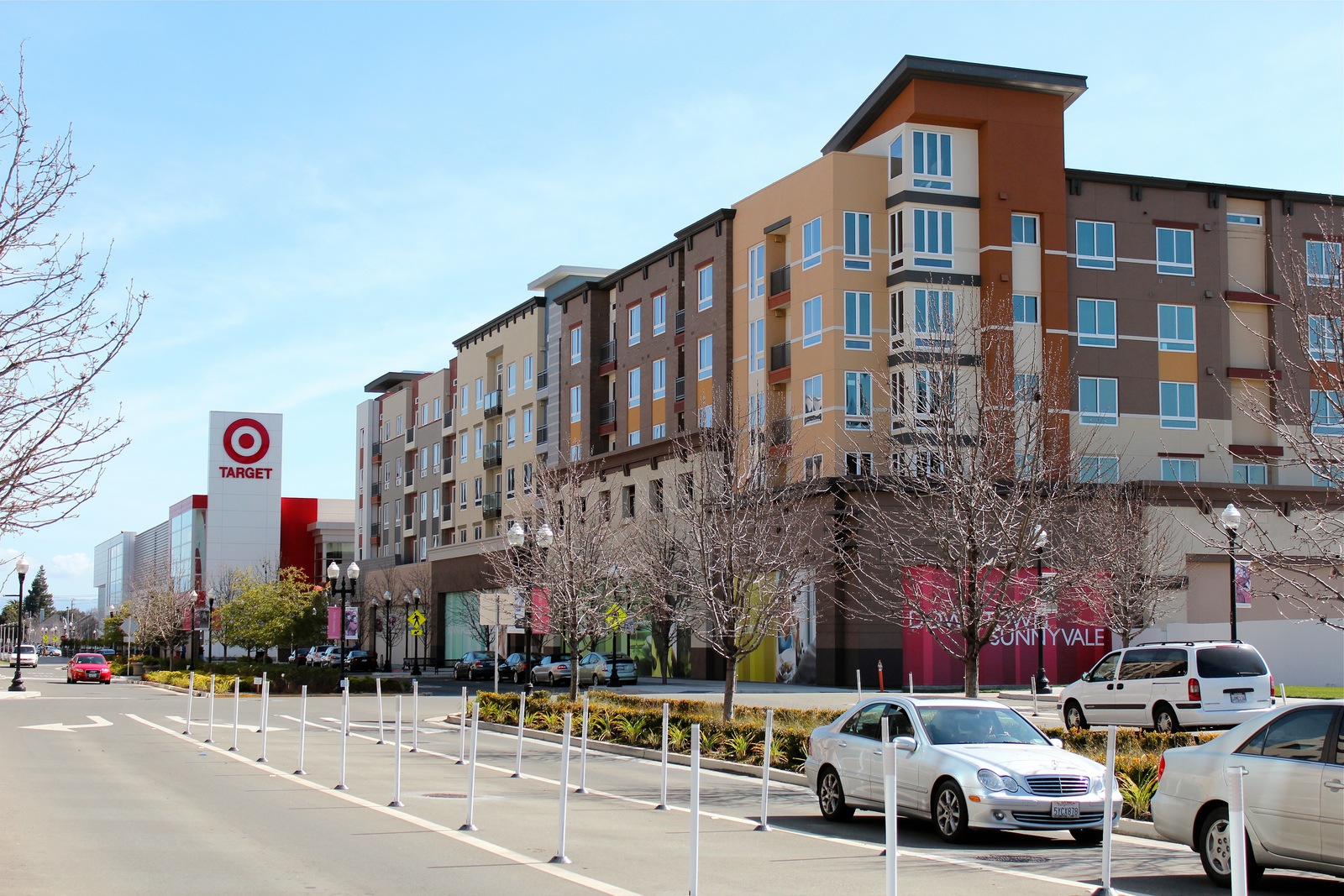 In Downtown Sunnyvale, land around the Caltrain station is in the process of redevelopment from a midcentury auto-oriented retail center into a dense mix of office, housing, and urban retail. The Sunnyvale Town Center project has been stalled for about two years in litigation resulting from the bankruptcy of the original developers after the 2008 economic collapse. With elements of the project half built, it awaits resolution by the courts before a new developer can step in and complete it.
In spite of its challenges, the City of Sunnyvale has stuck to its vision and implemented those portions that could move forward. A public plaza with an underground garage connects Caltrain to office buildings that meet the street. Both Apple and Nokia have occupied buildings recently, proving that tech has a life beyond the sealed suburban campus. Significant multifamily housing projects are under construction. A Target store that predates the lawsuit sits above ground-floor parking that is lined with small retail bays, awaiting future tenants and suggesting a compelling approach to the challenges of urban big-box retail. And Murphy Avenue — a historic block of small-scale retail — thrives, hosting a farmer's market among the half-built hulks of a future held hostage by legal wrangling.
Stop 4: Brocade /@First, San Jose
Developer: Hunter-Storm
36.3 acres
73,000 sf shopping center
170-room hotel
880,000 sf tech office (Brocade HQ)
The @First project combines the headquarters of Brocade Networks with a hotel, Target store and additional retail. The 36-acre site lies on North First Street in a relatively suburban context. Market forces in North San Jose have picked up sufficiently to support high quality multistory commercial buildings, structured parking, and hotel towers, on the same site as significant retail – many of the ingredients of good urban places.
Horizontal mixed-use projects (in which complementary land uses are placed in different buildings) like Brocade are a key opportunity to provide walkable amenities in less dense settings where vertical mixture (where uses are mixed within a single building) remains challenging. But doing so requires a strong site-planning framework that integrates the different elements into one cohesive and accessible place. At Brocade, the constraints of securing the deal's components — the sight lines and surface parking required by retailers, the security needs of a tech headquarters — predominate. While pedestrian walkways exist, the site plan is organized around auto access. Buildings line the streets, but they open to an interior parking lot, not to the sidewalk. Having proven that North San Jose's market can support the ingredients of good urban places, the next step is to ensure that strong site planning can organize them into walkable and transit-supportive environments.
Stop 5: Crescent Village, San Jose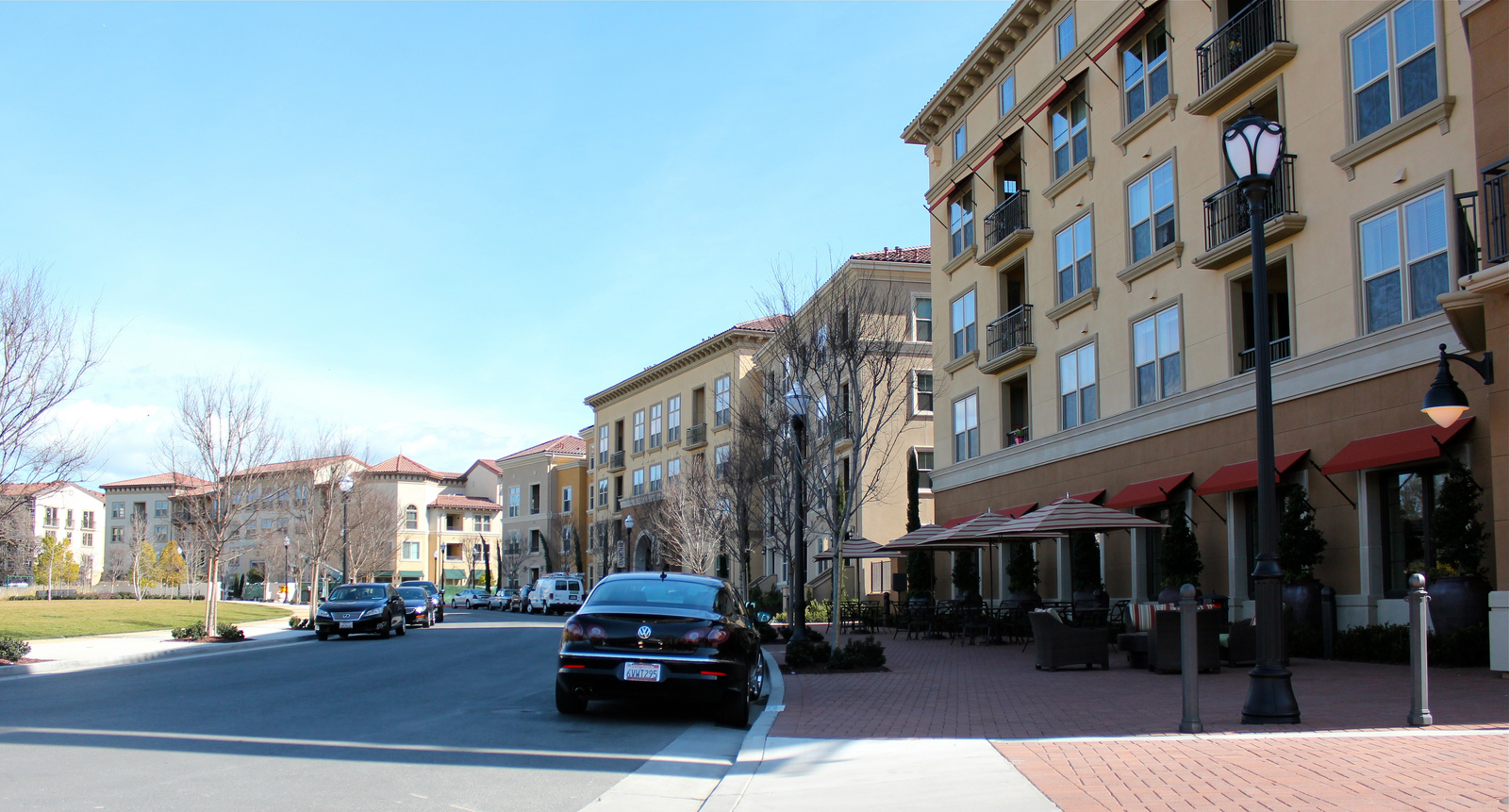 Developer: Irvine
1,750 rental apartments
10,000 sf retail
5-acre public park
Crescent Village is a multi-building rental project that will eventually include 1,750 units in wood buildings above parking podiums. Its developer, the Irvine Company, owns and manages it housing, which gives them a greater incentive to invest in placemaking and amenities. The buildings frame a five-acre park; concentrated around it are ground-floor retail and "placeholder" uses (like game rooms and a leasing office) that could eventually become leasable. Parking is in ground-level podiums, which are carefully placed to limit their impact.
The project's architecture has the uniformity one might expect of this kind of instant neighborhood, but the construction quality is high and building details support the pedestrian experience. The biggest urban design challenge here is the inward orientation. Although the park is public, it feels like it belongs to the project, and the buildings connect more successfully to the village's interior streets than to the surrounding streets of the neighborhood. In future projects, a portion of the open space fees might be well spent on better pedestrian connections to transit and other nearby amenities.
Stop 6: Cahill Park, San Jose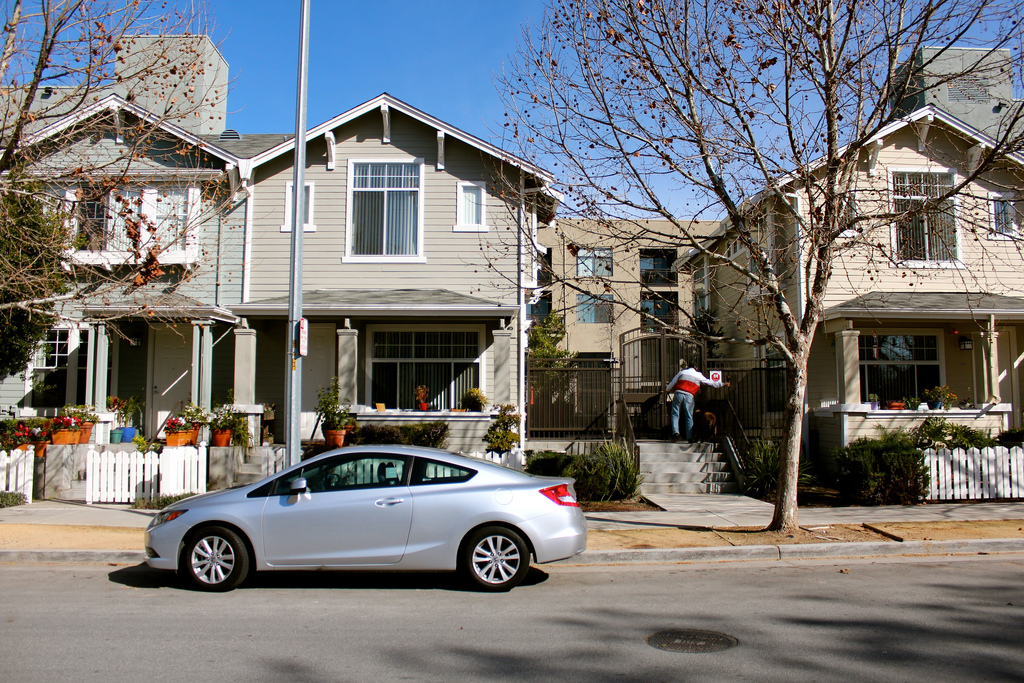 Developer: Avalon, Brooks St
Our final stop was Cahill Park, a residential neighborhood just behind San Jose's Diridon Station combining streetfront retail, adaptive reuse of a former cannery, and housing of several types around a park that connects to the train station.
Of interest here is the way the development projects respond to the adjacent neighborhood while increasing overall densities. An excellent retail frontage meets the Alameda — a historic commercial street — separated by a narrow band of parking from four stories of housing above a parking podium. One edge of this project includes bungalows that back onto the podium, providing a familiar face to the neighborhood, while the other edge faces six stories of housing in a repurposed cannery. These buildings, plus two townhouse projects, are organized around a small park. Although the park is oddly shaped and a bit featureless, it is redeemed by being tightly enclosed by the surrounding buildings, creating an "urban room" that connects directly to the adjacent Caltrain station. One might wish for higher densities at this location (especially given that it will eventually be a high-speed rail stop), but overall, Cahill Park is a supremely livable setting with a lot to teach us.
See site plans for the projects >>
See more photos of the tour >>
 
Many thanks to our generous hosts:
Kelley Kahn, former project director, Office of Mayor Edwin Lee, City of San Francisco
Janice Thacher, partner, Wilson Meany
Hanson Hom, community development director, City of Sunnyvale
Joe Horwedel, director of Planning, Building,and Code Enforcement, City of San Jose
Kim Walesh, chief strategist, City of San Jose