Discovering San Jose by Bike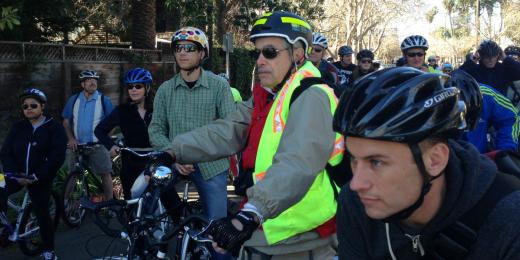 Riders set out on a tour of a few historic San Jose neighborhoods. Photos by Anna Gore.
An enthusiastic group of 45 urbanists on bikes kicked off a crisp Sunday morning to tour a few of San Jose's historic neighborhoods with SPUR. Using the new bike lanes on 10th and 11th streets, along with a number of established bike routes and separated bike paths, we wove our way through three amazing gems — Naglee Park, Palm Haven and Willow Glen. Setting off from the San Jose State University campus downtown, we made our way to our first stop.
 
Naglee Park
The first subdivision in Santa Clara County, Naglee Park was developed and marketed in 1902 as a complete neighborhood with paved streets, gas, water and sewer. Following the new bike lanes on 11th Street brought us to the oldest house in the area and the neighborhood's namesake, the Naglee Mansion, built by Brigadier General Henry Morris Naglee in 1864. The original lot lines of the estate reached from Santa Clara Street on the north, Coyote Creek on the east, William Street on the south, 11th Street on the west — the neighborhood boundaries today.


SPUR San Jose Director Leah Toeniskoetter and Bill Souders, co-owner of the Naglee Park Garage restaurant.

Bill Souders, co-owner of the popular Naglee Park Garage, gave a brief history of his restaurant, a once-blighted corner turned neighborhood gem. Fifteen years ago the site, a former gas station, was in disrepair, challenging the fabric and safety of the neighborhood. A group of Naglee Park families decided to do something about it and purchased the property. They surveyed their neighbors to find out what type of uses they wanted, aiming to create a gathering spot that didn't exist before. The businesses there now are a result of what the neighbors responded with: a restaurant (the Garage), a bagel shop, a convenience store and other offerings.

Fun fact: In the early 1970s, the Doobie Brothers lived, partied and rehearsed at 285 S. 12th Street, right behind the Garage.

A right turn onto 16th Street (an established bike route), brought us to William Street and the William Street Park. Established in 1944, the park honors Willianoski Reed (1850-1860), the son of James and Margaret Keyes Reed, who were survivors of the Donner Party.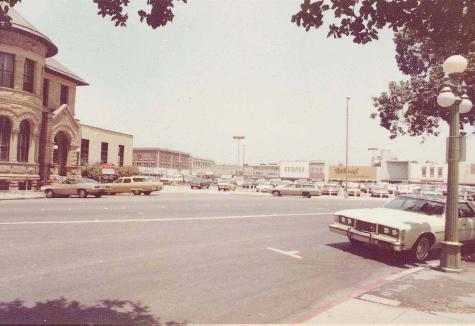 Riding along Williams Street Park at Williams and 16th Street.

SoFA District
A jaunt through the South University Neighborhood led us to Gore Park/Parque de los Pobladores at William and South 1st Street — the gateway to the SoFA (South of First Street Area) District. Known as San Jose's art district, this area comes alive the first Friday of every month with South First Fridays, where all galleries open their doors to the public for a community "art crawl."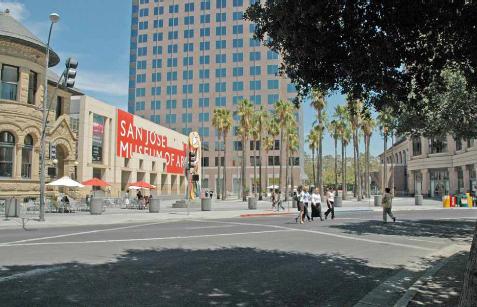 Gathering in Gore Park, at the entrance to the SoFA arts district in downtown.

Guadalupe River Park functions as flood control, open space, and bike and pedestrian pathway.

Palm Haven and Willow Glen
Established in 1913 as a "residence park" (with conditions, covenants and restrictions that controlled what was built, what the property setbacks were, etc.), Palm Haven originated from the Palm Haven station stop on the Peninsular Railway. The developers of this historic neighborhood planted more than 350 palms at equal intervals. The palms are designated as official heritage trees by the City of San Jose and represent the largest coordinated tree planting within city limits.

In 1927 the neighborhood of Willow Glen voted to become its own city because the San Jose City Council had ordered Southern Pacific Railroad to run through the neighborhood. Nine years later, after that threat had passed, residents voted in favor of annexing to San Jose because of their inadequate sewage system (they only had septic tanks). These nine years of independence are celebrated every year at Founders' Day in September.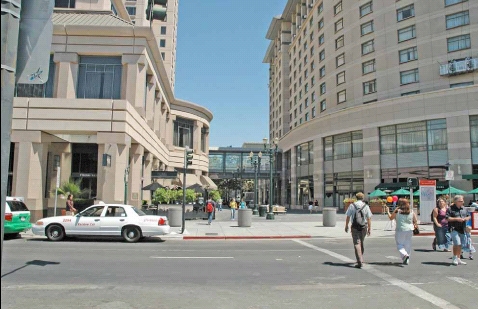 Admiring the leafy streets of Willow Glen.

Using the Los Gatos Creek Trail separated bike path, the group rode by the historic Del Monte cannery site and connected back up with Park Avenue. We returned downtown to the site of San Jose's first City Hall building, what is now Cesar Chavez Park, with a deeper understanding of San Jose neighborhoods past and present.