The array of food grown within a couple of hours of San Francisco makes our region truly unique. Along with an astounding amount of agricultural diversity, the Bay Area's farms and ranches employ a wide range of business models. This is an asset to their economic vibrancy, but it also means there are few "one size fits all" policy recommendations to support regional agriculture. 
I got a firsthand taste of this complexity on a tour of farms and ranches in San Mateo County hosted by the Ecological Farming Association in January. We visited four sites – all near Pescadero on the coastal side of the county.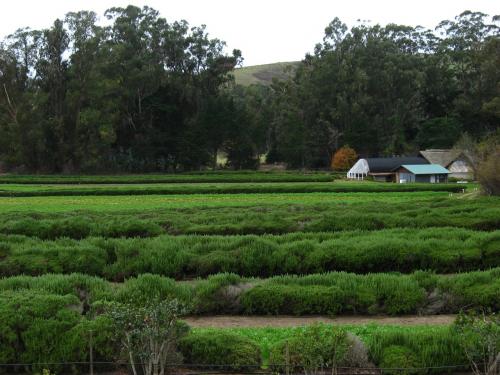 Jacobs Farm
The first stop was Jacobs Farm, specifically the first parcel from which co-owners Larry Jacobs and Sandra Belin launched their culinary herb business, now one of the nation's largest. The farm has a history of production stretching back 150 years with previous generations of farmers growing barley, wheat, potatoes, flax, peas and vegetables. Today, the focus is more than 30 varieties of herbs such as rosemary, mint and sage, which are grown on hundreds of acres dispersed around San Mateo and Santa Cruz counties, then packaged at a distribution facility in South San Francisco and sold to retailers nationwide.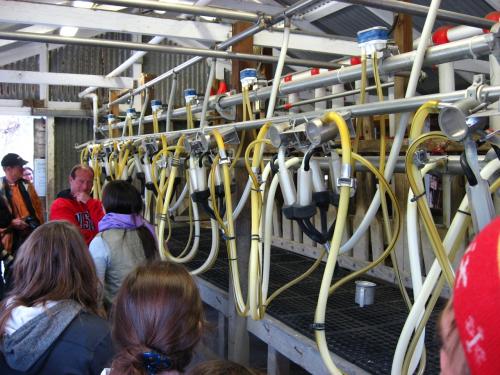 Harley Farms
Just a short drive away is Harley Farms Goat Dairy. It is a great example of a business that has expanded slowly and diversified its operations. Harley Farms currently produces 200 pounds of goat cheese each day with a herd of 200 milking goats. One of the most notable aspects of its business is that the majority of revenue comes from on-site sales of cheese and other goat milk products, along with agri-tourism programs – including a five-course farm-fresh meal served in a restored barn hayloft.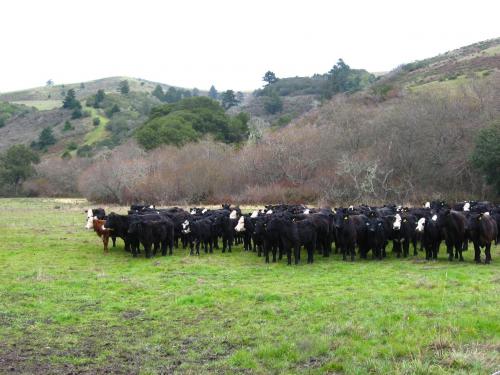 TomKat Ranch
Further down the road, the tour shifted to look at ranching, a type of agriculture that is very common throughout the nine-county Bay Area. TomKat Ranch, the next tour stop, is focused primarily on educating schoolchildren about agriculture, but it also raises cattle for beef marketed under the Left Coast Grassfed label.  Following TomKat's educational mission, the farm managers – self-described "controlled chaos mega-fauna ecosystem providers" – are experimenting with a wide variety of ranching practices to reduce the environmental impact of their agricultural operations. This includes testing different strategies of rotational grazing, encouraging laying hens to follow the path of the cattle from pasture to pasture, and studiously protecting habitat alongside streams near where the cattle roam.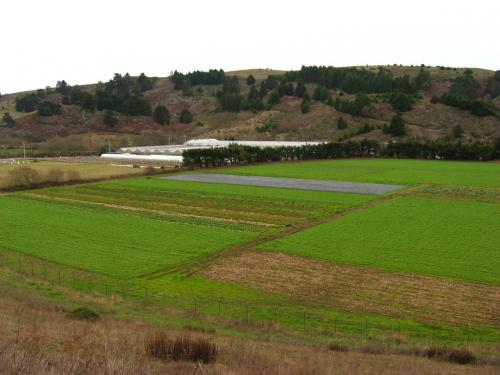 Fifth Crow Farm
The last stop on the tour, Fifth Crow Farm, was the only farm we visited producing vegetables. The owners are graduates of the Center for Agroecology and Sustainable Food Systems apprenticeship in ecological horticulture at UC Santa Cruz, a training program for many young farmers in the region. They farm about 20 acres with row crops, an orchard and pastured egg production and sell their harvest mostly through farmer's markets, direct to restaurants, and through a local farm box subscription (also known as a CSA).  
While these four farms and ranches reveal an impressive diversity within San Mateo County, a similar diversity of production exists throughout the Bay Area, as the 2008 San Francisco Foodshed study attests. One of the most striking aspects of the tour was the variety of business models supporting the operations including wholesale, retail, direct sales and nonprofit education. As we think about the region's producers, this small sample of San Mateo county agriculture is a reminder that agriculture in the Bay Area comes in many shapes and sizes — and policy that supports agriculture must do so as well.