One of the greatest allures of a smart phone is the time it saves at the bus stop. Having real-time transit info and nearby stop locations at your fingertips makes city living just a little easier. But popular transit apps are just the beginning. Increasingly, smart phone technology is fundamentally changing the way we physically experience our cities.

We have written before about SFMTA's SFpark program, whose new iPhone application displays real-time parking availability and pricing data, and about Park Circa, an app that lets residents rent out their private parking spots. Below are 7 more apps that can transform our understanding of urban space, provide tools for affecting physical change, help us connect with our neighbors, and generally make our cities better.

Blockboard
Aiming to be a mobile bulletin board, Blockboard is a new neighborhood-based app currently in beta form for residents of the Mission District. Users can post and view local news and events, ask questions of their neighbors, report potholes and graffiti to 311, or list lost belongings. To use the app for the first time, you must be in the Mission, but you can access it after that from any location.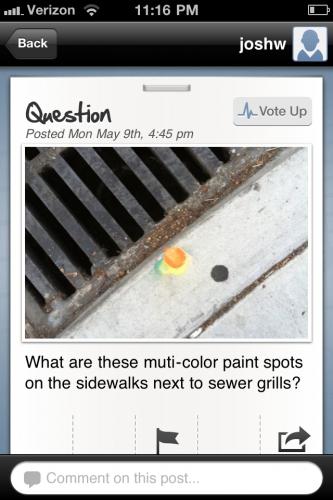 Zonability
Ever visited a building and wanted to know what zoning codes apply to it? Zonability allows users to view basic zoning ordinance data from their smart phones, making city data accessible, legible, and convenient.
Getaround
Getaround is a peer-to-peer car share network in beta phase that allows users to search, request, and unlock a shared car using their iPhone. This is made possible by a small kit that car owners can install in their cars. With such technology, any private vehicle could possibly be shared.

Cool factor: There's the option to rent a Tesla Roadster.


Street Bump
The city of Boston is working on an app that will use smart phone technology to automatically report where potholes exist on city streets as drivers hit them. The app is in a testing phase, and there are a number of obvious obstacles to success, but the implications are huge. Such an app would allow citizens to report a problem without sending an actual message to the city. Drivers and their smart phones could become mobile sensors for potholes in roadways.


Slow Down
Sometimes blasting an upbeat song while driving makes people drive faster. But speeding – particularly speeding through city streets while dancing in the driver's seat – leads to more accidents. Slow Down, an app from Belgium, plays your music more slowly as you speed over the limit.