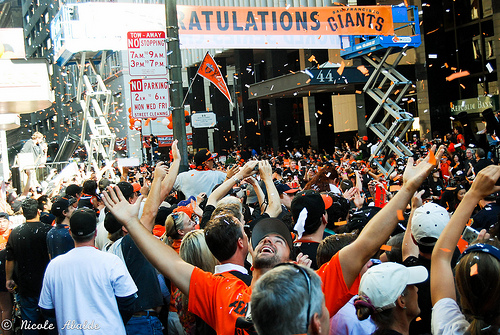 [Photo Credit: flickr user NicoleAbalde]
As those who follow the Bay Area transit blogosphere already know, Wednesday's Giants World Series victory parade spurred BART on to its highest ridership ever""by a huge margin. The system carried over half a million riders — 522,000 to be exact, which beat the previous record (from Oct 29, 2009, when the Bay Bridge was closed for emergency repairs) by 18%. BART wasn't the only regional system with a bumper day either: Caltrain carried 25,000 — 30,000 more riders than an average weekday (about 37,000 riders), and Golden Gate Transit more than doubled its typical ridership of 5,200, taking 12,800 people into the city.

While it was great for so many Giants fans to choose mass transit, the crowds put a spotlight on BART's capacity issues — at one point, the crowds were large enough to require a temporary closure of Montgomery Station in downtown San Francisco. Obviously there isn't a Giants parade every day (though we can hope for another next November), but in our Urbanist piece The Future of Downtown, SPUR noted that the region's growth is going to require that BART address its capacity issues. In particular, BART will need investment in the system's core to deal with the current limitations of the Transbay Tube and downtown San Francisco stations.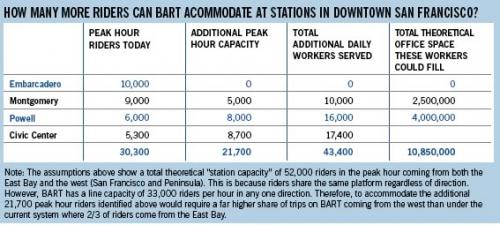 Source: SPUR