As a budding apiarist, I was devastated to hear about the Hayes Valley Farm incident last week. An unknown person sprayed two beehives with household pesticides - destroying the hives and killing thousands of bees. Hayes Valley, the community farm in San Francisco, used the San Francisco Bee-Cause beehives in to help educate Bay Area residents about beekeeping and urban farming.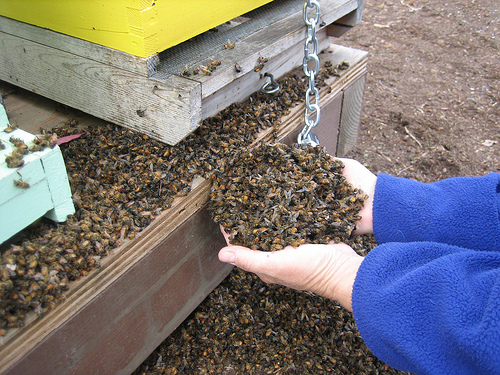 Dead bees at Hayes Valley Farm [Photo Credit: flickr user HayesValleyFarm]
Despite this terrible news, it's exciting to see that cities and community groups around the world are recognizing the importance of bees and embracing urban beekeeping by holding festivals, implementing official urban beekeeping programs, and even changing laws which made beekeeping difficult. Some notable examples include:
London's City of London Festival included several bee related events (partly to celebrate the International Year of Biodiversity in 2010), including the installation of beehives throughout the city as well as bee-centric poetry, music, and seminars. Many of the festival's events were free to the public.

The Ginza Honey Bee Project in Tokyo maintains beehives in the Ginza shopping district. The hives are used to produce products for local businesses. Bakers use the honey from the hives to make sweets which are sold in local shops, and the wax from the hives is used for local church candles.

Earlier this year, the New York City Board of Health voted to remove a ban on beekeeping in the city, making it easier for urban keepers to operate.

The White House garden is now home to the first ever White House beehive. The hives are used to educate children who visit about the importance of bees in food production and the honey from the hive is used in the White House kitchen. Check out this great video on the project.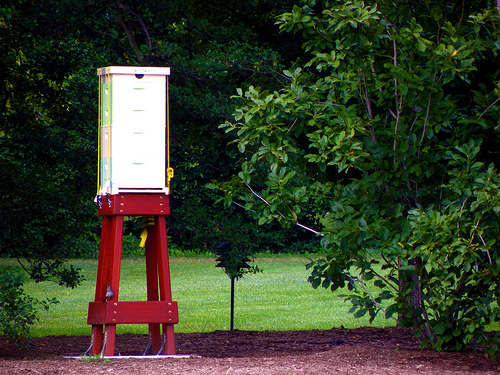 The White House beehive [Photo Credit: flickr user Funky Tee]