Taking the guess work out of parking. That's what SFMTA's innovative new parking program, SFpark, aims to accomplish. When implemented, the program will dramatically change how drivers locate and pay for parking.
A new SFpark "smart meter" [Photo Credit: flickr user SFMTA_sfpark]
Here's a quick breakdown of how SFpark works:
Sensors located in parking spaces and City-owned garages will track real-time parking availability

This information will be uploaded to the SFpark data feed which will be publicly available so people can easily find an open space
Drivers will access this information through smart phone applications, SFpark.org, and street signs
After drivers find an available parking space, they will find new parking meters that accept coins, credit and debit cards, or SFMTA parking cards.
SFpark is putting those sensors and parking meters to work for another good use: variable pricing. The more parking spaces available, the lower parking costs will be. The fewer parking spaces available, the higher parking costs will be. Basically, SFpark will use technology to direct drivers to park where there is a lot of availability and encourage shorter parking durations where available parking is more limited.
Aside from making it easier for drivers to find and pay for parking, SFpark promises a variety of other benefits. Circling for parking represents about 30% of driving in San Francisco. By reducing the need to drive around for parking, there will be fewer cars on the road. This will make our streets quieter and safer for pedestrians and bicyclists, reduce air pollution, and speed up buses.
Despite these expected benefits, one area that may be cause for concern is decreased revenue from parking tickets. The city currently brings in about $17 million a year from tickets for expired meters. However, the new parking payment options will make it easier for drivers to avoid tickets, which will likely decrease ticket revenues. It remains to be seen if the new revenues from higher parking rates during peak times will be enough to offset the expected loss of expired meter revenue. Although not an explicit goal of SFpark, any decrease in revenues will be cited by SFpark's opponents given the city's current fiscal problems. This points to a larger problem with implementing any innovative program in today's economic environment: any policy will be judged through a short-term fiscal lens, even if the policy accomplishes long-term city goals.
Installation of 190 new parking meters in Hayes Valley will begin on July 27, 2010 -- the first step in implementing the SFpark program. All told, about 5,000 new meters will replace old meters in SPpark pilot areas, including Downtown, the Marina, the Fillmore, SoMa, the Mission, Civic Center, and Fisherman's Wharf.
Map of SFpark area: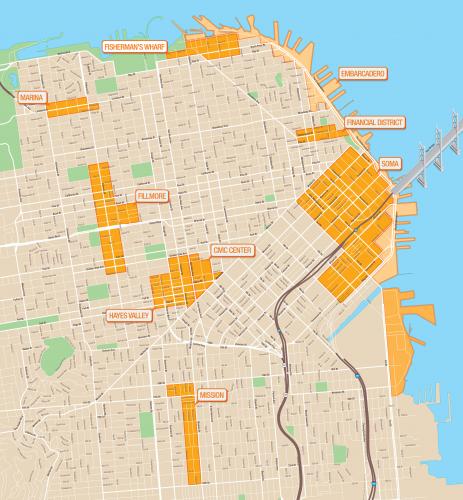 [Map courtesy of sfpark.org]
SFpark will be testing its new parking management system at 6,000 of San Francisco's 25,000 metered spaces and 12,250 spaces in 15 of 20 City-owned parking garages. The pilot phase of SFpark will start this summer and run for two years.