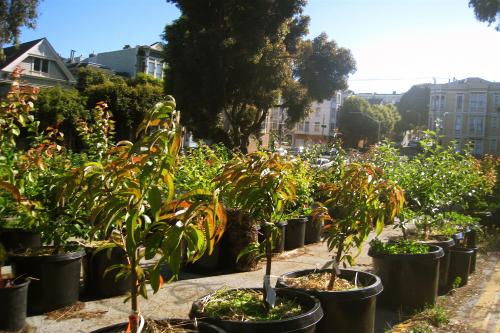 Hayes Valley Farm [Photo Credit: flickr user edibleoffice]
Urban farming events are plentiful right now in San Francisco. Here's a summary of this week's line-up:
SPUR Young Urbanists: Conversations on Urban Farming To what extent can we support a community's food and health needs through urban farming? With Shakirah Simley of Slow Jams, Brooke Budner and Caitlyn Galloway of Little City Gardens, and the San José-based Village Harvest.
When: Tuesday, July 20, 6-8pm Where: SPUR Urban Center (654 Mission St.)
The Mission Community Market opens for its first farmers market, where people from the community celebrate the Mission district's unique identity, support local emerging businesses, and hold youth and arts programs in a safe and beautiful public space.
When: Thursday, July 22, 4-8pm Where: 22nd and Bartlett St.
FRESH screening The San Francisco Public Library presents an advance screening of FRESH (watch the trailer), which brings together some of the big names in the sustainable food movement like Michael Pollan, Joel Salatin, and Will Allen. The presenters will talk about a series of events and volunteer opportunities that will coincide with the October release of the film in the Bay Area.
When: Thursday, July 22, 6 pm Where: Koret Auditorium, SFPL Main Branch, 100 Larkin (at Grove)
SF Underground Market A market and a live show - all rolled into one. Think a farmers market, but at night, with music and drinks.
When: Saturday, July 24, 11am to midnight Where: SOMArts, 934 Brannan St.