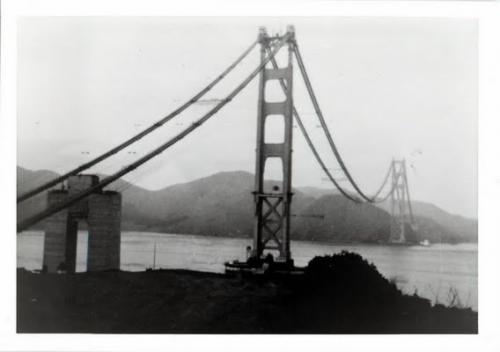 Golden Gate Bridge, circa 1933 [Photo via Historypin user megscannell]
Beyond simply serving as tools to express our knowledge of our physical surroundings, maps have frequently served as an artistic medium, allowing for the expression of biases and acting as a platform for storytelling. Since the start of the 21st century, online mapping services, led by Mapquest and more recently Google, have focused less on creativity and more on accuracy in attempting to map the planet. Google's Street View took this one step further, placing photographic evidence in the context of the map. A new service, introduced by Historypin, is bringing back the creative side of map making."¨
In collaboration with Google, Historypin allows users to geotag their photos and place them on the online map. This type of crowdsourcing is not new, as it has previously been employed by flickr. Where this website truly differentiates itself from previous geotagging endeavors is by allowing the user to incorporate the date of the snapshot and an explanation of the image. Another feature allows you to place the historic image alongside the street view image, an interesting way to note changes to the location over time."¨
I stumbled upon a recent photo upload that captures the construction of the Golden Gate Bridge (top) between 1933 and 1937. The user who uploaded the photo speculates that the photo was taken in the middle of that period, because both towers have been erected, but the roadway has yet to be built. In reading the photo description, you also learn details about the origin of the photo (in this case it was discovered in her aunt's garage), but the photographer remains a mystery.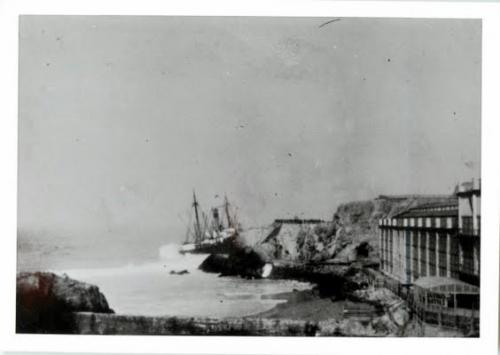 Sutro Baths, circa 1936 [Photo via Historypin user megscannell]
Another photo awaiting more detail (above) shows the S.S. Ohioan run aground outside the Sutro Baths in 1936. Today, the former site of the Sutro Baths looks much more like a modern ruin. Looking at this picture I was struck by the temporary nature of our built environment, and the permanence of our natural surroundings. "¨
With this freedom to narrate a map of our photographic history also comes great responsibility. Just as with Wikipedia or any other site dependent on user-generated content, Historypin must successfully balance storytelling with fantasy. Where the service excels, however, is in its recognition that a city is not simply made up of streets and parks, but also includes a narrative fabric, one that is too frequently forgotten.