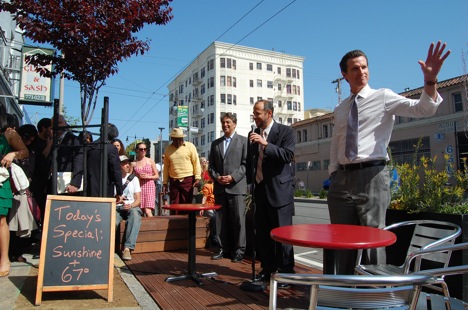 Mayor Gavin Newsom, Supervisor Ross Mirkarimi, DPW Director Ed Reiskin and a crowd of supporters gathered yesterday in front of Mojo Bicycle Café on Divisadero at Hayes to celebrate the opening of the city's first of many new "parklets."  These parklets—parking spaces repurposed as lively sidewalk extensions—are part of the city's Pavement to Parks initiative.

The new Divisadero Street parklet consists of a wooden platform elevated to sidewalk height and extended across two former parking spaces.  Benches, tables and chairs, planters, and bike parking fill the transformed public space.

These parklets can be attributed in some respects to several years of creative PARK(ing) Day activism.  PARK(ing) Day was conceived by REBAR in a single San Francisco parking space in 2005.  Since then, it has been celebrated in parking spaces across San Francisco and around the world.  Opening exactly six months after PARK(ing) Day 2009, the Divisadero parklet shares many of the design aspects first experimented with in the Urban Center's most recent PARK(ing) Day project—a collaborative effort between SPUR and the Great Streets Project. Architect Riyad Ghannam, who volunteered his time and skills to design the Divisadero parklet, also designed the temporary mobile platforms we used in front of the Urban Center.  PARK(ing) Day 2009 was a great day at SPUR—a street-side celebration of sun, friends, neighbors, music, and public space.  And it is exciting to see that the hours of construction by Riyad and other volunteers and interns in the depths of the SPUR basement may have had an impact beyond just one perfect day in September.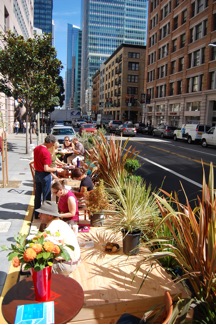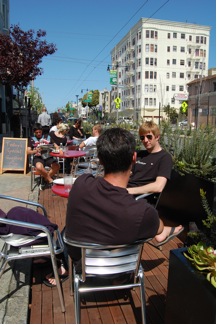 Left: PARK(ing) Day 2009 at the Urban Center.  Right: Divisadero St. parklet.  [Images: Colleen McHugh]
To see more photos of the Divisadero parklet opening, check out SPUR's Flickr site.

And to read more about yesterday's celebration and future parklets, check out coverage from Streetsblog.