Streetfood is not new.  In fact, since the existence of streets and the commoditization of food, streetfood has been an integral aspect of daily life for cultures around the world.  That being said, it is undeniable that there has been a growing trend in San Francisco and other American cities towards selling a creative array of food – from Korean tacos to crème brulée – prepared on the street.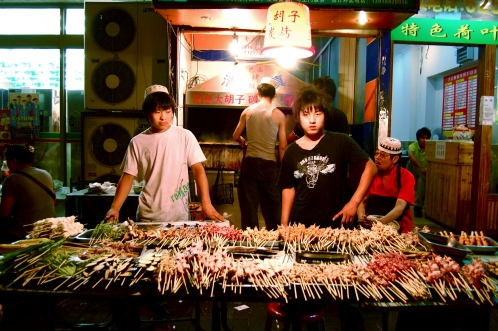 Streetfood in China and the Netherlands [Images: Colleen McHugh]
Tuesday's Young Urbanist event at SPUR--generously supported by the Koret Foundation--was a perfect example of this growing excitement surrounding streetfood.  With a crowd that spread out the door of the second-floor assembly hall, this was one the most heavily attended SPUR forums in the new Urban Center (perhaps due to the delicious free tacos provided by the Kung Fu Taco truck).  Panelists Larry Bain of Let's Be Frank, Imelda Reyes of the Department of Public Health, Operations Director of La Cocina Caleb Zigas, and Supervisor of the Small Business Assistance Center Martha Yañez joined moderator Raquel Donoso of the Latino Community Foundation in a discussion on the increasing popularity of streetfood culture in San Francisco.  
The downturn economy, the panelists acknowledged, has played a role in the growing number of streetfood vendors in the city.  However, they were careful to move beyond this simple explanation, noting a growing desire to connect to the food we eat and the role of social media.  Another compelling explanation was merely alluded to in a response from the audience – a movement of social culture to city streets.  
In light of last week's lunchtime forum on the legacy of Donald Appleyard's Livable Streets, it is exciting to consider the popularity of streetfood as part of a wider Great Streets movement.  As one audience member lamented at Tuesday night's forum, the recent trend in streetfood has been largely "'bourgey' food accessible to rich foodies".  However, Caleb Zigas was quick to contend that there is "a place on the same block for $3 and $8 food that is really awesome".  And if the streetfood trend is bringing more people and more life to the streets of America (and away from cars on the freeways), that is a good thing.  However, as was often mentioned on Tuesday, it is important for San Francisco to remove unnecessary barriers and allow people who want to serve simple, cheap, good food to do just that.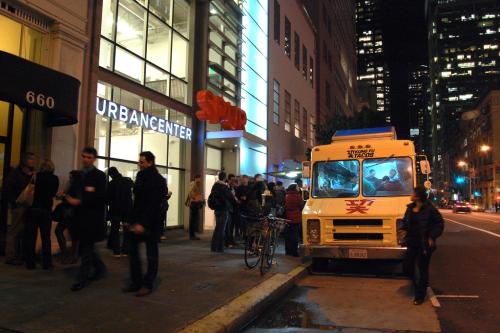 [Image: Colleen McHugh]
To see more photos from Tuesday's Young Urbanist event, visit SPUR's Flickr page.