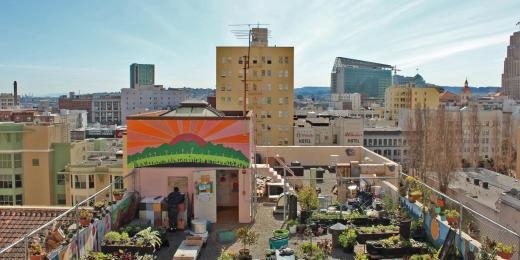 Strengthening the Bay Area's urban and regional food systems
The Bay Area is known for its passion for food and its forward-thinking policy. The region's central cities have the potential to combine the two, leading the nation by demonstrating how municipal policy can catalyze the development of urban agriculture, build a stronger regional food system and create healthier communities.
This program is generously supported by the The Clarence E. Heller Charitable Foundation, TomKat Charitable Trust, 11th Hour Project, New Belgium Family Foundation, John & Marcia Goldman Foundation and the Clif Bar Family Foundation.
Lead staff: Eli Zigas, Food and Agriculture Policy Director, ezigas@spur.org
Featured Publications:
Helping Bay Area residents find, afford and choose healthy food
Recommendations for San Francisco food and beverage manufacturers and distributors
How a stronger regional food system benefits the Bay Area
Expanding the use of public land for urban agriculture in San Francisco