San Francisco
2016 Good Government Awards
5:30 p.m. | Monday, March 21, 2016
About
Thank you for attending this year's Good Government Awards.
See all photos from 2016 Good Government Awards>>
Learn more by watching videos about the 2016 Public Managerial Excellence Award Winners>>
For 36 years, the Good Government Awards have recognized outstanding performances by managers working for the City and County of San Francisco. These awards represent a unique opportunity to acknowledge San Francisco's top managers for their leadership, vision and ability to make a difference both within city government and in the community at large.
2016 Good Government Awards
Monday, March 21, 2016
5:30 p.m. Awards Ceremony and Cocktail Reception
San Francisco City Hall - North Light Court
1 Dr. Carlton B. Goodlett Place, San Francisco
Directions and parking information: http://sfgov.org/cityhall/directions-city-hall 

Finance Committee Chair
Chris Gruwell

Honorary Host Committee

The Honorable Edwin M. Lee
Mayor 2011-Present

The Honorable Gavin Newsom
Mayor 2004-2011

The Honorable Willie L. Brown, Jr.
Mayor 1996-2004

The Honorable Frank Jordan
Mayor 1992-1996

The Honorable Art Agnos
Mayor 1988-1992

The Honorable Dianne Feinstein
Mayor 1978-1988

Mrs. Gina Moscone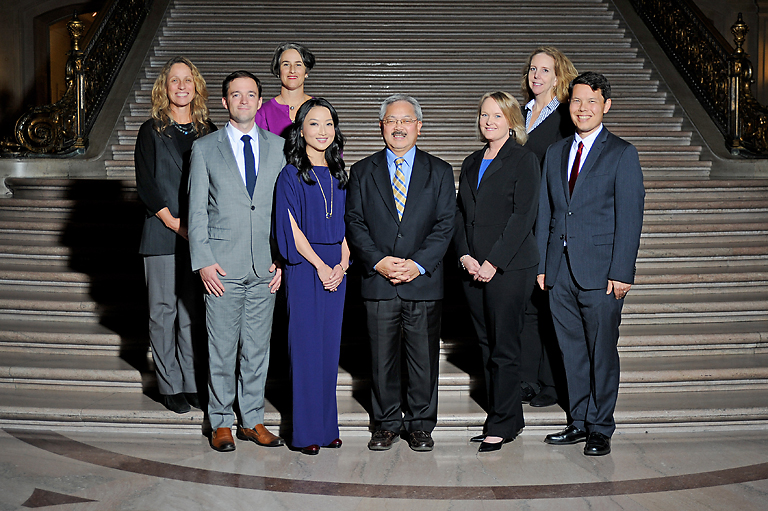 Mayor Edwin M. Lee with the 2016 Public Managerial Excellence Award winners.
Sarah Nusser not pictured.
Winners
2016 Public Managerial Excellence Award Winners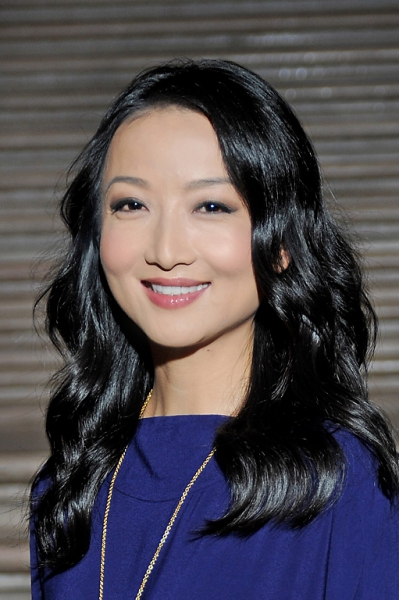 Jane Gong
San Francisco Business Portal
Office of Economic & Workforce Development / Department of Technology

Jane Gong joined city government to lead a collaborative project—between the Mayor's Office of Economic and Workforce Development and the Department of Technology—to create the San Francisco Business Portal. This online tool streamlines the permitting process to open and grow a business in San Francisco. As a prior small business owner herself, Gong pursued a user-centric approach to develop the citizen-to-government portal. The San Francisco Business Portal consolidated information from 18 City departments on 400+ local, state and federal permits. Gong and her team delivered the project in a mere 11 months and within budget. In the first year, it serviced 19,000 unique users—a 670% increase in the number of businesses the City was able to guide through the permitting process prior to its creation. The process is now more efficient for the entire business community and drives solutions-oriented customer service from the regulatory agencies and 311 as they assist businesses through the process.​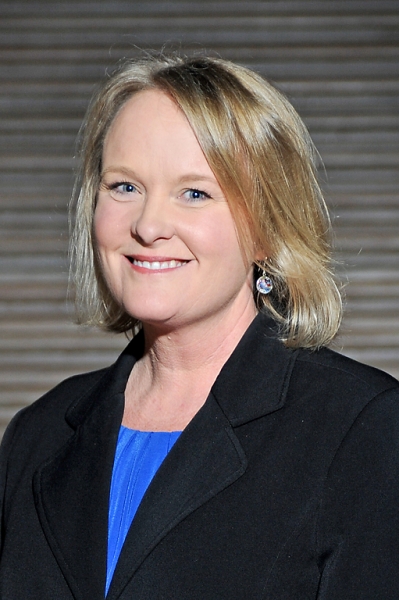 Diana Hammons
Revenue Collection and Sales
San Francisco Municipal Transportation Agency

Diana Hammons serves as the Senior Manager in charge of revenue collection and sales for the SFMTA. With 18 years in city government—across legislative, public relations and operations fields—Hammons now oversees 126 employees, a $28 million budget, and processing of approximately $140 million in revenue each year. Hammons manages three sections,  that collectively process all parking and transit citations and parking permits, manage all citation protests and  a Customer Service Center at 11 South Van Ness, and oversee the collection and processing of cash transit revenue and fare media distribution. Hammons led her team to implement the Free Muni for Youth program within six weeks of its passage by the Board of Supervisors. The Free Muni program, expanded to include seniors and people with disabilities, along with the adult Lifeline Pass programs serves approximately 100,000 low-income San Francisco residents. During her tenure, Hammons has steadily worked to make small incremental changes that, when added together, have resulted in significant improvements in SFMTA's service delivery to the public.​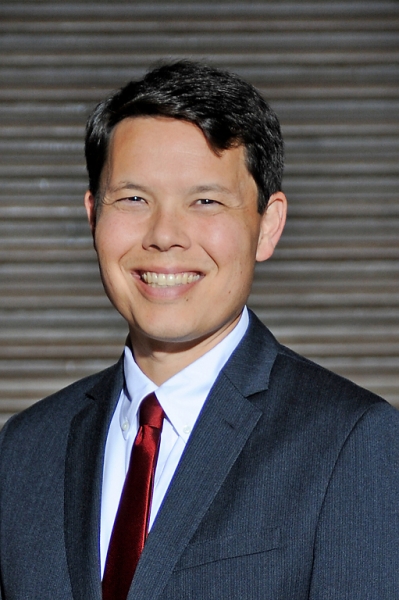 Greg Kato
Gross Receipts Tax
Office of the Treasurer & Tax Collector

Greg Kato works with the Office of the Treasurer & Tax Collector to implement and drive communications about the Gross Receipts Tax that went into effect January 1, 2014. The tax restructured the way that business taxes are calculated for the City and County of San Francisco, and in doing so, increased the number of taxpayers from 7,000 to over 15,000, and the revenues to $500 million per year. Widely recognized as the biggest tax change for the city in a generation, its roll-out required Kato to coordinate internal and external stakeholders on a broad scale. Kato's team developed a communications campaign to reach the 100,000 businesses registered in San Francisco. With Kato's help, the City rolled out a complex, new tax completely based on business self-response (tax filings) via online products, on time and within budget, and with positive press and community response.​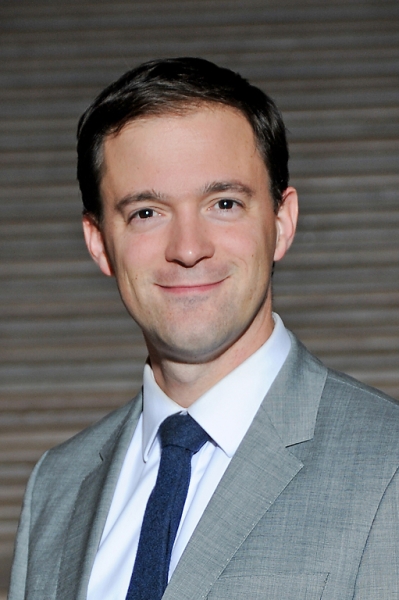 Robert Smuts
Emergency Communications
Department of Emergency Management

Robert Smuts is the Deputy Director for Emergency Communications at the San Francisco Department of Emergency Management, overseeing operations and administration for the City's 9-1-1 Center. Besides normal operational duties of staffing, training and supervising the center, Smuts ensures that all legal regulations related to 9-1-1 services are met, and stewards relationships with the emergency service providers such as the Police, Fire and Sheriff's Departments. Smuts moved into his position just 1.5 years ago, and has turned around a distressed department. He established objective criteria for success, brought in expert data analysts to assess the recent 38% spike in call volume, and increased the chances of a 9-1-1 call being answered in 10 seconds or less from 68% to 80% of the time. He has improved relations with the emergency service providers, facilitating cooperative dispatching changes that went into effect in January 2016.​
 
Rental Assistance Demonstration (RAD) Team
Kate Hartley, Lydia Ely, Erin Carson, Sarah Nusser
Mayor's Office of Housing and Community Development

In 2013, the federal agency in charge of safeguarding public housing dubbed our local oversight body–the San Francisco Housing Authority–as deeply troubled. As a result, the agency was disbanded and a new plan developed to establish a new way of providing housing for the City's most vulnerable populations. The Rental Assistance Demonstration (RAD) team is leading the interagency effort to manage and convert 4,584 units of public housing stock to affordable housing and improve homes for more than 8,000 of the city's lowest income residents. The RAD team identified a creative portfolio of $780 million in funding to support the rehabilitation of these 29 public housing sites, in stark contrast to the $5 million per year previously available. With adroit focus, the RAD team has kept up momentum to reach the program's goal: improve the lives and well being of the City's most vulnerable residents through improved living conditions and decent, safe housing.​
Sponsorship
Our sponsors are important partners in honoring leaders in public service to the City and County of San Francisco.
Corporate sponsorships range from $1,000 - $30,000 and provide many valuable and tangible benefits. 
Sponsor Benefits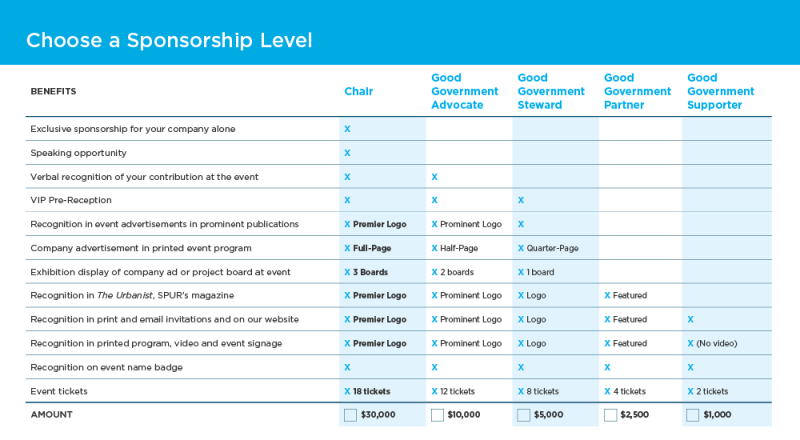 Sponsorship Benefits Deadlines
Friday, January 15
Recognition in February, March and April issues of the The Urbanist
Wednesday, January 27
Recognition in printed invitation
Wednesday, February 3
Recognition in first email invitation 
Friday, February 12
Recognition in the first and second San Francisco Business Times ads

Tuesday, February 19
Recognition in second San Francisco Business Times ad

Wednesday, February 24
Recognition in second email invitation 
Friday, February 19
Recognition in March and April issues of The Urbanist
Wednesday, March 9
Recognition in the third email invitation
Friday, March 11
Recognition in printed program and sponsor board exhibition
Wednesday, March 16
Recognition in event signage and video presentation
Monday, March 21
Event day and final deadline for sponsorship
Inclusion in April issue of The Urbanist
 
Sponsors are added to the web site every Friday.
*Please refer to sponsor benefits chart for details on benefits by level of sponsorship.
**To ensure you make sponsorship deadlines, please alert us of your sponsorship pledge at spur.org/ggawards or by email to events@spur.org.
For more information on sponsorship opportunities, contact Vanessa Bilanceri at 415-644-4882 or events@spur.org.
SPUR is a 501(c)(3) nonprofit organization and sponsorship is tax deductible to the full extent of the law. The SPUR tax ID is 94-149-8232.
Supporters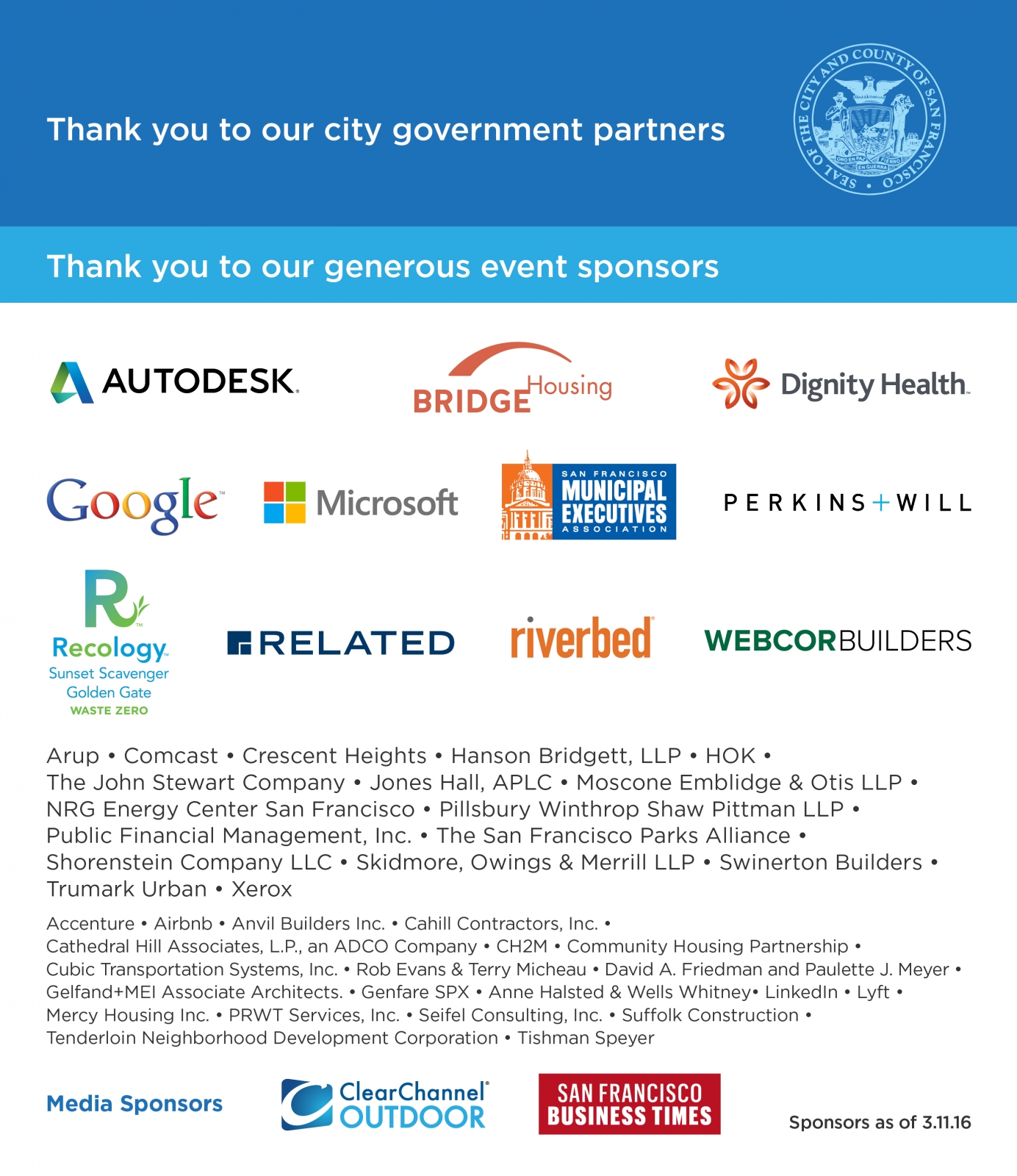 Previous Years
View photos from the 2015 Good Government Awards >>
View photos from the 2014 Good Government Awards >>
View photos from the 2013 Good Government Awards >>
View photos from the 2012 Good Government Awards >>
Past Award Winners
2015
Colleen Chawla
Department of Public Health
Jimmy Chiu, PE
San Francisco International Airport
Paula Kehoe
San Francisco Public Utilities Commission
Peter Dailey, John Davey, John Doll, Elaine Forbes and Meghan Wallace
Port of San Francisco
Freda Randolph Glenn, Stephanie Ting and Thomas Wolf
Child Support Services Department
2014
Douglas Legg
​Department of Public Works
Zoon Nguyen
Office of the Assessor-Recorder
Lisa Wayne
Recreation and Park Department
Mary Ellen Carroll, Daniel Lehr, Thomas Siragusa and Cheryl Taylor
The Rim Fire Emergency Response Team, SFPUC
Patricia Lee, Marynella Woods, Lauren Brady Blalock and Marc Babus​
The Legal Educational Advocacy Program Team, Public Defender's Office
2013
Susan Giffin, Rodrigo Castillo, Alan Honniball and Leo Solomon
Crime Data Warehouse Team
Michelle Ruggels
Department of Public Health 
Lea Militello
Municipal Transportation Agency
Jaime Flores-Lovo 
Department of Public Works
Ted Egan
Controller's Office
2012
Ed Harrington
​MFAC Lifetime Achievement Award​
Jocelyn Quintos
Department of Public Works
Harlan L. Kelly Jr.
SF Public Utilities Commission
Steven Castile
Recreation and Park Department
Darrell Ascano, Tajel Shah, Rebecca Villareal-Mayer
Office of the Treasurer and Tax Collector
2011
Dr. Susan Fernyak
Department of Public Health

Dana Ketcham
Recreation and Park Department

Cheryl Nashir
San Francisco Airport Commission

Dave Curto, Tony Lugo, Leo Sauceda, Jim Whelly
Human Services Agency

Brian Benson, Fran Breeding, Brian Strong, Adam Van de Water
General Services Agency
2010
Toni Coe
Municipal Transportation Agency

Brent Dennis
Recreation and Park Department

Allison Magee
Juvenile Probation Department

Maria X. Martinez
Department of Public Health

Nadia Sesay
Controller's Office

SPUR Infrastructure & Planning Award
Water System Improvement Program
SF Public Utilities Commission
2009
Tangerine Brigham
Department of Public Health

Dan Kelly
Human Services Agency

Kevin Kone
San Francisco Airport Commission

Edgar Lopez & Brook Mebrahtu
Department of Public Works

Julie Kirschbaum, Britt Tanner, Sally Allen & Liz Garcia
San Francisco Municipal Transportation Agency

Clare Murphy
Lifetime Achievement Award
San Francisco Employee's Retirement System
2007
Peter Acton
Airport Commission

Derek Chu
Human Services Agency

Brad Benson
Port of San Francisco

Judith Klain
Project Homeless Connect

Nancy Alfaro, Kevin Dyer, Jay Nath, Diana Nguyen & Heidi Sieck
311 Customer Service Center Project
 
2006
Sue Currin
San Francisco General Hospital

Jeff Gary
Municipal Transportation Authority

Chris Iglesias
Mayor's Office of Economic & Workforce Development

Todd Rydstrom
Office of the Controller

Michelle Allersma, Denise Cannonier-Craig, Jennifer Johnston, Kerry Ko, Julian Low, Karen Taylor, Bruce Topp, Ted Yamasaki
Department of Human Resources
2005
Leo O'Farrell
Human Services Agency

Diana Guevara
Department of Public Health

Kathy Bull, DeMarris Evans & Louise Winterstein
Office of the Public Defender

Kerstin Magary
Municipal Transportation Agency

Jackson Wong
San Francisco International Airport
2004
Michael Cohen
Office of Economic & Workforce Development

Dorothy Enisman & Dariush Kayhan
Department of Human Services

Gary Franzella
San Francisco International Airport

Robert Kuzma
San Francisco Fire Department

Florence Mar
Office of the Treasurer
2003
Dr. Rajiv Bhatia
Department of Public Health

Philip Ginsburg
City Attorney's Office

Olson Lee
Redevelopment Agency

Pacifico Paculba
Municipal Transportation Agency

Bridget Smith
Municipal Transportation Agency
2002
Gigi Harrington
San Francisco Municipal Railway

Wanda Jung
Department of Human Services

Bill Lehew
San Francisco International Airport

Monique Moyer
Mayor's Office of Public Finance

Peg Stevenson
Controller's Office
2001
Bond Yee
Department of Parking & Traffic

Marc Trotz
Department of Public Health

George Nichols
Public Library

Jay Banfield
Treasurer & Tax Collector's Office

Pamela David, Richard Newirth & Kary Schulman
Mayor's Office of Community Development, Arts Commission, Grants for the Arts
2000
Jeffrey G. Adachi
Public Defenders Office

Susan Hildreth
San Francisco Public Library

Janice Anderson-Santos & Jimmie Gilyard
Department of Human Services

Sam A. Mehta
San Francisco Airport Commission

Rick Ruvolo
Department of Administrative Services
1999
Carol Bach
Port of San Francisco

Fernando Cisneros
Department of Public Works

Mary Counihan
Department of Human Services

Barbara A. Garcia
Department of Public Health

Anthony Irons
Department of Administrative Services
1998
Jonathan Chow
Public Utilities Commission
Hillary Gitelman
Planning Department

Dolores Heaven
Department of Human Services

Monique Zmuda
Department of Public Health

Marcia deVaughn & Alex Mamak
Department of Public Works
1997
Adrienne Frazier
Department of Parking & Traffic

Sandra Jo Gartzman
San Francisco Rent Board

Nelly Lee
Department of Public Health

Jill Manton
San Francisco Art Commission

Severin Rizzo
San Francisco Art Commission
1996
Sai-Ling Chan-Sew
Department of Public Health

Matthew Gass
Hetch Hetchy Water & Power

Sharon Kotabe, Pharm D.
Laguna Honda Hospital

Johnny Miller
Juvenile Probation Department

Kathy Page
San Francisco Public Library
1995
Hugo Aguilera, Cheryl Austin, Sheila Kenny, Dennis Sato, Anna Suttmann & Nancy Wong
Laguna Honda Hospital

Evangeline H. Bruce
Controller's Office

Jim Buick
Department of Social Services

Judith Griffin
Juvenile Probation Department

Mitchell H. Katz, M.D.
Department of Public Health
1994
James Bowen
Hetch Hetchy Water & Power

Teresa Chow
Controller's Office

Emilio Cruz
Office of the CAO

Gene O'Connell, R.N.
San Francisco General Hospital

Robert Prentice, Ph.D.
Department of Public Health
1993
Donna Burchard
Laguna Honda Hospital

Daniel Patrick Daly
Treasurer's Office

Rebecca Kohlstrand
Planning Department

Diarmuid Philpott
Police Department

Germaine Q. Wong
Office of the CAO
1992
Phil W. Arnold, Ph.D.
Recreation & Park Department

Dorothy Chen
Department of Social Services

Ricardo Hernandez
Office of the CAO

Judy Johnston
Controller's Office

Anthony G. Wagner
Laguna Honda Hospital
1991
Alec S. Bash
Planning Department

Patric Duterte, Anthony Nicco & Michelle Rutherford
Department of Social Services

Robert Gamble
Redevelopment Agency

Roger L. Peters
Port of San Francisco

Charles Saunders, M.D.
San Francisco General Hospital
1990
Cheryl Austin
Laguna Honda Hospital

Rich Cunningham
Public Works Department

Joseph Johnson
Office of the CAO

Bill Lee
Department of Public Health

Mary Smith
Department of Social Services
1989
Dorothy Enisman
Department of Social Services

Steven Koneffklatt
Laguna Honda Hospital

Brenda Lauer
San Francisco General Hospital

Sara Pickus
Public Works Department

Edwina Young
District Attorney's Office
1988
Chief Ronald Driscoll
San Francisco International Airport

Mary Anne Johnson, M.D.
Laguna Honda Hospital

Joel Robinson
Recreation & Park Department

Reiko Homma True, Ph.D.
Department of Public Health
1987
Catherine Bremmer & Vivian Sykes
San Francisco Public Library

Bernard Cummings
Public Works Department

Ron DeLeon
Recreation & Park Department

Michael Marcum
Sheriff's Department
1986
Ann Branston
Municipal Railway

Barney Barron
Recreation & Park Department

John Roumbanis
Public Works Department

Flo Stroud
Department of Public Health
1985
Ed Gazzano
Public Health Department

Sal Kitchener
San Francisco Zoo

Virginia Leishman, RN
Laguna Honda Hospital

Geoff Rothman
Civic Service Commission
1984
Richard Sullivan
Tax Collector's Office

Leslie Miko
Commission on the Aging

Richard Rogers
Municipal Railway
1983
Stanley Stephens
Controller's Office

Joe Dominguez
Municipal Railway

Angela Gittens
San Francisco General

Jason Yuen
Airports Commission
1982
Don Birrer
Public Works Department

Mark Finucane
Public Health Department

Richard Koeritz
Housing Authority

Roberta McDonough
Civil Service Commission
1981
Tom Malloy
Recreation & Parks Department

David Fong
Controller's Office

John P. Mullane, Jr.
Public Works Department

Carl Williams
Housing Authority