San Jose
2014 SPUR Member Party | San Jose
About
2014 SPUR Member Party | San Jose
Thursday, May 29, 2014 | 5-9 p.m.
Circle of Palms
Downtown San Jose
Each summer, SPUR hosts its annual member party - for SPUR Members only. This year our San Jose street party featured live music by The Jazz Mechanics and DJ Thomas Ramon, live entertainment by the Calpulli Tonalehqueh Dance Troupe, as well as cocktails and delicious bites from local vendors.
Member support enables us to promote good government and good planning through research, education and advocacy.
Thank you SPUR Members for celebrating city life with us!
2014 Supporters
THANK YOU TO OUR GENEROUS SPONSORS:

 
Robson Homes

SummerHill Housing Group
TiVo, Inc.


Artik Art & Architecture
Chris Block
Casto Travel
Circlepoint
The Core Companies
The Fairmont San Jose
Garden City Construction, Inc.
Gensler
Holland & Knight
The Hudson Companies
Keyser Marston Associates
Mark Thomas & Company, Inc.

 

Teresa Alvarado
J. Richard Braugh
​Garrett Herbert
​Andrea Mackenzie
 


Media Sponsor:



Final sponsor list as of 5/29/14


Mill Creek Residential Trust
OJK Architecture and Planning
Related California
Suzanne Rice
Ritchie Commercial Inc.
ROEM Development Corporation
Safeway, Inc.
Salas O'Brien
Steinberg Architects
Toeniskoetter Family Foundation
Valley Oak Partners
WPA


Connie Martinez
Erik Schoennauer
​Kim Walesh
Sponsorship
Our sponsors are key partners in promoting good government and good planning. Please see the Supporters tab for a complete list of our 2014 sponsors.
Sponsorships range from $1,000 - $25,000. To view 2014 sponsor benefits, please see chart below, or download the sponsor packet.
Click to enlarge the benefits matrix below >>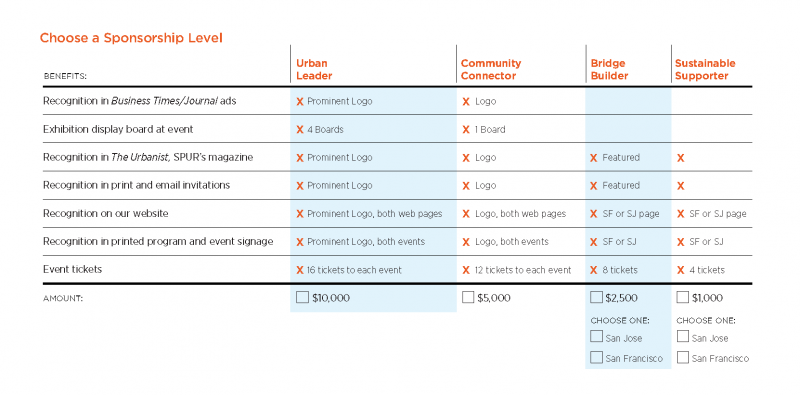 SPUR is a 501(c)(3) nonprofit organization and sponsorship is tax deductible to the full extent of the law. SPUR's tax ID is 94-149-8232.

For more information on future sponsorship opportunities, contact Vanessa Bilanceri at 415-644-4882 or events@spur.org.
Photos
We look forward to celebrating with you in Summer 2015!
Check out photos from past events: