Thursday, August 9, 2012,

9:30 a.m.

to

4:30 p.m.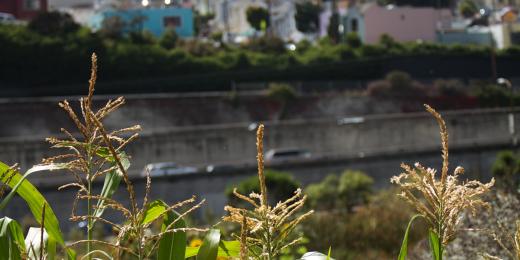 Think Outside the Plot is a one-day series of forums about our local food system. Come hear Bay Area experts speak about various aspects of the food system – from production through waste – with the seasonal cycle of a community garden providing a launching point for a discussion of broader issues. This day of events is open to the general public in conjunction with the American Community Gardening Association's national conference in San Francisco.
Note: Slides from the presentations are available for download at the bottom of this page
Program:
Welcome
9:30 - 10 a.m.
Session 1 | It Begins with Soil: Agriculture and the Health of the Land
10 – 11 a.m.
Community gardeners have many different options for how to care for their soil: amending the soil with organic compost or synthetic fertilizers, irrigating with spray hoses or drip irrigation, and keeping their gardens pest free by using integrated pest management or insecticides.
Farmers face similar options on a larger scale. This panel will discuss what leads to good soil health and the impacts farmers' choices have on our environment.
Jason Mark, editor, Earth Island Journal; co-manager, Alemany Farm
Albie Miles, PhD Candidate, Environmental Science, Policy, and Management - UC Berkeley
Amy Ridout, Farm Production Manager, Pie Ranch
Session 2 | Seeds: Food Sovereignty
11:15 a.m. – 12:15 p.m.
What does food sovereignty really mean, and how are seeds central to people's right to control and define their own food? Who owns the seeds we use and who gets to decide whether they're owned at all? This panel will discuss how seeds, from heirloom to genetically modified, broadly affect the world's food and ecosystems.
Eric Holt-Giménez, Executive Director, Food First
Christian Dake, Petaluma Seed Bank
Rebecca Spector or Paige Tomaselli, Center for Food Safety
Lunch
12:15 – 1:45 p.m.
Session 3 | Plants and Fruits: Supporting Farmers While Expanding Access to Good Food
2 – 3 p.m.
"Good food" advocates envision a food system that is healthy, sustainable, fair, and affordable. But there's often an economic tension. Farmers are often seeking an increase in prices to cover the costs of paying better wages and growing more sustainably while consumers want fresh, quality produce at prices that don't bust their budgets. Our panel will discuss current and potential initiatives that seek to make good food more widely available.
Michael Dimock, President, Roots of Change
Allison Hagey, Senior Program Associate, Policy Link
Dr. Hilary Seligman, Assistant Professor of Medicine, UC San Francisco
Session 4 | Compost: Food Waste - Avoiding It and Dealing With It
3:15 – 4:15 p.m.
Whether it's in your garden or in your city, wasting food is just that – waste. Join us to hear about a San Jose neighborhood gleaning initiative that collects ripe fruit before it falls, San Francisco's cutting edge municipal compost program that turns food waste into compost rather than landfill, and an innovative food bank that works directly with farmers to channel fresh produce to people in need.
Bob Besso, Waste Reduction and Recycling Manager, Recology
Craig Diserens, Executive Director, Village Harvest
Barbara Abbott, Food Resources Manager, San Francisco and Marin Food Bank
Co-Sponsored by the American Community Gardening Association, San Francisco Parks Alliance and SPUR

Admission:
Price includes lunch catered by Bi-Rite Market
$25 - SPUR and San Francisco Parks Alliance members
$40 - non-members
Register Here >>
SPUR members use
discount code: SPUR (case sensitive)
Location:
Hilton Financial District
750 Kearny Street
San Francisco, CA
Refund Policy
Sponsorship payments will not be refunded, as sponsorship benefits take effect immediately and are on-going through the date of the event.
Individual ticket purchases If the refund is requested more than 2 business days and less than 10 business days prior to the event, a 25% refund can be issued upon request. Any requests for refunds received less than 2 days prior to an event cannot be accommodated.
Thank you for your support of SPUR and your understanding that costs accrue on a per-guest basis before an event takes place.