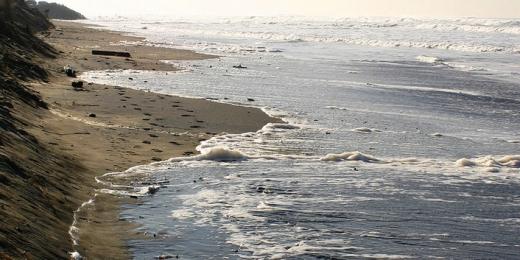 King Tide at Ocean Beach, looking south towards the Sloat Blvd parking lot on Christmas Eve 2011. Flickr user

poe

.
California's changing coastline is urging resource managers to plan for the immediate and long-term impacts of climate change on their local ecosystems and infrastructure. With no single lead agency planning for climate change, collaboration among governmental agencies, NGO's, academic institutions, and communities is integral to plan for coastal adaptation measures. The Bay area is home to several citizen-based organizations and agencies working towards these efforts. SPUR's Ocean Beach staff works closely with many of these groups on sea level rise planning for Ocean Beach to facilitate communication and coordination while keeping the long view in focus.
Last month, Ocean Beach staff attended the 3rd Biennial Ocean Climate Summit, hosted by NOAA's Gulf of the Farallones National Marine Sanctuary Program. The Summit gathers participants to collaboratively sustain the North-central coast and ocean ecosystem health. The conference garnered participation from 130 individuals across various fields to discuss the impacts of climate change and ocean acidification, as well as education and outreach efforts to inspire action within the community.

Science-based planning for resource managers
During the forum, we learned how to engage diverse audiences about climate change and ocean acidification, promote action, and advocate nature-based 'climate smart' conservation. One of the highlights was the beta launch of the Our Coast- Our Future Decision Support Tool, which models vulnerabilities from sea level rise and storm hazards for impactful decision-making. The science-based tool is useful for resource managers and local governments to anticipate coastal climate change impacts.

Getting the public involved
Another area of focus was framing complex topics like sea level rise and ocean acidification for non-scientific audiences. For instance, The California Academy of Sciences (CAS) has an entire program area dedicated to message framing for ocean acidification. It turns out, a simple example of linking the Ph level in lemonade to ocean acidification draws in CAS visitors effectively and also prompts them to think about solutions for healthy oceans. Learn about "Framed" Ocean Acidification Messaging.

A citizen supported project that utilizes the power of social media, the California King Tide Initiative encourages members of the public to upload photos of king tides, the highest seasonal tides on the California coast. The documentation is used to demonstrate how sea level rise impacts private property, public infrastructure, and wildlife habitat.
SPUR presents the Ocean Beach implementation studies!
The Summit is a great way to connect information, resources, and people across disciplines to work collaboratively, so we took the opportunity to share a poster on the Ocean Beach Master Plan implementation studies. These studies highlight SPUR's proactive approach in planning for sea level rise and include a Transportation Analysis, a Coastal Management Framework, and Joint Open Space Planning.