Temporary fixes for stalled construction, a new definition for "smart growth" and more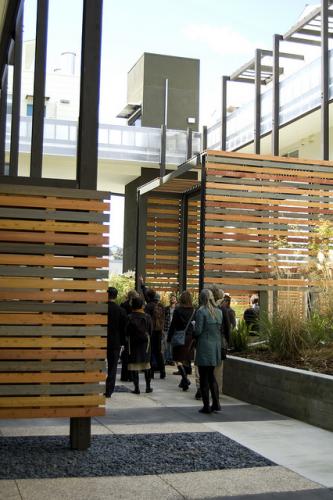 Armstrong Place tour [Photo Credit: Colleen McHugh]
Cities Embrace Temporary Fixes for Stalled Construction Projects: The economic downturn has left more than just financial scars on cities. It has left physical scars in the form of vacant lots and partially-built projects, the products of abandoned and stalled development. In order to spruce up these eyesores, cities are turning to temporary "quick fixes" to make more productive use of the land.

It's Time to Update the Definition of "Smart Growth: One author argues that the definition of "smart growth" needs to evolve in order to address a broader range of urban issues, such as food and water access, equity, and health.

Tour Embraces a Town's Ugly Truth - It's a Dump: One man is taking advantage of Belgium's most dilapidated city by offering a tourist attraction to showcases the ugliest part of the Charleroi, Belgium. Nicolas Buissart leads an Urban Safari around the city in which tourists can climb a slag heap, explore a never-before-used metro station, and walk down streets thought to be the "ugliest in the country".

From Steel to Tech, Pittsburgh Transforms Itself: A strong tech movement in Pittsburgh, PA is helping the once steel-centered city emerge from its industrial past and reinvent itself as a hub for technological innovation and education.

Using Waste, Swedish City Shrinks its Fossil Fuel Use: The city of Kristianstad, Sweden reached an impressive goal of using virtually no fossil fuels to heat the homes and business of its 80,000 residents. Instead, Kristianstad generates its energy through natural waste byproducts produced by the many food and farming businesses in the city.