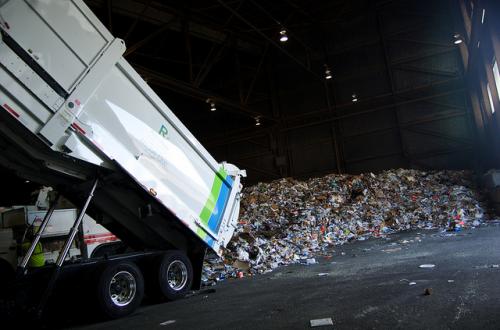 SPUR members toured Recycle Central last week [Photo Credit: Colleen McHugh]
Can We Farm in Skyscrapers? Author Dickson Despommier thinks we can. His newest book on "vertical farming" advocates for growing food in multi-story urban agriculture centers as a way to cut down on the resources traditionally involved in producing and transporting crops.
How SoHo Can Save the Suburbs: As more young families opt to live in cities rather than suburbs, suburban renewal has taken on a new level of importance for many of these areas. Richard Florida looks at how "edge cities" nation-wide are turning their unused spaces into "hip hotspots," in an attempt to remake themselves into vibrant, livable places.

Tales of Bike Lane Abuse: A report sponsored by the Manhattan borough president found that many of NYC's signature bike lanes are frequently intruded on by cars, pedestrians, and even buses that use the lane as a short cut for getting around traffic.

How Hollywood Learned to Ride the City: A video by The New York Times follows professional bike coach Dave Jordan as he spends a summer teaching Hollywood stars urban bike riding in preparation for their upcoming roles. This marks a new trend in filmmaking, in which the industry is beginning to stray from its typical car-driving characters and portray more bikers in movies.

Public Access to S.F. Bay Tied to Private Projects: According to John King, the migration of San Francisco's Exploratorium from the Palace of Fine Arts to Piers 15 and 17 may offer a model for how private development can bring out about quality public space.