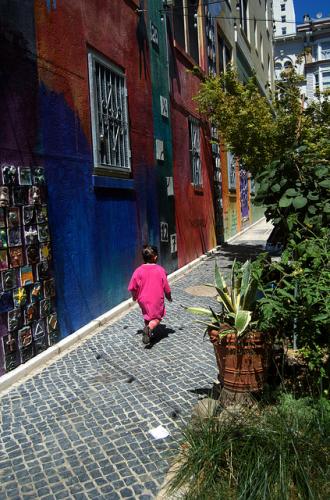 The Tenderloin National Forest. [Photo Credit: Colleen McHugh]
Seattle Chooses NY Design Firm for New Waterfront: The same urban design firm that helped dream up the Highline in NYC has been selected as the lead designer for Seattle's new waterfront transformation, one of the more significant civic projects in the city's history. The $830 million project will attempt to reconnect Seattle to its central waterfront after the ancient Alaskan Way viaduct is torn down.

Austin Comprehensive Plan Process Frames Big Choices for Future: With Austin's population expected to double in the next 30 years, the city is finally doing what it has long avoided--creating a comprehensive plan of how the city will adapt to handle an influx of newcomers. Many hope the plan will allow Austin to grow economically, without sacrificing the small-town feel that made it attractive to much of the population.

How Sprawl is Lengthening Our Commutes and Why Misleading Mobility Measures are Making Things Worse: A new study by CEOs for Cities examines the costs and causes behind urban congestion, adding to the increasing body of evidence that compact development means shorter commute times and less money spent on highway maintenance.

Grocery Stores Try Setting Up Fake Farmers Markets: Local farmers markets have gotten so popular that chain grocery stores are now attempting to cash in on this success. Both Safeway and Albertsons were caught setting up fake "farmers markets" outside their stores in attempts to market their produce as locally grown.

Ads for Imaginary Buildings Highlight Real Lack of Development: In attempt to draw attention to the many vacant buildings in New Orleans, Rob Walker has created the "Hypothetical Development Organization," a project which gives dozens of empty buildings hypothetical futures by tacking architectural renderings of imaginary development onto their facades.