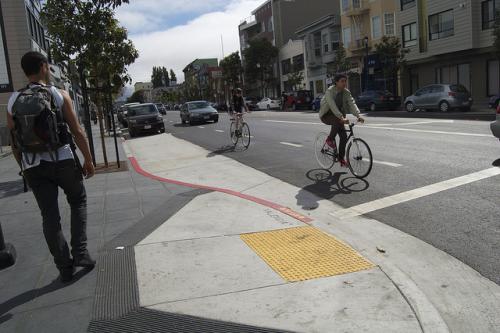 Valencia Streetscape Improvements [Photo Credit: Colleen McHugh]
Bike Sharing Expands in Washington: The nation's capital is setting a positive transit example with its rapidly expanding bike-share program that has grown tenfold over the past couple of years. Influenced by DC's success, neighboring cities are now adopting similar bike-share programs.

Garbage Mountains Slowly Morph into $160 Million New York Park: One of the country's largest landfills may someday become one of New York's greatest parks. Fresh Kills landfill in Staten Island, which served as city waste-center and eyesore for more than half a century, is slowly being converted into what will eventually be the second largest park in NYC.

A Rift Over Transit-Housing Plan: Long Island developers are turning to transit-oriented development (TOD) as a way to cure the Island's "suburban woes" as well as making the area appealing to younger and lower-income residents. However, local opposition against density is keeping plans such as these from taking shape.

Cities Lead the Way in Action to Halt Climate Change: Author Michael Coren suggests that cities and local governments will be much more effective in halting climate change than federal or international government, because the rate of growth and change within a city can allow for serious climate innovation, and timely implementation.

Paris Offers Water with Bubbled, but No Bottles: In an ongoing attempt to green Paris, the city has now installed free sparkling-water fountains with the hopes of curbing residents' bottled water consumption.