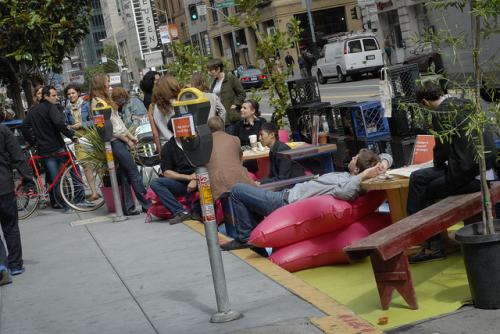 PARK(ing) Day at SPUR. More photos here. [Photo Credit: Colleen McHugh)
Cars and Cities: The removal of the Alaskan Way viaduct in Seattle has the potential to pave the way for transit innovation. However, its proposed replacement, an underground freeway, would leave little room for new transit ideas, and might reinforce car dependence.
Once Celebrated Ambassador Hotel Finds New Life as a School: The Ambassador Hotel, a Los Angeles landmark, is now being converted into six different state-of-the-art schools for inner-city students.
Waco Embraces Growth and New Urbanism: Tired of being known as "Texas's largest bathroom break," the formerly planning-conservative town of Waco is now embracing "new urbanism" in the form of increased walkability and green building to reawaken its sleepy downtown.
Home Depot and Habitat for Humanity to build 5,000 Green Homes: Habitat for Humanity and the Home Depot have paired up with the hopes of building 5000 green homes in under five years. With 1,800 houses already built, and 2,400 to be constructed, the partners are well on their way to completing their goal.
Perks for Pedaling: Knowing that a good worker is a healthy one, many companies in Oregon have started offering hefty benefits to employees who bike to work, rather than drive.