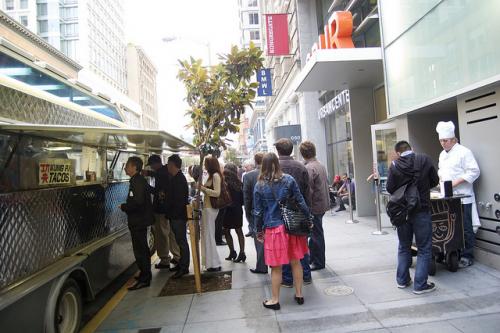 Kung Fu Tacos and the creme brulee guy in front of SPUR's opening party for DIY Urbanism: Testing the grounds for social change, on view through October 29. [Photo Credit: Colleen McHugh]
The Power of Density: Writer Richard Florida argues for the economic benefits of urban density, suggesting that the geographic concentration of related industries and assets can play a powerful role in sparking innovation and economic growth.

Clever Crosswalk Squashes Jaywalking by Making it Legal: Korean designer Jae Min Lim has a simple but innovative idea for pedestrian safety—repaint crosswalks to reflect the way pedestrians actually walk.

Green Revolution Comes to Urban Neighborhoods: Organizations like the LA Conservation Corps are helping to "green the ghetto" by training young adults in low-income neighborhoods skills needed for green jobs. Residents of these areas say they've been left out of the environmental movement due to a common misconception that they neither want nor can afford eco-friendly improvements.

Spit, Glue, and Maybe Even Chewing Gum: The New York Times suggests that some of America's greatest infrastructure systems are also some of the most vulnerable, and it can often take little more than a tiny electrical fire or rusted pipe to bring an entire system to its knees.

SF Adding Parking Meters in Premium Districts: Don't be surprised if there's a sparkly new smart meter in your neighborhood soon. The SFMTA voted Tuesday to start installing 1,340 of the new meters, whose rates will rise and fall with demand, in neighborhoods where parking is at a premium.