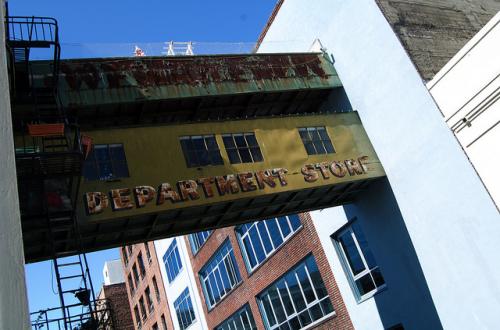 [Photo Credit: Colleen McHugh]
Portland Streetcar Success has Fueled Interest Elsewhere: The success of Portland's streetcar is helping to spark a streetcar "renaissance," in which cities nationwide are seeking federal grants to build their own networks of electric streetcars.
"¨"¨In Stockholm, Rental Blue Boost Black Market: One flipside to Stockholm's egalitarian-minded rent system is that is has fueled a black market in which only renters willing to dish out large sums of money under the table can avoid the system's years-long waitlists, and have access to the best rent-controlled apartments in the city. "¨"¨
Matchmaker, Matchmaker: The Van Alen Institute has launched "Design Speed Dating," a new series in which emerging designers rotate around a table filled with established designers and critics, receiving half-hour long portfolio reviews and constructive feedback from the professionals.
"¨"¨The New Agtivist: Gene Fredericks is Thinking Inside the City's Big Box: Local entrepreneur Gene Fredericks proposes converting the Bay Area's vacant big-box stores into year-round indoor food growing centers."¨"¨
Sewage Streams into Scenic Parks? One Man's Goal: Urban Planner Manit Rastogi hopes to turn a heavily polluted sewage line running through the heart of New Delhi into a scenic path that will serve as an eco-friendly and safe transit network for pedestrians and bicyclists who currently have to traverse the city's congested and dangerous streets.