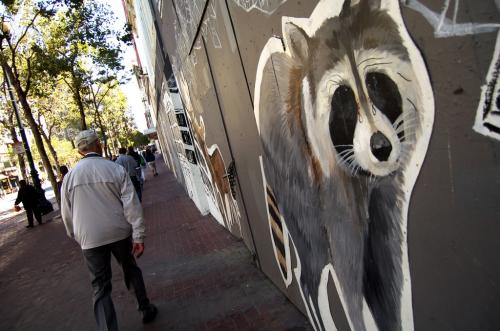 Market Street [Photo Credit: Colleen McHugh]
The Good, the Bad and the Empty: Students at Walt Whitman Middle School in partnership with the Center for Urban Pedagogy (CUP)made a video examining the link between land-use and neighborhood well-being by asking the basic but thought-provoking question of "Why are there so many empty lots in our neighborhood?" More on CUP here.
Homeless and Empty Homes—an American Travesty: With 3.5 million homeless U.S. residents, and more than 18 million vacant homes across the country, should we be finding ways to turn these empty houses into shelters for people in need?

What Beijing's 62-Mile, Nine-Day Traffic Jam Means for China's Turbulent Future of the Car: Popular Science's Clay Dillow suggests that China's nine-day-long traffic jam, having unveiled the flaws of an auto-centric transit system, has the potential to spark serious urban planning and infrastructure innovations.
Car-Free Community Cropping up in Rural Columbia Suburb: The nation's first car-free, cycle-oriented community is under development in South Carolina. The town, appropriately named "Bicycle-City," hopes to tackle the problems of obesity and climate change all at once.

To Catch Cairo Overflow, Two Megacities Rise in Sand: Cairo has become so overcrowded that the Egyptian government has undertaken the massive urban planning project of building two megacities from scratch in order to house the millions of residents the city can no longer sustain.