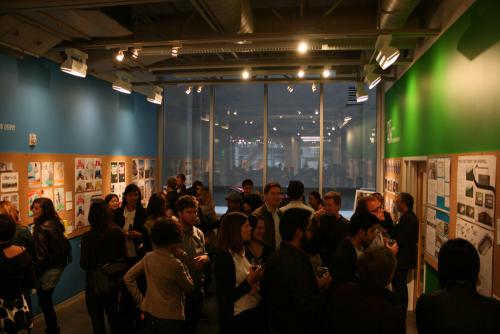 Opening party for SPUR's student show, Here+Now, now on view at the Urban Center [Photo Credit: Colleen McHugh]
Ruling Paves Way for San Francisco Bike Lanes: Bicyclists rejoice as San Francisco's four-year-old bike plan injunction is lifted, allowing the much anticipated implementation of 45 new bike lane projects city-wide.
Time to Return to L.A.'s Core: One symptom of the economic downturn is that it has slowed gentrification, putting some neighborhoods in developmental limbo. This, however, has produced surprisingly sweet results in areas like downtown LA, where there have been just enough changes to energize the area, but not too many as to feel overdeveloped.

London's Do-It-Yourself Approach to Safer Streets: In this video, a UK organization models a DIY community-based approach for reducing traffic and improving street life in London neighborhoods.
Brazillian Activists Paint Guerrilla Pedestrian Lines: A group of Brazilian activists in Sao Paulo, a city notorious for its transit chaos, took pedestrian-safety into their own hands by painting guerilla crosswalks in high speeding zones throughout the city.
The Scary Truth About America's Disappearing Middle Class: A new report suggests that technology, rather than politics, may be to blame for America's shrinking middle class, as computers more increasingly become the principal performer of middle-wage jobs.