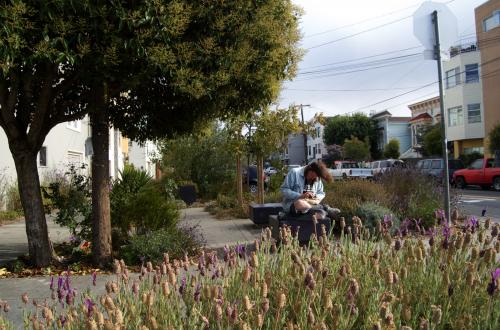 PlantSF [Photo Credit: Colleen McHugh]
Paris's popular bike rentals spark electric car plans: Influenced by the success of its bike-sharing program, Paris plans to add the electric car to its repertoire of shared transit.
Ground Zero mosque plans move forward after key vote: Despite proposals for symbolic land-use restrictions, NYC's controversial plans to build an Islamic mosque near ground zero are moving forward after a vote to demolish a building in the mosque's proposed site.
Food stamps go organic: Farmers markets in Healdsburg and Petaluma are now accepting food stamps in a trial run designed to encourage individuals receiving government aid to shop at their local markets. This arrangement benefits not only low-income shoppers, but local farmers as well.
The future of cities and transportation: One author suggests that if we want our cities to have a truly sustainable infrastructure, we need to look further into the future when making planning decisions today.
Changing clocks could cut carbon costs: What if shifting clocks forward an hour was the key to cutting carbon emissions and improving our general quality of life? According to the UK's Lighter Later Campaign, it is.
Line between cops, civilians blurs with new SFPD program: A new program through the SFPD, which would train civilians to respond to and investigate non-violent crimes, aims to reduce SF police officers' workload, allowing them more time to focus on violent or high-priority cases.