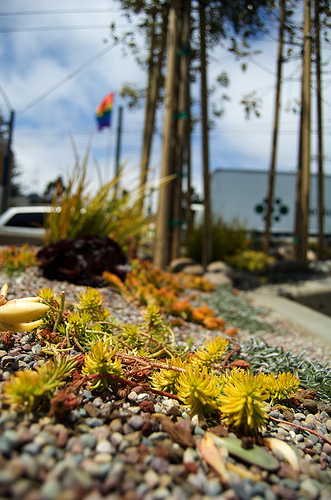 The Castro parklet [Photo Credit: Colleen McHugh]
Fleeing Phoenix out of fear of Arizona's immigration law: Thousands of immigrants are fleeing Phoenix, AZ before the state's harsh new immigration law goes into place, leaving neighborhoods vacant, and forcing local stores out of business.
Seedbombing for the modern guerilla gardening movement: Guerilla gardeners are arming themselves with "seedbombs," their new weapon of choice in the quest to make the world a greener place.
Bikes and cars: A lesson in Los Angeles: The mayor of Los Angeles broke his elbow last Saturday, when a swerving car knocked him off his bike, serving as a painful reminder that his city still has a ways to go in improving bike safety.
Exploring algae as fuel: Certain strains of genetically engineered algae are showing promise for being used as a green source of fuel.
Atlanta's Buford Highway is a death trap: A highway in an Atlanta suburb exemplifies the serious problems with suburban transit infrastructure that caters to cars and not to pedestrians.
The G-list: Architect Magazine has compiled a list of the "top-five most important green buildings since 1980", in response to Vanity Fair's recent top architecture list which gives surprisingly little representation to green architecture.
Old San Francisco mint to become a gorgeous green museum: The San Francisco Mint, which has been vacant since 1995, will find a new purpose as a cultural hub and historical museum thanks to an adaptive reuse project aimed at greening and redeveloping this famous SF Landmark.